Every day, a company has to manage several aspects of business that need high efficiency and functional proficiency. One such crucial business operation is fleet management which helps track the daily commercial vehicle activities extensively.
The fleet managers have to keep a tab on these activities to make informed decisions regarding dispatch and routing, assets administration, cost control, fuel management, etc. However, this can be weary and time-consuming, especially when the business relies so heavily on transportation.
In order to ease the burden and make the process more systematic, leveraging fleet management software has become one of the most convenient choices today. In fact, it is reported that the market size of global fleet management software in 2022 was valued at $20.73 billion. As per the same report, the projected valuation in 2029 would be $67.38 billion at a CAGR value of 18.3%.
Integrating fleet management technology into the system can improve the working efficiency of the fleets while keeping their safety in mind. So, are you curious to know how much it will cost to develop software to manage fleet operations?
Well, since every business has its own different goals, so are the software requirements. Due to this fact, determining the exact fleet management software cost becomes quite tough at times. However, this article will enlighten you regarding the principal factors that impact the cost of development, based on which you can easily figure out the average pricing for the same.
Table of Contents
Getting Insights into the Market of Fleet Management Software
The market expansion in the fleet management domain has gained a significant trajectory in the last few years. The reasons are easily predictable: enhanced growth with maximized profits. The following notable statistics can offer a better understanding of the increased popularity of fleet management systems.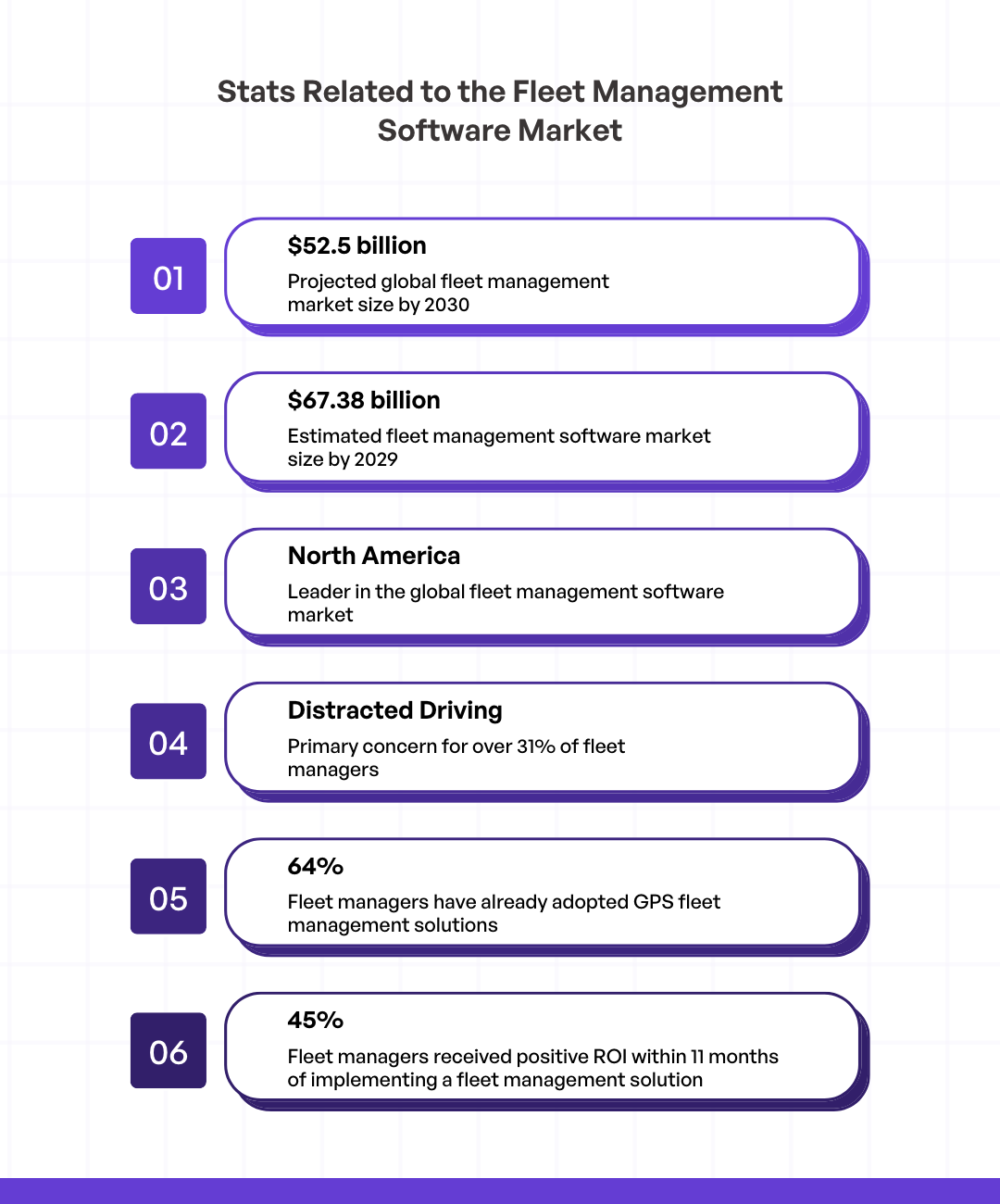 Fleet Management Software Cost: What Are the Major Determinants?
Like many other technological solutions, fleet management software does not follow a one-size-fits-all approach. And how could it? When business requirements are different, ROI goals are different, too. Moreover, the type of businesses companies are into are not the same, as well; then how could the software be? And that's what makes it challenging to determine the exact cost of developing a fleet management system.
Besides this, factors like software complexity, tech stack used, functionalities added, etc., also impact the overall fleet management software cost. Since all these determinants can affect the cost of development, it is better to consult a professional software development company to get the most precise estimate.
Cost of Developing a Fleet Management Solution Based on Software Type
To better understand the average cost of fleet management system development, the first and foremost method is to consider what type of software solution you want for your business. For instance, suppose you want to develop an indoor navigation app. The number and type of functionalities you want to incorporate in your application will impact its final development cost.

Like if you want just a navigation app integrated with basic features would cost much less than a complex application with advanced features, such as 3D map projections and voice control.
Coming back to fleet management, a basic software solution will cost you somewhat between $8000 to $15000. However, it will only include a simple dashboard for both admin and driver, integrated with fleet and fuel tracking system and route guide.
If you are looking for more features, a medium complex fleet management software could be an excellent choice. It will include an interactive dashboard, geofencing technology, accident management, dispatch management, etc. along with all the features present in basic software. This type of software will cost you somewhere between $15000 and $25000.
In case you want a full-fledged software that consists of everything from the basic to the most complex, you have to invest around $25000 to $40000 and beyond depending on the complexity of functionalities. Besides the features included in the last two kinds of software, this fleet maintenance software will provide you with data analytics, real-time reports, compliance management, driver behavior analysis, etc.
The below table shows the summarized cost of developing fleet management software along with the average time taken to complete the project: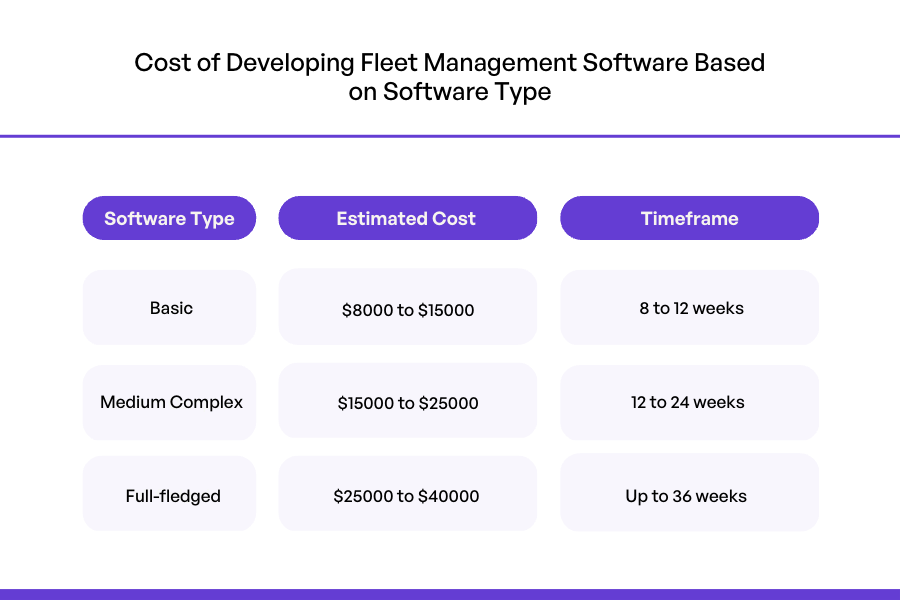 List of Significant Factors Impacting the Fleet Management Software Cost
Before outsourcing your fleet maintenance software project to a software development company, it is essential to have an idea about the factors that can affect the development cost. It helps you make strategic decisions regarding your budget and functionalities to be added to the software. The following section will highlight the significant factors to consider beforehand.
List of Features
The most common and impactful parameter affecting the total cost of fleet management system development is the number of features incorporated into it. As already discussed, the average cost of fleet management software ranges between $8000 and $15000.
Now, as many functionalities are added to it, the gross value of the software will keep increasing. In simple words, the more feature-rich your fleet management app is, the higher will be its development cost.
UI/UX Design
Do you have any idea how much user experience can affect customer engagement and retention? Well, a survey reveals that 88% of people are unlikely to return to a website after having a bad user experience. Moreover, 48% of users believe that UI design is one of the essential factors in deciding how credible a brand is.
The aforementioned statistics show how the user interface (UI) design of any application software has a direct impact on user experience. Hence, to ensure a seamless UX, it is crucial to have a well-functioning, customized, and interactive UI.
However, in order to fulfill custom design requirements, you need professional UI designers along with an ample amount of time and effort resulting in higher fleet management software development costs.
Development Platform
The platform for which you want your fleet management app to be developed also impacts the overall development cost. For instance, developing a web application will comparatively cost lower than having a full-fledged mobile application.
Moreover, the development cost will also vary based on the number of operating platforms. For instance, developing fleet management software only for a single platform, say Android, will cost less than developing the same for multiple platforms, such as iOS, Android, and Windows.
Location of Developers and Process of Development
People can have different ways of performing the same tasks, and coders or developers are no different. Some programmers take time to code or use a method that might be time-consuming. Since the cost of the development projects is primarily based on the total hours worked, it can significantly impact the total pricing.
Moreover, the cost of software development can also vary from location to location since developers from different areas have different expectations. For example, the development cost might be less in Asian countries compared to the ones in other regions of the world. The following table will highlight the price differences based on locations: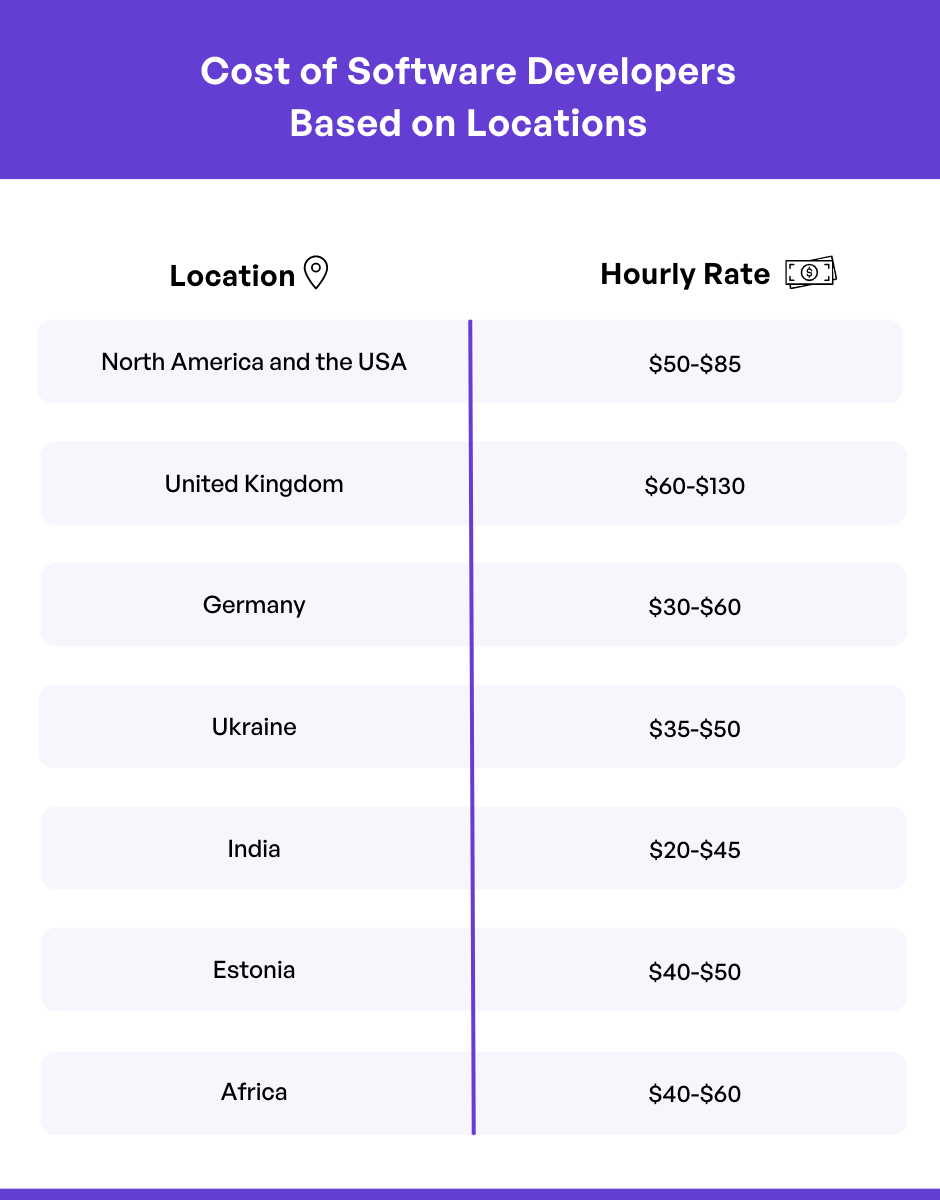 Making Your Fleet Management Software Highly Functional: Must-Have Features to Be Included
As already discussed, the more features in a fleet management app, the greater will be the interactivity. However, the complexity and cost of development will be higher, as well. However, if a systematic interface and seamless user experience are your priority, here are some of the prominent features you must include in your app:
Real-time Fleet Tracking Integrated with GPS
What could be better than getting all the real-time information about the fleets on your screen? Well, advanced fleet management software allows you to track the vehicles' location, routes taken, directions followed, driving speed, fuel consumption, etc. Moreover, with the help of GPS technology, you can also help the fleets by suggesting the best routes between their source and destination.
Maintenance Tracker
In order to make your fleets function smoothly, it is crucial to take care of their maintenance. Incorporating a maintenance tracker will provide the fleet managers with timely updates regarding fuel change requirements, replacement of tires, etc.
Fuel Management
One of the best things about a fleet management system is its fuel-tracking capabilities. A fuel management sensor in your system offers you details regarding the total fuel consumed by a specific vehicle along a particular journey. These insights can be really helpful in preparing a planner for specific routes.
Geofencing
This technology can assist fleet managers in planning the routes effectively beforehand. With geofencing, you already get all the information about the area to be covered; thus, saving driving time and fuel costs.
Fleet Alarming System
This is one of the most interesting features of fleet management software. Whenever the driver over-speeds or the fleet is low on fuel, the system will notify you immediately so that you can control the situation in time, preventing disruption in business operations.
How Can Appventurez Help in Developing a Top-notch Fleet Management Software?
Business operations associated with transportation are mostly complex and require a well-strategized plan for seamless functioning. Therefore, it's better to look for a customized fleet management solution that automates the process and increases working efficiency.
However, developing fleet management software is an intricate process and you might need professional assistance to develop one.
At Appventurez, you get eminent fleet management software development services that offer remarkable benefits and enhance business profitability.

FAQs
Q1. What does a fleet management system do?
Ans. A Fleet management system helps a company and the dispatchers track the location of all its fleet drivers from a central point. These systems can also be used to monitor the drivers' performance, behavior, and safety.
Q2. What is the function of a fleet manager?
Ans. A fleet manager is responsible for directing and managing all the fleet operations in order to maintain timely deliveries of goods and services. However, while handling all these operations, fleet managers must not compromise the safety of the drivers and the vehicles they are driving.
Q3. What is the best way to improve fleet management?
Ans. One of the best ways to optimize your fleet management operations is by automating them using advanced fleet management technology. It provides fleet managers with several benefits, such as tracking the precise location of fleet drivers, analyzing their behavior, and ensuring their safety.
---
---