Sport is a vibe, you enjoy it more when you watch it live. The foot-stomping, the loud cheer, the sixes, the shots, and so on. All these together made sports more fun and entertaining. 
However, not everyone can enjoy the matches, their favorite star, the live and atmospheric atmosphere. To rescue people from such, top sports apps are here to entertain them and keep them informed about everything related to sports. 
Also, there is no denying that sports lovers are increasing massively and as per one of the stats, it shows that over 74% of the growth can be seen in sports every year. It's amazing how people are responding to it but not everyone can go into the grounds and cherish the live matches. 
To let everyone cherish the victory of their favorite player, and accommodating everyone together, mobile and web apps are coming with a better and great number of features. 
A few top sports apps are already there in the market, whereas more are coming in the market associated with the sports channels. Sports channels while letting people watch shows at their home comfort are also investing in mobile applications to let other users enjoy sports remotely or without TV sets.
So, if you are planning to invest in the top sports apps, you need to be sure of how to win users. Without an ample number of users, succeeding the top is just not possible. 
Here in this blog, we will be showing you the top ways to get started with your sports apps-winning strategies for sports apps, much better than others and competitive too!
Let us first begin with a few statistics of top sports apps to have a stronghold of it for further scrolls and read. 
Sports Apps Statistics
Users spend 50 minutes each day on sports apps.
There are over 2.2 billion mobile gamers globally. 
Over 56% of the American population is a sports lover. 
Soccer/Football alone has around 4 billion fans worldwide whereas roughly 50% of the population loves some or other kinds of sports. 
According to eMarketer, 70% of the US adults opt for the second screen while watching a sport online. 
A maximum number of users ditch watching TV for watching sports and opt for applications. 
And there are more statistics showing how much a user finds them comfortable and convenient. 
Furthermore, top sports apps are not limited to live-streaming apps, it is now more advanced and comes up with various options to invest in. 
Gaining the statistics, let's see what kind of sports apps are available in the market or the type you can invest in.
Types Of Sports Applications
Sports News Tracking Apps
Sports news tracking apps are the aggregators of information about a particular sport like- sport-related news, team stats, scores, championships, and others. These applications also feature interviews with experts, players, coaches, and others who are sports influencers or supports.
ESPN is one such example offering- 
News
Live streaming 
Real-time scores
Podcasting
Video recordings
Team Management Applications
These are the types of sports apps helping coaches, and other team members to organize their lives and connect to the audiences effectively. Team management applications generally feature information about chats, team members, sports scores, stats, news, and other related information. 
Such apps come up with- 
Team schedules
Team messaging
Team statistics
Personal event schedules
Live scores
Rosters
Newsfeed 
Team apps are exclusively used by teams so that no other person can get access to them. They help coaches and instructors to manage the team effectively through online scheduling and notifications.
They further assist coaches with- 
Organizing games and training sessions
Inviting team members together to the events
Analyzing statistics
Preparing formations and lineups 
Easy Communicating with the teammates
Live Streaming Sports App
Live streaming is one of the features of sports apps, however, there can be separate live streaming apps for the sole purpose of live streaming matches & games.
With such sports apps, users can simply switch to the live stream of their favorite leagues, teams, matches, games, and also get a glimpse of actual games to training sessions and vlogs. 
It is one of the fastest-growing domains and attracts millions of viewers every day. So, if you are planning to invest in such apps, we recommend you to add a live feature connecting people with each other and also with their stars. 
Live NetTV is a live example of such apps. It not just features sports but also TV shows, movies hosting over 700 channels from all over the world.
Esports Apps
Over 250 million people watch Esports and the numbers are growing every year as per a tech consulting company called Activate. People are showing interest in the new age sports as compared to traditional sports. 
The esports apps allow users to watch the competitions via smartphones while connecting them with each other with the option of donating for their favorite games. 
Twitch is today's well-known esports application allowing users to-
Watch games video streams, clips, and highlights
Following their favorite games
Browsing the app for new content
Communicating through live stream chat
Receiving push notifications
Betting Apps
While watching sports, people love to earn money from it too. This gives birth to sporting betting apps and with no time, such top sports apps become quite popular. These apps work both ways- traditional with one central bookmark and marketplaces like ZenSports allowing anyone to create and accept bets globally. 
These betting apps basically process the data on the backend and calculate the outcome for respective users and then transfers money.
Ticket Apps
Sports ticket apps are great when one wants to buy a ticket for their favorite game and resell if required. 
However, a ticket sale app should have a reliable and fast payment gateway for completing the transaction and a real-time ticket registration to peek into the seats that are free. 
Sports Equipment Apps
Sports equipment apps sell sports-related equipment, wearables, clothes, food for everyone be it the professional athlete or amateur.
Get to know- Top wearable technology trends for the coming years.
Sport Events Apps
Sports events apps are exclusively made for organized sports events. These apps allow users to navigate the event, buy tickets, participate in any activities, order food & drink, and more. 
These types of sports apps also allow users to share their experiences with others too on social media platforms.
If you are planning to invest in any of these ideas, it is good to opt for some level of customization for easy flow. However, looking on the other side of the already made apps, there are a handful of apps that are succeeding whereas many are dying. 
So, in such a situation, before swiftly looking for answers and solutions, it is good to first analyze the cause behind the failing apps. No doubt, you have used the best of an idea for the app, but it is worth looking at the loopholes before coming up with every possible solution. 
Let's check out what slows down the sports app's popularity. 
Factors Affecting Sports Apps
High Latency
Users are impatient, if they do not find the app fast enough, they will look for alternatives and finally abandon the app downloaded. This is something no app users expect from their application. 
Also, other than speed, if your app doesn't perform nicely and in the required manner, chances of uninstalling become higher. Thus, to clear such thoughts, it is a good practice to opt for latency between 5ms and 200ms, where 100ms should be the target always. 
Check out- How to increase app user engagement
Ill Synchronized Screens
Viewers often opt for the second screen when working while watching their favorite sport. In such a situation, it is good to make the second screen timely updated with the same action on the pitch.
Opposite to it, users often complain of seconds screen that lacks live synchronization with the primary device or when watching the sport live in person. 
To eliminate such a situation in your application, it is good to simultaneously update all the devices and screens that too in real-time. The smoothness in the second screen will help users to gain enhanced user experience. 
Loss Of Connectivity
The increase in the number of sports lovers is visible which is giving a sharp rise in the use of mobile phones as primary connectivity points. In such a situation, issues like changing network conditions between 3G, 4G, 5G, and Wi-Fi or complete loss of connectivity are quite high. 
The loss of constant connectivity most of the time makes users refresh the game and start from scratch. In such scenes, it is your responsibility to make a connection back again within a short window to resume the data stream from where the users left the match. 
Uptime Required
For games and betting services, the app requires reliable real-time platforms. Thus, if you believe 99.99% of uptime is a good goal, however, customers might not be able to avail of the service for almost an hour in a year. 
Missing even an hour a year can still be a disastrous experience for the customer and obviously bad for the business. Apart from that, the point of failed customer loyalty towards a brand can be more devastating for business. 
So, the solution here is a total of 100% uptime.
Data Delivery
Data delivery in the correct order is truly important just like the uptime. If updates are not delivered in a right and timely manner and displayed in the order can create incorrect information. This is truly a pain when it comes to betting applications as rejecting their deal can be annoying for users. 
The Sudden Surging Demand
Live sports are exciting and sport is becoming quite popular for the last many years and thus, you need to cater to the unprecedented, unexpected spikes in the demand for sports events.
Thus, you need to majorly focus on the growth opportunities while keeping an eye on the technicalities too. The app architecture should be made in such a way that no user remains un-entertained while the surging demand of users should be nicely bracketed. 
With it, let us look out for the solution like what strategies you should be following. Among many other strategies, UI and UX strategies are the top things to take care of. 
UI is something that ensures your app is enough to hook users and enhance the UX ultimately. So, let's check out the UI strategies you should definitely be following in your sports app. 
UI Strategies For Sports Apps
Know The Users
One of the first UI strategies for sports apps is to understand that it is crucial to know users in and out both ways. For your sports app, you need to be sure of their demographic zone, their analytics, and others. Also, the concept of empathy should also be there when knowing users. 
Figure out how they want to use the top sports app, what kind of apps they find quite easy, what are the type of sports app they like the most etc. 
Talk to your users, understand where their goal lies, what are the things they like, and so on. Once you are done with it, it will be easier for you to design and develop the sports app just like the way they want. 
Define The User Interface
Before getting started with the UI strategies for sports apps , it is good to first understand how your user will be using the interface. As touch-based devices are all over the globe, the design you will be working upon should also match.
Check out- Top mobile app UI design trends to follow 
The kind of devices, your users, their demographic, and others should be used for the final decision of designing the UI of the sports app. Also, if you need to check if your app is going to be used by seniors, youngsters, adults, and so on. 
Thus, get to know UX techniques to follow for better results.
Set Your Expectations
Your app or the website consists of various different actions and expectations. Clicking a button might mean adding things to the cart, erasing something from the app, or making a comment on someone's picture. 
These things can be done with proper research, analysis, and requirements for your sports apps. Ensure, no actions are overlapping or almost similar in action, this might create chaos or confusion. 
Mistakes To Know
Users do make mistakes but that doesn't mean they need to follow the consequences. Thus, take precautions before letting sports lovers make any mistake- 
Prevent the expected mistakes before even happening
It happened, provide sports fan the ways to fix them
Pick up some of the best techniques to let users be beware of the common mistakes that often occur. 
Feedback 
Feedback is important for the app owner to understand where users are getting stuck, what features of sports apps are being mostly liked/disliked by the users, what features are bothering them, and so on. 
Thus, opening the option of feedback to the users will help you gain an understanding of how your app is actually performing in the market.
Gathering all the feedback, and then analyzing them will open the path of bringing more solutions and corrections. 
If willing, you can opt for the MVP version of the app, where finding out what features are being liked/disliked by the users and what features should be added or removed from the app. 
The Placing Of Element
For the right placement of elements, you need to be sure of heat map strategies too. 
Also, you need to know how big or small the elements are and where to place them correctly so that they can never bother the look and use of sports lovers. 
Place the buttons in the right place and as per the prominence of the app. Ill spacing, not putting them in the right way, the concept of left and right, and so on should be nicely made. 
Analyze The Data
It is crucial to understand what kind of data is being gathered from various sets and systems in order to make required changes into the sports apps. Without analyzing the gathered data, it will be difficult for both ends to fulfill the requirements greatly. 
For gathering data, there are various analytics data depending on the project type. Look from which game is getting traffic, what kind of apps are getting more momentum, and so on. 
Using such data will always result in better outcomes. 
Now that you are aware of core things about Sports apps, let us now understand what features should you be adding into the app for a larger user base. 
Must Have Features In Sports App
User Account
It is the very first step towards mobile app onboarding, so, ensure you are letting users enter the app through a limited process. 
Moving on, this point is quite appealing for users who have downloaded the app. It simply provides intuitive navigation along with smart features, the user account functionality resulting in enhanced user experience.
It is the place where users will be given the choice of customization as per their needs. Ensure you are creating it strategically as it is a sports app and not as a basic app. 
Payment Options
The must have features of sports apps, if you are planning to opt-in for in-app purchases, make sure you are taking care of payment gateway integration also. Getting ahead with the PCI (Payment Card Industry) compliance certificate, the process is lengthy, complicated, and bureaucratic.
 However, if approaching a ready-made solution, the payment gateway can be added into the app in 8-10 hours. Connect with our experts and understand the mechanism behind it. 
Tickets
We have already mentioned that there are dedicated top sports apps for ticket purposes only. Thus, by adding the payment gateway, you can always give access to your users to track, purchase, and resale the tickets.
Also, you are given a choice of integrating a third party ticket sale service too. Through the third party, you can always browse the tickets while checking the price, seat availability, and so on. 
Offline Mode
Sports lovers never wanted to miss their favorite sport due to network connectivity or any other reason. Thus, if it is under your control, you should try to give them offline connectivity too for the convenience of the users. 
This will make your brand better than other apps in the market. 
Social Media Integration
Social media integration is a great way to let users come to the app by signing from social media like Twitter, Facebook, Instagram, etc. 
Also, through social media, users will be able to share their impressions, expectations, and experiences about the sports and the game in their pages. 
In both ways, you are winning users.
Messaging Feature
Offering users a chat option in the app will allow them to share the latest news about sports and games with each other along with discussing other related events too. 
The chat option also gives users the option to talk to their sports stars too. 
Newsfeed
The news feed is an opportunity for sports lovers to not miss even a single sport related news. Here, push notifications will let users be always informed about sports, games, and others. 
Calendar
The calendar helps users to know the sports date and plan their day accordingly. If you are opting for the same, ensure you are portraying the information rightly and in a nice format like XX H YY min. 
Live Streaming
We have already mentioned how live streaming sports apps are getting more heights. And if you are investing in a sports app, adding the feature of a live streaming app can be an extra offer to the user. 
Also, live streaming apps can make users record the games too and watch them later. 
With everything covered, let's check out the cost of sports app development. 
How Much Does It Cost To Develop A Sports App?
How much does it cost to develop an app is a mathematical approach consisting of everything you can maximum imagine. 
Sports app development cost is a costly affair and the cost of developing it depends upon the types of app you are planning to invest in.
To get started with, you need to first discover which way to go first. 
Figure out the difference between iOS vs Android, or wanted to go ahead with cross-platform app development. However, when opting for cross-platform, you will be saving a little amount and gaining a large user base. 
Also, if you are willing to go ahead with the MVP app development, the cost to it is written in this particular blog- how much does it cost to develop an MVP app. Meanwhile, the designing part is also a calculative task consisting of every parameter of a designing part. And thus, how much does it cost to design an app is again a part you need to look at.
However, here are a few things, your Sports app development cost will depend upon- 
Choice of renowned mobile app development company
The expert designers, developers, QAs, and others
The geographical location of experts and app development company
The type of sports app you are investing in
Frontend developers, backend developers, UI/UX designers
And others. 
Basically, the cost of sports app development is a concluding thought and aspect of each phase of the app development. Even the smallest of things will make you spend, be it the aspect of how to promote your app or pre and post-launch app mistakes to avoid and after development strategies. 
Seeing how users are showing interest in top sports apps, there are many sports apps available in the market already succeeding. 
Check them out and get a look at your competitors for in-depth insight.
Top Sports Apps Available 2020
Yahoo sports
theScore
CBS Sports
ESPN
SofaScore
LiveScore
BBC Sport
365Scores
MSN sports
FlashScore
Bleacher Report
FOX Sports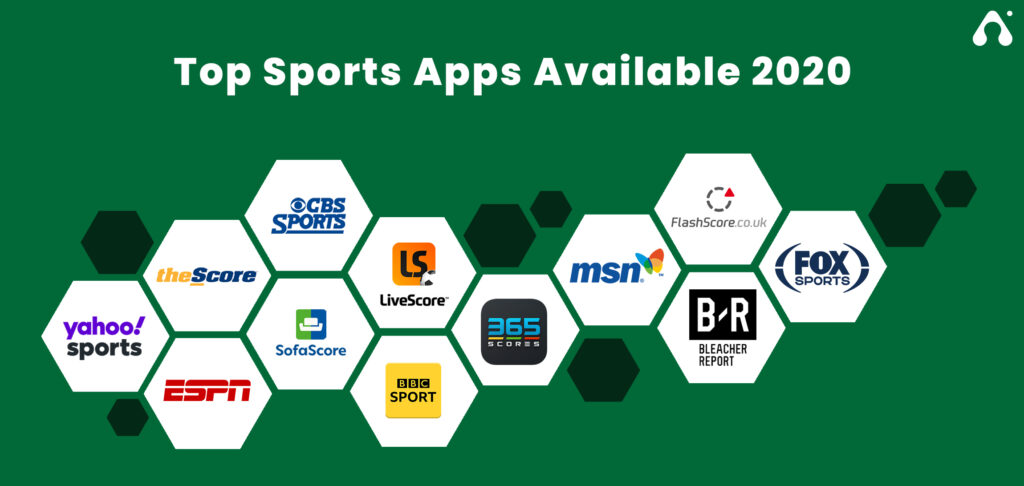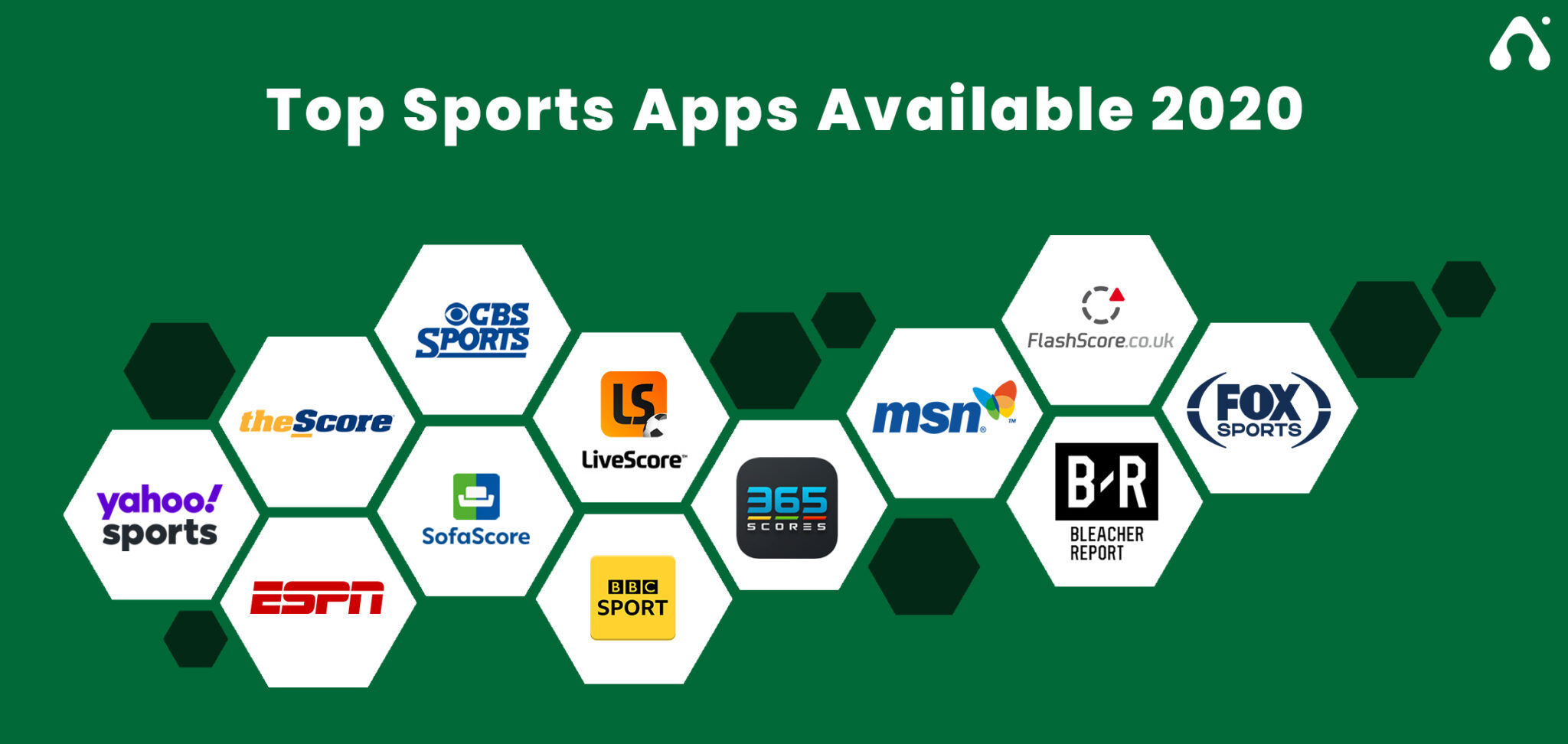 Conclusion
We have reached an end showing the winning strategies for sports apps we thoroughly follow to design and design sports apps. However, we have more in the list we technically follow to give a better and succeeding look and feel to the app. 
If you wish to begin with your sports app idea, let's connect now!
---
---