"For one moment you have the best technology handy, the next moment it is obsolete"
Technology advances every single day, we might want to believe it or not, but this moment some other technology is arising whereas some might be obsoleting. It all depends upon the moment or situation we want technology to take part in. 
And, there is no doubt that technology is making things a little better than yesterday. In the race of AI, AR, VR, IoT, wearable technology trends are also taking part in making the lives of people monitored and strict. 
Tech giant Apple came up with the concept of Apple Watches is now a competitor to other brands' smartwatches.  To measure heart rate count, blood pressure monitored, steps counted, a smartwatch is more than that. 
When we are saying smartwatch, there is another best wearable tech that is already working as the lead role in making the lives of people counted and monitored. 
Wearable technology trends 2021 are taking place in people's lives and expected to reach 614.31 million units in 2025.
This modern world technology is not just a monitoring tool but can also be worn as a fashion statement. Dual advantage in a single gadget is what wearable technology is all about. 
Its related wearable technology trends are also quite visible in the market from the last few years whereas a maximum number of them will stay in the market for a longer run. 
In order to have a closer look at the market condition of wearable technology and an understanding of why to invest in it, here are a few figures- 
Top Wearable Technology Market Stats
The global medical wearables market is expected to reach USD 19.5 billion by 2025. Currently, it is USD 7.4 billion this year.
The diverse market for wearable devices will reach over $150bn annually by 2026
Global wearables market will grow 9.4% by the end of this year, reaching 368.2 million shipments.
Apple is still dominating the market with 21.2 million units shipped during Pandemic. 
Keeping the potential of what wearable technology can do to a brand, let's get started with Wearable technology trends. 
Top Wearable Technology Trends to know in 2021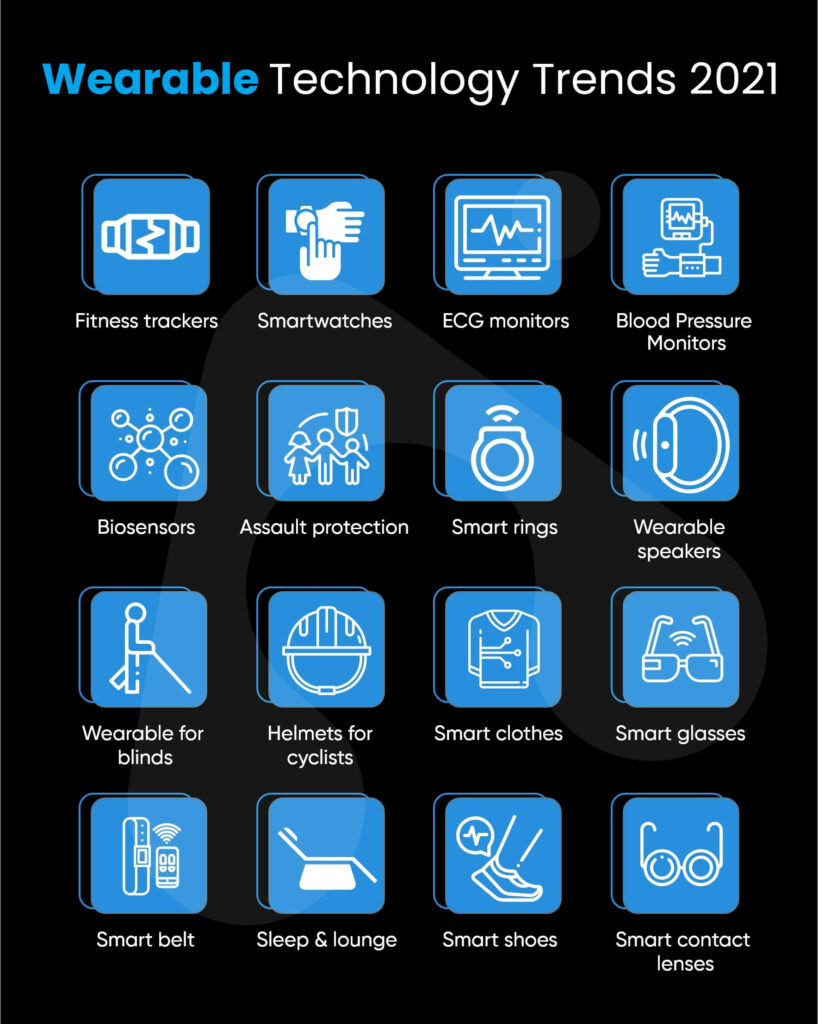 Fitness trackers
Tracking your health through a wrist band is possible from the last many years. We are including fitness trackers into the list of wearable technology trends because it is likely to remain in the market for more coming years. 
With advancements in technology and approaches towards monitoring health via a wrist band, these fitness trackers are going to survive 
Not just tracking the daily activities and reviewing them, these trackers also provide health recommendations with the help of synced mobile applications.
A fitness tracker called Fitbit Flex measures the human's exercise, diet, and sleeping patterns. 
Smartwatches
The official arrival of smartwatches took place in the year 2013, before that there were watches that were smart and big. 
Tech Giant Apple got all the eyes with its first smartwatch making things a little easier and organized for the owner. Since then, many other brands took a step in this direction and made smartwatches. 
A smartwatch is capable of tracking, monitoring a person's health, and showing the result through a connected mobile application. Also, a smartwatch can also shift the mobile's functionalities into a wrist. 
Furthermore, there are high chances that the coming future of smartwatches will transform from counting steps, monitoring health to clinically healthcare tools. And that's why they will remain in the league of wearable technology trends 2021.
ECG monitors
ECG means Electrocardiograms. The ECG monitors are capable of connecting doctors and healthcare professionals by sending them the reading of patients' ECG. 
These ECGs have the ability to detect atrial fibrillation. The technology and the mechanism enable quick, confident, and consistent care for helping patients. 
And that's the difference between ECG and smartwatches, where the latter one is capable of monitoring the steps counts, heart rates, and others. 
Blood Pressure Monitors
Blood pressure monitors will remain in the list of the next best wearable technology trend 2021 and for the coming years.
This wearable technology is best for the full monitoring of a user's blood pressure with an alarm feature. The alarm feature alerts the users of blood pressure levels, notifying them for reducing efforts. Also, the device can furthermore provide information to the patient's doctors. All in all, this technology is the best tool against stroke, hypertension, and low blood pressure like issues.  
BPM can be proven as the next wearable technology trends in healthcare for better monitoring, analyzing, and others. 
Biosensors
One of the smartest wearable technology trends is biosensors. These biosensors are medical devices that are different from other best wearable tech. 
When it comes to collecting data in an easy way, a lot of smartwatches and wearable trackers are no better than biosensors. Just an adhesive patch that collects data while a patient moves around. It can easily monitor movements, heart rate, respiratory rate along with the temperature. 
It can be seen as the best wearable technology trends 2021.
Assault protection
The next big best wearable tech is assault protection. There has been a rising number of sexual assault cases happening and other related issues. 
An assault protection wearable device can become a camouflage attached to a garment can detect warning and send alerts to the respective person. 
The assault protection wearable can be connected to the phone via Bluetooth where activating an emergency button or sending alerts can be done. Other than that, the connected phone will send alerts to the registered people. Also, the contracted emergency help can record the evidence for further legal action. 
Though it is still in use but it will remain in the list of wearable technology trends for all the coming years. 
Smart rings
Next in the lead are Smart rings-a proof to one of the best uses of wearable technology. Smart rings are best for businesses and individuals who spend a maximum of their time attending meetings and want to get timely notifications without looking at the smartphone every now and then. 
However, not just for notifications but also for payments, or gaining access to the car or other appliances, these smart rings are masters!
A few examples of trending rings are Blinq, NFC Opn, Lycos, Oura, Mc Lear. Using the ring, one can also keep a track of their biometric activity, distance covered throughout the day, calorie intake, etc. These Smart rings can also sense danger or health issues while activating the panic button for sending emergency helps. 
One of the best things about these rings is that they can be tracked via GPS. No more misplacement of rings now!
Wearable speakers
Wearable speakers are the next wearable technology trends. These speakers are not now but they will remain in the tech trends list for all the coming years. 
In the year 2016, LG launched its LG Tone Studio, and later Bose came up with its sweat and water-resistant SoundWear suitable while gymming and exercising. 
These speakers can be worn around the neck for an immersive audio experience that comes along with a microphone. Microphones can also be used as a telephone. Wearable speakers are connected through Bluetooth and hence become a personal assistant in deed. 
When we talk about how does wearable technology work, these speakers give the gist of how Bluetooth, a mobile phone, and an AI transmission receiver are enough to make a device work.
Wearable for blinds
There is some best wearable tech that can help blind people. These devices can navigate their environment, notifying the person to avoid obstacles. The devices are generally designed with a cane and the handle. 
The handle of the wearable device is designed using a speaker, microphone, and haptic sensor. Haptic sensors send vibrations to the users notifying them of the situations. There is also an addition of touchpad useful for navigating the system's options.
On the other hand, the cane in the device is synchronized with Bluetooth through mobile applications. And with the help of the mobile application, Google Maps and personal assistant help can be taken. Using this digital intelligence, users can get information about the nearby stores, their necessary details.
WeWalk is one such best wearable tech that relies on an ultrasonic sensor helping in detecting obstacles above chest level. Also, the device warns the users through the vibration sent in case there is any harm. 
Helmets for cyclists
One of the next uses of wearable technology is helmets for cyclists. Using a smart bike helmet, the rider can listen to music, attend calls all the while navigating with GPS technology. 
For an outstanding experience, helmets are being designed using "bone conduction" technology that converts sound into vibrations and sends those vibrations to the cheekbones. This results in making the rider listen to high-quality audio. 
Apart from that, the helmets now come with built-in LED safety lights. Furthermore, these helmets are also capable of tracking route, speed, and pace, along with categories burning, energy level, and more. 
For example-  Coros Omni smart bike helmet. 
Smart clothes
Smart clothes have listed down its name in the list of wearable technology trends. 
Companies like Athos have created special shorts, T-shirts, Leggings, with built-in electromyography (EMG) along with motion tracking sensors that map muscle contraction & movement. 
These sensors then send information like Heart rate via Bluetooth while bringing out information like how much muscles are working, whether legs are working stronger and others. This will remain stronger in the list of wearable technology future trends. 
These smart clothing are made specifically for bodybuilding, weightlifting, CrossFit, and some other strength-based training. 
Smart glasses
The next in the line taken place for wearable technology trends 2021 are smart glasses.
Google Glass is one such example. The tech giants glasses come up with- 
Sound– The speaker in the glasses is made with wireless audio inputs and cellphone reception rests on the ear rest's end. The audio made is then transferred to the ear through bone conduction. 
Mic– The microphone integrated into the glasses are made for cell phone conversations. 
Smarts– Smarts is known as a central processing unit (CPU) computer brain.
Projector & Prism– These are placed above the upper parts of the lens known as a curved mirror or curved mirror combiner. These lenses offer transparent digital displays without the real world view. 
The smart glasses also come up with a camera and other features to make things easy and trackable for the user. 
Smart belt
The smart belt is capable of analyzing a user's walking patterns in order to detect the risk of falls before they actually occur. These belts are best for old age people and people with walking disabilities. 
With the help of sensors, these Belts analyze the walking pattern of the person. It simply checks when the speed becomes inconsistent all the while detecting abnormal symmetry in the user. 
The gathered data can later be shared via smartphones and can also be given to caregivers for monitoring patients. If detecting an issue, it simply sends a warning to the user's phone. 
Considered as the best wearable tech, the Smart Belt looks like a normal belt. 
Sleep and lounge
There are clothing lining too that involve smart pajamas meant for older people. The clothing often comes loose and comfortable detecting falls, monitoring activity while tracking sleeping patterns. 
For example- Sleep and Lounge eSkin are capable of differentiating between falls, slips, trips, and falls. 
Smart shoes
Next in the list of wearable technology future trends is Smart shoes. 
These smart shoes convert movement into energy while powering internal sensors and other related devices. The smart sensors are great for heating and cooling the feet as per the necessity and can also track the daily workout regime & changes in the weight. 
Smart contact lenses
Who would have thought a few years back that contact lenses are going to be wearable technology future trends! 
There is a virtual assistant built into the content lenses that helps in organizing the life a little better. Also, these lenses are also designed to analyze the tears in order to understand a person's emotional reactions, though prediction and intentions. And once analyzing it and then it reacts making one know what they need before they could find things themselves. 
Surely, these lenses are going to make a huge difference in the life of people who have eye-related disabilities, old age people, and those who want to experience something. 
These are the top wearable technology trends that are going to remain in the market for a longer time. Due to their capability of making a great difference in the life of users, people are investing in such wearable technology for a better tomorrow. 
So, if you are also planning to get started with a leading wearable app development company, we are here to help you out. 
However, during the process of tracking, monitoring, and analyzing the health-related things and others, you might have noticed that the data is simply stored and shared through mobile applications. 
A Bluetooth connection is definitely a need, but the maximum number of best wearable tech works through mobile applications. Through a mobile app, checking out even history can be made easily. So, if you are about to invest in the wearable technology future trends, make sure you know a few points!
Things to take care during Wearable App Development
Starting from wearable designing to the cost, everything matters during the phase of the wearable app development process. However, there are a few things that matter greatly when working for wearable technology trends. So, without further ado, let's get started with them.
App discoverability
App interactivity
Wearables and IoT
GPS technology
Payment gateways
Beacon technology
Data security
App discoverability
For designing a wearable application, it is crucial to figure out methods for app discoverability. The size of the app might differ depending upon the best wearable tech and the prevailing competition. Hence to give an edge to your app, make sure to go through a few app discoverability things like- 
App Interactivity
Instead of making the app common and plain like other apps, iOS and Android app developers can simply make the use of vibrations, voice control, and others. 
These vibrations can be proven best for guiding when driving. So, in order to make the app relatable while being interactive for wearable technology future trends, ensure you are opting vibrations and voice control. 
IoT and Wearables
Just like IoT in Healthcare, Wearable applications are also going to take advantage of IoT. 
The technology when linked with wearable devices can help in improving the safety of people working in sectors like oil, gas, mining, transportation, manufacturing, etc. 
In the coming future, there are high chances that for wearable technology trends, IoT will become a crucial part. 
GPS technology
The current GPS technology is good enough to connect the best wearable tech with the mobile application whereas, with the introduction of more advanced technology, the benefits of Geolocation based apps strengthened for better connectivity. 
Using GPS technology, getting the right information at the right time is possible. So, when developing an app for wearable technology trends, it is essential to use the best oF Geolocation based services. 
Hence, before trying your hand, make sure you are aware of all about geolocation app development.
Payment gateways
A growing number of wearable technology trends are opting for contactless payment via the registered applications. Using just the wearable device, you can transact contactless delivery without any hassle. 
Hence, designing an app for such wearable devices is a challenging task because here you will be connecting a device to the app. Ensuring the safety transactions, payment modes and others need to be taken care of strictly. 
Beacon technology
Beacon technology is not new in the market. Through it, a Bluetooth device can broadcast or receive tiny and static pieces of information within the short distances. The technology is used by apps in order to incite events and CTAs in order to let users interact with physical or digital things. These things include discounts, automation systems, door locks. 
Push notifications are important in this beacon technology too. So, for wearable technology future trends, integrating iBeacon technology is quite beneficial. 
Data security
The data generated from wearable technology is stored either on the smartphone or on the cloud. For that, keep a closer look at the top cloud computing trends in order to work for wearable technology trends. 
Data gathered can be leaked through external threats, malware, etc. Hence, data security becomes a concern for wearable technology market trends. 
Here is a list of things that constitutes data security risks for wearables-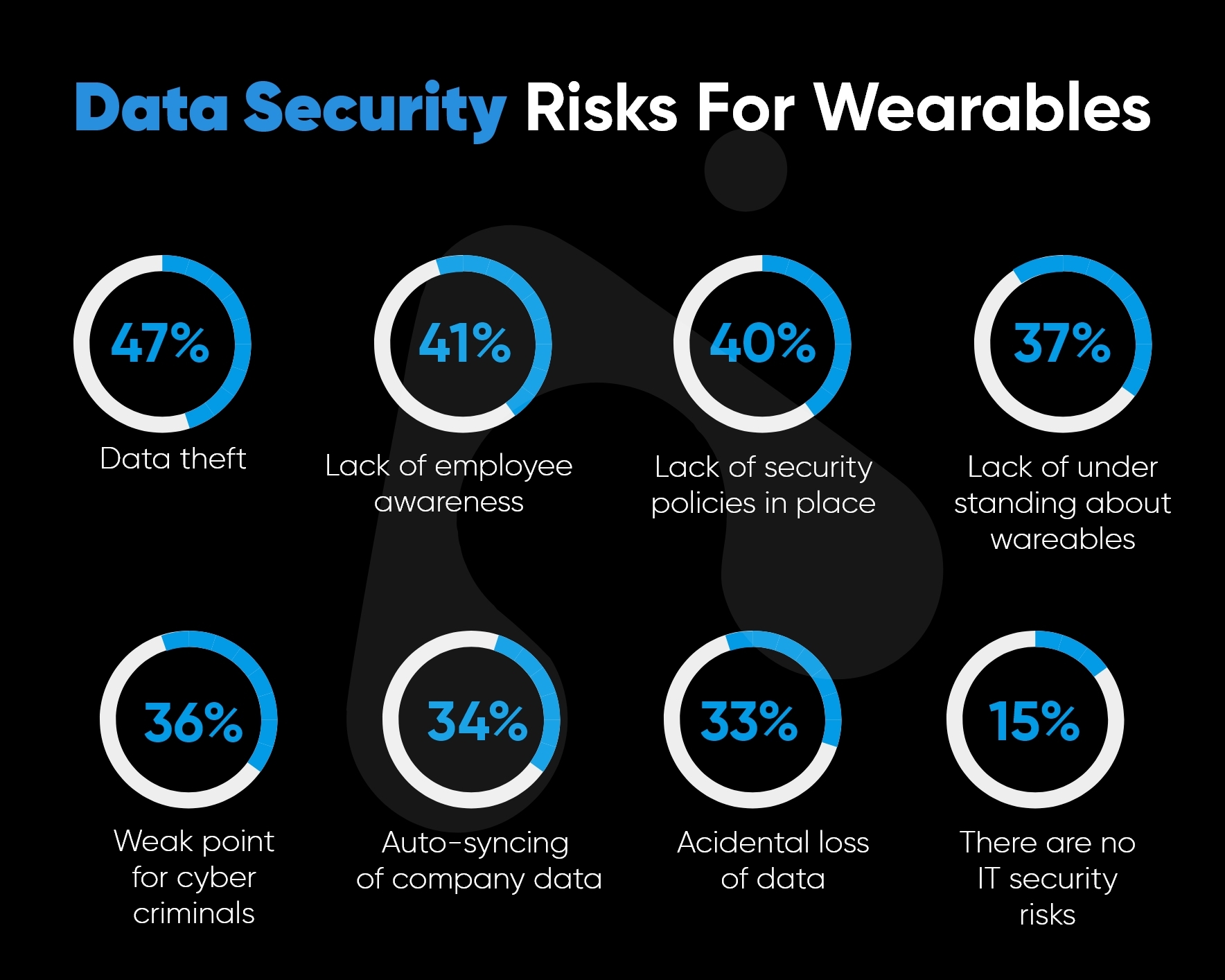 Ensure you have gone through all these aspects to get started with your wearable app development. 
When we are talking about Wearables and their benefits, the technology is now helping during the coronavirus pandemic. 
Wearables Technology for COVID 19
As the Pandemic situation is intensifying, organizations across the globe are planning to ease the burden on hospitals, clinics, and people. 
There are a few examples of firms that have taken the initiative of making wearable technology robots and helpful during this pandemic. 
Smart Clothes by Skiin
Due to the COVID-19 outbreak globally, healthcare systems are under pressure to cure people. But Smart clothing with built-in sensors can help in remote monitoring the vital signs of patients all the while eliminating the need for visiting hospitals. This can be seen as wearable technology trends in healthcare. 
Skiin, the Candian Company offers comfortable & washable smart clothes with built-in sensors. These sensors are meant for monitoring vital signs of patients. These clothes also track stress levels, along with checking the sleep quality, daily activity, temperature, and ECG level too. Skiin's cloth collection includes bras, shirts, underwear, and sleeps masks.
Real Time Monitoring by MediBioSense
Next uses of wearable technology enable healthcare professionals to monitor the health parameters of patients with chronic diseases. For example- Wearable patches help in protecting patients with heart diseases, diabetes, hypertension if infected with covid. 
MediBioSense, a UK-Based startup works with wearable patches for real-time monitoring. These patches monitor a wide range of vital signs. Furthermore, these patches can also include ECG, heart rate, temperature, blood oxygen level (SpO2), respiration rate. 
Respiratory monitoring for PMD solutions
Wearable technology trends in healthcare also include Respiratory Monitoring. The devices for monitoring respiratory issues can help healthcare professionals to track breathing parameters of patients with covid.  
These devices can help both hospitals and patients to diagnose symptoms at their convenience. 
PMD Solutions by Irish Company has made one such solution called RespiraSense. This best wearable Tech sensor helps in respiratory monitoring. 
Cardiac monitoring by Nanowear
Patients with non-urgent cases are urged not to visit hospitals during this coronavirus pandemic. With the help of Cloth-based Nanosensors can solve this challenge for doctors to monitor the cardiac health of the patients. 
Nanowear wearable developed by a US-based company is a cloth-based, nanotechnology powered FDA 510(k) monitoring platform. It can be included in the next wearable technology trends 2021.
These nanosensors can easily capture 15+ medical-grade biomarkers straight from the patient's skin.  The machine learning technology involved in Nanowear can analyze data for notifying healthcare professionals in case a patient's health deteriorates. 
Anxiety reduction by Lief Therapeutics
The self-isolation and social distancing both are increasing stress levels and anxiety for many people. To ease the purpose, wearable devices track user's heart rate variability (HRV) for anxiety reduction. 
A US American Startup designed Lief Therapeutics for a wearable device for relaxing mental health of people. Apart from that, this wearable device helps in improving HRV with biofeedback exercises for reducing stress levels and anxiety. 
Why it's time to invest in Wearable App Development
The above mentioned are good enough to showcase that it's the right time to invest in wearable app development. Seeing the number of advantages, along with wearable technology future trends, wearable technology is the best bet to invest in. 
During the time of the pandemic, the demand for wearable technology is surging high with every passing day. 
Meanwhile, here a few things to know about wearable- 
Wearable technology generates good revenue
Wearable technologies demand is surging high
The technology was in the market and will remain in the market
The technology can be both at the same time- monitoring machine and a fashionable device.
They are being demanded by a maximum number of users for being portable, handy, fashionable.
Wearable technology can be used both by medical staff/healthcare organizations and people.
If you are still in doubt, connect with our experts to know more!
---

Expert in the Communications and Enterprise Software Development domain, Omji Mehrotra co-founded Appventurez and took the role of VP of Delivery. He specializes in React Native mobile app development and has worked on end-to-end development platforms for various industry sectors.
---