The number of businesses adopting IoT technologies has increased from 13% in 2014 to 25% in 2019. 
By 2025, all new car models are expected to have IoT connectivity.
The estimated amount of money invested in automotive IoT is expected to reach $740 billion by 2025.
From 2017 to 2024, the Global Connected Cars market will be valued at $45.3 billion.
By 2023, car manufacturers will sell over 73 million connected car units.
Imagine one fine morning you see a driverless car moving on the road with the passenger sitting all relaxed in the backseat enjoying the perfect integration of music, road safety, location, information, updates and connectivity to other vehicles.
We know it sounds too good to be true. But soon this unrealistic imagination will be the trending fact – Thanks to the power of automotive IoT solutions.
Well, everything is connected these days. From your mobiles to your speakers, from the washing machine to light bulbs to workout attire – everything is fitted with computer chips & sensors are entwined.
The development in technologies like IoT (Internet of Things) and AI (Artificial Intelligence), and their advanced communication capabilities & smart sensors, have paved the way for transformational changes in almost every industry like car manufacturing.
In fact, according to Elon Musk, Tesla is already 'very close' to achieving completely autonomous vehicles, which requires no driver input.
The company's current, level-two Autopilot requires the driver to stay alert and ready to act, by keeping hands on the wheel. However, an in-process future software update is said to activate level-five autonomy in the cars – without the need for any hardware. 
All in all, the Internet of things is one of the disruptive technologies that is revolutionizing the ways in which vehicles operate, hence changing the face of the automotive industry. 
Also Read | Top 7 Important Technology Areas That CTOs Should Invest In 2021 & Beyond
For the newbies who are still new to the concept, here's the brief you need on the Internet of Things.
Introduction to IoT
"[T]he Internet will disappear. There will be so many IP addresses, so many devices, sensors, things that you are wearing, things that you are interacting with, that you won't even sense it. It will be part of your presence all the time."
-Eric Schmidt, Former Google and Alphabet Executive
Connected devices. The chunk of data. Multiplying networks.
All these are the Internet of Things. From smart cities to smart cars to smart devices- We are living in an ever-expanding IoT ecosystem that is getting interconnected every day.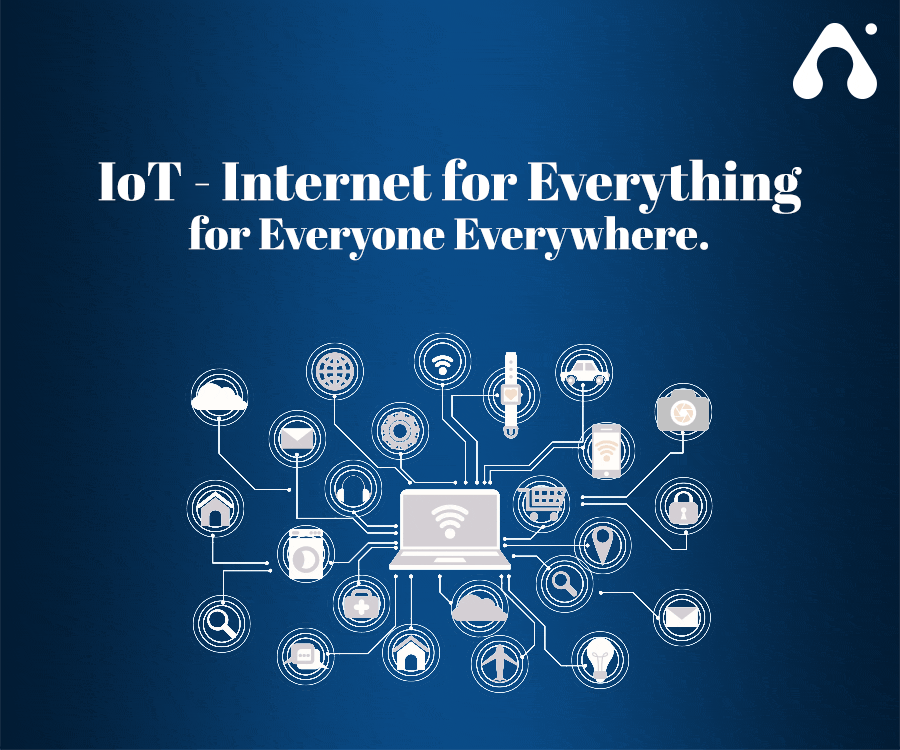 The Internet of Things is the method of connecting any device to the Internet as well as to other connected devices. Basically, the technology that was connecting people until now, is now connecting things. 
The Internet of Things is a vast network of connected things and people that collect and share data about the way they are used. Why is it such a big deal? Over the years, IoT has been among the important technologies that is connecting everyday objects to the internet via embedded devices and promoting seamless communication between people, processes and things.
It has made popular the amalgamation of the physical world with the digital world – where they cooperate. Businesses that are leveraging the power of the Internet of Things are surviving, thriving and giving a significant competitive advantage.
Whether you are just starting out your IoT journey or already committed to it, Appventurez wants to be your technology partner. We have been a pro in IoT app development for years.
What Industries can Benefit from IoT?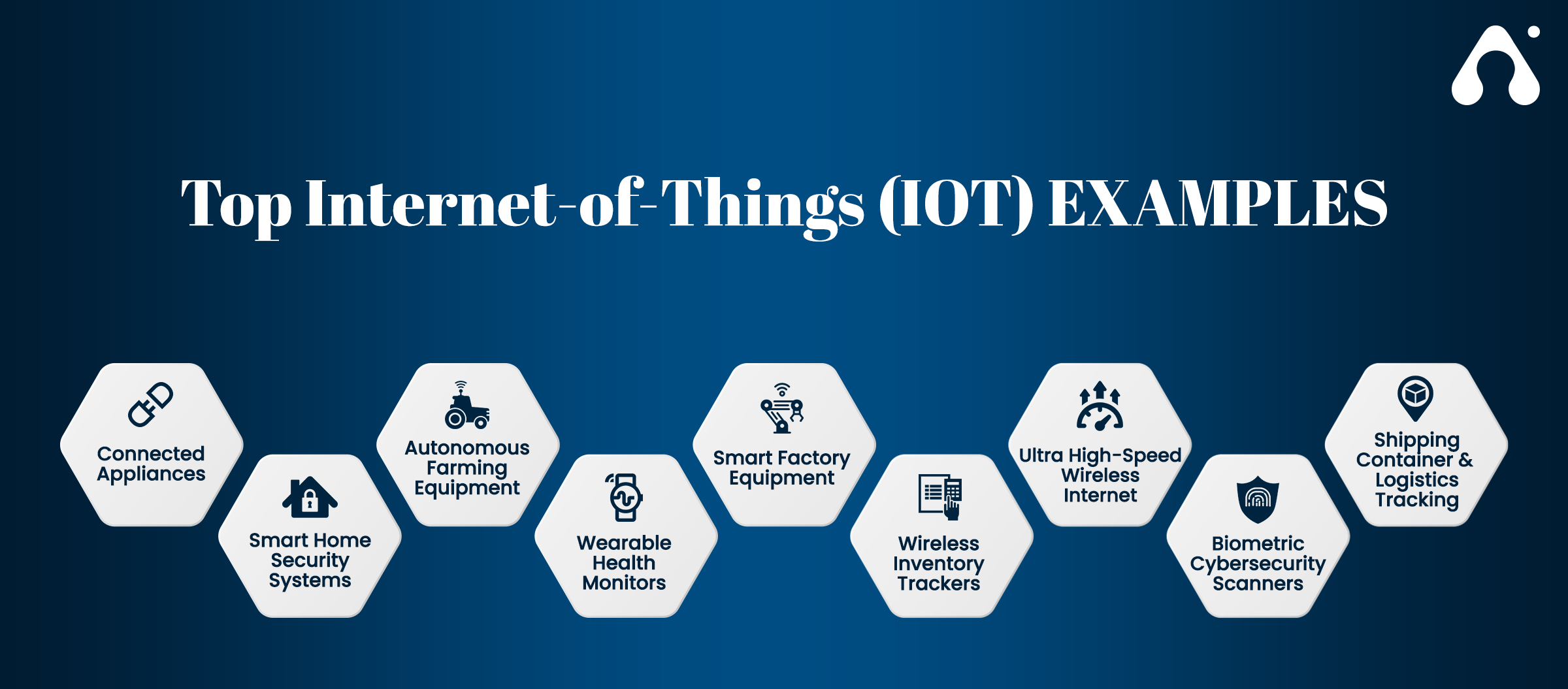 And you can't imagine the number of industries it doesn't benefit from! Let's take a look at some of the most common industries that are enjoying IoT's benefits in real life.
#1- Manufacturing
Manufacturers can and are gaining an advantage by enabling proactive maintenance on the equipment via production-line monitoring. This way, the sensors can actually measure in case a production output is compromised and detect an impending failure. 
The installation of sensor alerts informs the manufacturers to check the equipment for accuracy or even remove it until repaired. This results in reduced operational costs, improved asset performance management and better uptime.
#2- Retail
The retailers can now manage inventory, optimize the supply chain, improve customer experience and reduce operational costs.
Take for example – Smart Shelves. These are wireless inventory control systems that are fitted with weight sensors and RFID tags. This collects RFID-based information and shares the data to the IoT platform to monitor inventory. In case the items are running low, the system triggers alerts.
Read | Impact of IoT on mobile app development 
#3- Transportation & Logistics
Cars, ships, trucks and trains – Transportation and logistical systems are highly benefited from a variety of IoT applications. Thanks to the benefits of IoT in the automotive industry and IoT sensor data – These vehicles carry inventory that can be rerouted based on weather conditions, availability of vehicle or availability of a driver.
The IoT transportation market was valued at $135 billion in 2016 and is expected to reach $328 billion in 2023. 
Moreover, the inventory could be integrated with sensors for track-and-trace and temperature-control monitoring. 
#4- Automotive
The automotive industry, our point of focus for this blog, has been significantly benefited by using IoT applications. Apart from the provided benefits of applying IoT, sensors can detect equipment failure of the vehicles that are on the road and alert the driver with details accordingly. 
Also, automotive manufacturers and suppliers can get detailed information about how to keep cars running or keep car owners informed via IoT-based applications.
So these were some of the industries that are understanding consumer needs, improving machine and system quality, optimizing operations, becoming more responsive and discovering innovative ways to operate via the Internet of Things solution. 
If you are looking forward to adopting IoT in your business to gain a competitive advantage and flourish, Appventurez has got a team of professionals expert in building customised IoT solutions. Get in touch with us.
Let's now go into the core state of IoT in automotive.
Evolution of Connected Cars
According to a definition on the internet, a connected car is basically a vehicle that promotes communication between vehicle systems, driver devices, passenger devices and external devices, networks & systems. It facilitates remote parking and route guidance, but the driver has ultimate control. All in all, it provides useful information to the driver to assist make safer and better decisions. 
From the value provided by vehicle telematics to traffic jams, IoT has the ability to indicate the rise of connected vehicles. Though the concept of connected cars hasn't been any new, the evolution began with General Motors' OnStar in 1996 Since then the concept has gone through a number of phases. 
Depending upon the era and technologies devised, the five major phases of evolution has been:
Research and Development Era
Embedded Era
Infotainment Era
V2X Era
Mobility Era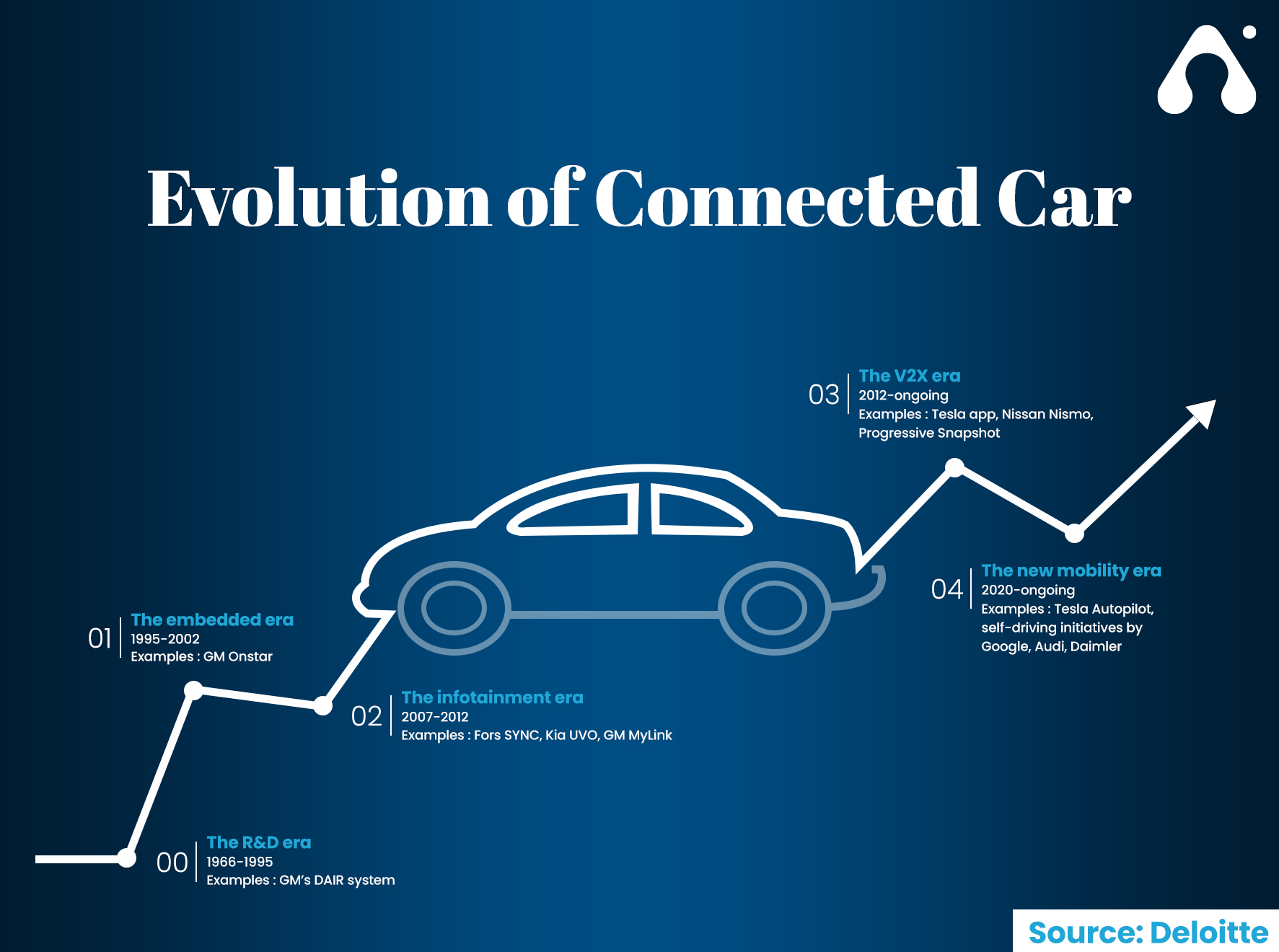 The image defines the standard changes that happened during each phase. With the rapid advancement of technologies including the Internet of Things, Artificial Intelligence and Machine Learning as a service, the technology of connected cars are propelling in rapid succession.
And believe it or not – Connected cars are all set to become a common phenomenon, fully integrated into our digital lives, across the world within no time. 
How IoT is Helping in the Automotive Industry?
Evaluating engine performance, measuring physical health indicators and controlling air temperature – everything is made possible with IoT. It's no longer affordable to ignore the omnipresence aura of IoT in automotive and related industries. 
Moreover, the rapid development of connectivity has led to an unprecedented shift in the way we see vehicles. 
Once that had a structure of steel and pistons, now has computer chips and carbon fibre. Automobile service centers can now track sensor data to predict routine maintenance is needed and schedule an appointment automatically. The insurers can keep a track of user's driving behaviours and their journey to calculate accurate policies, regulate the flow of traffic or even alert drivers of dangerous situations.
Here's how IoT in the automotive industry is meeting the ever-rising demands while achieving its conventional business objectives. 
#1- Design Ideation
IoT makes it easier to manage the product's lifecycle by facilitating the engineering and production timelines. This results in the product's faster time-to-market and improves the customer satisfaction level. 
Furthermore, this reduces the manufacturing costs by segregating the not-so-valuable driving components and eliminating them from future designs. 
#2- Real-Time Scheduling
IoT-enabled systems and analytics support process automation that helps manufacturers improve the quality of their products in real-time.
Implementing automotive IoT solutions allows manufacturers to adopt a resilient lean manufacturing approach easily and achieve faster time-to-market even for high-tech and intelligent products. Besides, this helps them to stay up with the ever-changing demands of the consumers. 
Also Read | How Smart Home Automation is a Way to Safe & Healthy Life?
#3- Higher Customer Satisfaction
The vehicles that are manufactured today have ~10 million lines of difficult software codes which require skilled coders and management techniques. The IoT-enabled systems and software can help achieve a higher level of customer satisfaction by offering better substitutes, regular updates to embedded codes and new services that can help increase revenue from aftermarket services. 
IoT-enabled cars also allow manufacturers to sell software updates and upgrades offering newer and better service features to their customers.
#4- Lifecycle Revenue of the Product
At every phase of the development of a smart vehicle, the right IoT infrastructure can allow data collection remotely to get valuable insights on vehicle usage, its location, its condition, driver's habits and much more.
Such an ecosystem facilitates higher revenue opportunities by collecting and analyzing the data collected from the millions of vehicles on the road. This information can be useful to the manufacturers in terms of user engagement. This way they can provide their users with targeted commercial content and offers.
So you see the potential of IoT in the automotive sector is penetrating day by day. The staggering IoT use cases in the Automotive Sector is deeply transforming the industry. Each manufacturer can benefit from the automotive ecosystem with a clear and well-thought-out IoT strategy. 
And IoT is no longer an option or seemingly a good opportunity to grasp but a necessity for all the drivers in the car industry if they are willing to stay in the race.
Top Applications of IoT in Automotive Industry
According to Ernst & Young's February 2015 report "More than 100 million cars are expected to have some form of connectivity by 2025. The writing is on the wall for IoT in the automotive space: If it has an IP address, it can be hacked. Enterprises need to act now or face the risks."
Thanks to the IoT technologies, there has been a rapid development in innovative and advanced solutions such as navigation & telematics, connected car, Advanced Driver-Assistance Systems (ADAS), predictive maintenance, in-vehicle infotainment systems, Vehicle-to-Vehicle (V2V) applications and Vehicle to Infrastructure (V2I) applications.   
In this section, we take a look at the most disruptive applications of IoT in the automotive industry that are transforming the driving experience.
#1- Predictive Maintenance
As the name suggests, Predictive maintenance is a method of collecting data through several tools to predict possible issues in a device/equipment before it happens. The technique is powered by artificial intelligence (AI).
It keeps track of the performance variables and functional metrics including engine condition, fuel pump, speed, navigation, temperature and electrical systems. The collected data is transmitted to a cloud server. Further, it is used by the mechanics to provide consumers with proactive and predictive maintenance alerts to help them deal with issues before they occur.
This way drivers can take proactive measures beforehand to avoid possible failure while driving.
Read | The progressive role of AI in business
#2- Fleet & Driver Management
The fleet management solution is the latest IoT use case in the automotive industry that helps consumers manage their vehicles swiftly. An IoT-based system/sensor can help managers keep a track of the exact location of their vehicles. IoT sensors embedded in vehicles can send warning alerts for low battery, engine maintenance and coolant temperature.  
Vehicle tracking, preventive maintenance, monitoring fuel utilization, sending alerts, sharing stats about driver's health & performance and service condition monitoring are some of the extending applications of IoT in fleet management.    
#3- In-vehicle Infotainment
In-vehicle infotainment is a collection of systems that work together to entertain and provide vehicle data to both drivers and passengers for a safe and joyful driving experience.
The system interacts with other internal and external vehicle systems such as integrated automotive sensors and connectivity modules.
Companies like Apple and Google are in sync with automobile manufacturers to integrate in-vehicle infotainment content systems. They are also integrating Augmented reality, Virtual reality and Artificial intelligence for a more immersive infotainment experience.   
New to the IT world and terminologies? Check out what leaders need to know about AR in this augmented reality guide!   
#4- Vehicle Telematics
With vehicle telematics, you get to monitor the location, status, movement and behavior of a vehicle. When the digital cockpit is integrated with telematics capabilities via Cloud Connectivity, it facilitates data collection related to vehicles.
#5- A Sustainable Future
One of the other applications of IoT in the automotive industry is planning a sustainable future whilst meeting the current demand. Data collected from vehicles provide a great deal about the state/city. The government can consider this data to create a better and greener environment.
We believe this makes it certain that IoT is shaping the automotive industry and hence, is here to stay. 
How Appventurez can Help you begin your IoT Journey?
The Internet of Things is one of the significant technologies that is completely revolutionizing the automotive industry. Its facilitation is giving birth to more refined automobile use cases that are changing the way we interact with our vehicles.
Want to experience the power of IoT in automotive or understand how it can help you to make your business successful? Curious about the implementation process? 
Appventurez can help!


We are the most trusted and leading mobile app development company. We house a huge team of experts who are well-versed in the latest Cloud and Internet of Things technologies and can develop your idea with an innovative solution.
Share your requirements with us and we will build the right technology solution for you from scratch. Get in touch with us!
---
---