Yesterday, when my mom and I were passing a store, a notification popped on her smartphone, "50% OFF on T-Shirts and Tops. Hurry!". She got excited and decided to plunge the offer at the earliest. She hadn't taken a second thought and entered the store. While she keeps on moving further, new notifications began to pop up on her device, with more lucrative offers – something that made her end up with a heavy shopping bill and me with a question, "Is Beacon technology the future of Retail marketing".
If you too are someone struggling with this question, get into a comfy chair as I'm here to dig out the answer of this question, while refreshing the basics first.
So, let's start with what the term Beacon technology is.
Beacon Technology – Its Definition and Timeline
When talking about Beacon mobile technology, it involves the use of small transmitters that employ low-energy Bluetooth technology to transfer signals to the nearest smart devices. The technology is one of the latest developments in the field of Location-based and Proximity marketing but has been existing in the market for the past many years as a medium of indoor positioning, and accessing services like finding ways in-store, managing assets, and point-of-interest solutions.
If you dig deeper into the history of Beacon technology, the first Beacon was introduced in the market by Apple in 2013. The technology was considered as a bridge between online and offline retailing – helping the mobile apps to have an idea of their physical location and tandem deliver location-based customized offers and notifications. In the same year, Apple unveiled the use of iBeacon technology in nearly 254 US retail stores providing users with notifications related to the location, event info, and other such details. Later in 2014, nearly half of the top 100 US retailers showed interest in testing beacons in their brick-and-mortar store, and prediction of an increase to 85%. The technology was also employed to provide an excellence in overall experience to disabled users.
In fact, Google also declared its own Bluetooth Low Energy (BLE) beacon technology, Eddystone in the year 2015.
Because of all such investments in the field of Beacon technology, users began to show a keen interest in understanding and relishing this technology – a ripple effect of which is described in the following statistics:-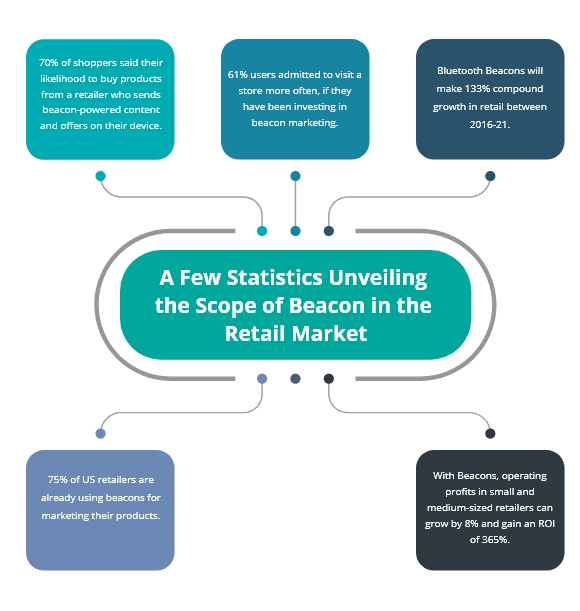 With this attended to, let's look into how Beacons technology works.
Working of Beacon Technology
Beacons, alike small computers of the size of a Wi-Fi router, are placed at a corner of the retail store such that they detect humans in a pre-decided area. When a user walks into that area, they send a code with a message to the users' device. This code, when reached to a users' device having the right application and device configurations, become visible to the users and they get to know about the personalized offer you offered. This encourages users to visit the store once and thus, likely make a purchase.
Now as we have taken a glance of things you need to know about beacon technology, let's turn towards what benefits does the technology brings to your Retail business.
Benefits of Considering Beacon Marketing in Retailing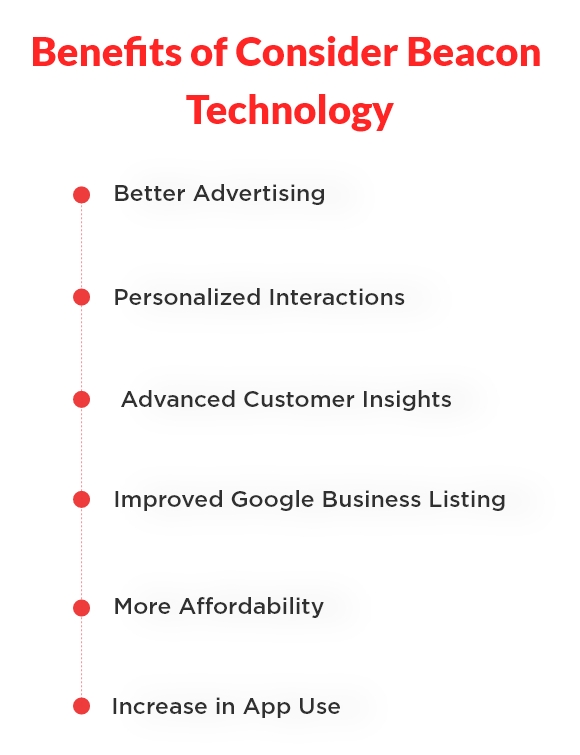 1. Better Advertising
Thanks to Beacon, retailer no more need to rely completely on TV, radio, and other such platforms for advertising. They can easily send a personalized message on the devices of their target audience when they are passing nearby, and increase the chances of having them entering the store and making a purchase.
Not only this, the bluetooth beacon iOS technology also helps in determining the right time and place to target customers and thus, mitigate the challenges associated with brick-and-mortar business.
2. Personalized Interactions
While Chatbots have encouraged online retailers to invest in AI application development for delivering a personalized experience, Beacons have untapped new opportunities for offline retail stores.
The Beacon technology has helped the brick-and-mortar businesses with understanding the behavior of users using their shopping history and curating personalized coupons, product recommendations, and offers for them. This will eventually help with providing an engaging shopping experience as well as building loyalty in the brand-customer relationship.
3. Advanced Customer Insights
Beacons with the power of Bluetooth technology enables retailers to gather a heap of customer data, including what sections of the store have they explored and for what time duration.
This information can be further put into practice to enhance the product listings, revamp user journey, introduce better marketing campaigns, and improve the in-store experience.
4. Improved Google Business Listing
One of the prominent advantages of Beacon marketing is that it helps retailers with their Google My Business listing. The technology keeps a real-time track of the users visiting the retail store and enables the organizations to share the accurate data about popular visiting time in the listing.
It also creates an opportunity for gaining more reviews from customers and requesting them to upload photos of the venue, which eventually helps with improving the SEO of your brand and standing out of the crowd.
5. More Affordability
Beacons, when compared to other technologies and hardware, are quite affordable. Also, they are easy to set up, install and use – making every retailer and mobile app development company looking forward to working with beacons.
6. Increase in App Use
Last but not least, beacon triggered notifications remind users about the existence of the retail brand application and encourage them to tap on the app icon. This brings a dramatic difference in the mobile app engagement and retention rates.
Because of such perks, various startups and well-established companies have said yes to the question, "Is Beacon technology the Future of Retail Marketing".
Many popular retail brands have invested in Beacon mobile app development and experienced a huge difference in their results, a few of which are:-
Target rely upon Beacon technology to make it possible for their shoppers to find and locate different sections and products within the store. The technology, replacing the traditional static map and list of aisle number, shares the real-time location of each section with respect to the user and thus, make the journey simpler.
Not only this, the brand also uses the technology to show the prevailing promotions on the items they are looking for, and eventually prompting them to make a purchase.
The popular retail giant have placed beacons inside LED light bulbs throughout their parking lots and store, which has helped them to send personalized push notifications to the users along with some discounted offers. And in this way, save zillions of efforts to put into finding such users and bringing them at the door of the store.
3. Universal Display
Universal Display, the popular mannequin firm, has also introduced beacons in their mannequins. These mannequins then target the shoppers within the 100-foot range and share a notification via which they can look into the details of the outfit as well as buy any particular component from their phone itself.
Another brand that effectively used the power of iBeacon development for getting a 20x profit is Hillshire Farms. The grocery store has employed Beacons to send personalized messages regarding the quality of their products and even encouraged them to add American Craft sausages items into their shopping list or cart.
By taking this action, they have received over 194,000 engagements and a boost of 36% in brand awareness.
Last but not least, Amazon Go also added Beacon into the group of technologies they work with to discover new ways of user engagement and deliver exceptional in-store experience.
Considering the advantages of Beacon technology and the profits these brands earned, it is likely that you would be excited to invest in Beacon web and mobile app development. While this seems like a great idea, it can bring better outcomes only when you hire the right mobile app development company having years of experience in working with the technology. This is because various challenges are faced by the retailers when looking ahead to Beacon marketing strategy – a few of which we will discuss in the next section of the article.
4 Beacon App Development Challenges You Should Know About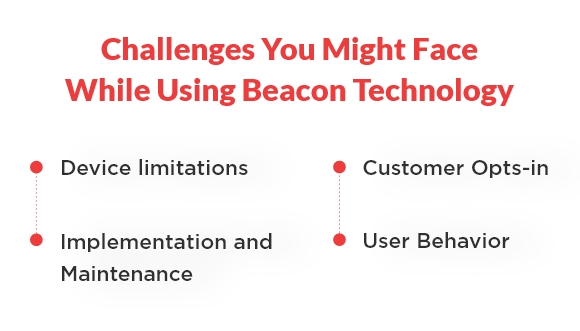 1. Device Limitations
The foremost challenge that retailers face when introducing Beacon technology into their business is device limitations.
Though Beacons send push notification to the users' devices, it is necessary that the customers' devices also have the configurations to install the bluetooth beacon android application and thus, see the notification sent.
2. Implementation and Maintenance
When it comes to how much does Beacon technology cost, the cost to buy the device is inexpensive. However, the cost of implementing and maintaining these devices is higher, provided the brands have to manually check out all the best locations for placing Beacon, experimenting using different values, and replace the devices not working properly.
So, it is challenging for the retailers to cope up with this requirement and associated cost while ensuring effective outputs.
3. Customer Opts- In
For a beacon mobile technology to send messages to the users' devices, visitors should have their mobile devices on, bluetooth activated, application already installed, and permission to receive the push notifications.
In any of these conditions is not fulfilled, the beacon can't perform the tasks assigned, aka, deliver a personalized experience to the visitor and encourage them to enter the brick-and-mortar store to buy some product.
4. User Behavior
Another challenge faced while performing app marketing through Beacon is to determine the user behavior. While some visitors keep glued to their devices even when shopping in-store, others keep them in their purses and bags with almost no chance of raising engagement via Beacons.
The Net Net
It's true that beacons, just like any other technology, can't be the holy grail of customer engagement. But, the technology has the potential to deliver better outcomes, making everyone believe that the answer to, "Is Beacon technology the future of Retail marketing" is true.
---
---