A designing treat is on the way for designers. ProtoPie for interactive prototyping is now available with polished and refined features.

Just like refinement in technologies, the advancements can be seen in designing terms too. Starting from the color palette of visuals, fonts for deeper interaction flows to user experience journeys, designers are creating their own space among engineering teams.

Before we start indulging in the areas of ProtoPie, let us first get a summarized insight into what ProtoPie is-

What Is ProtoPie?
As the name suggests, ProtoPie is a prototyping tool meant for smart devices. Using the tool, designers can make prototypes without the need to do extensive coding. Also, the prototypes made can be tested on actual devices too. ProtoPie is proving its capability and can be easily integrated into the work affairs of mobile app development company.

The philosophy behind ProtoPie is to complete high-fidelity prototyping quickly and easily. 

This can be validated by Tony Kim, Founder of ProtoPie- "I believe in hi-fi prototyping. The prototypes that any designer should make are the ones that resemble the real deal, in regards to the way the user interacts."

The formula behind ProtoPie is to make interactions simple, straightforward that can be run smoothly.

interaction = object + trigger + response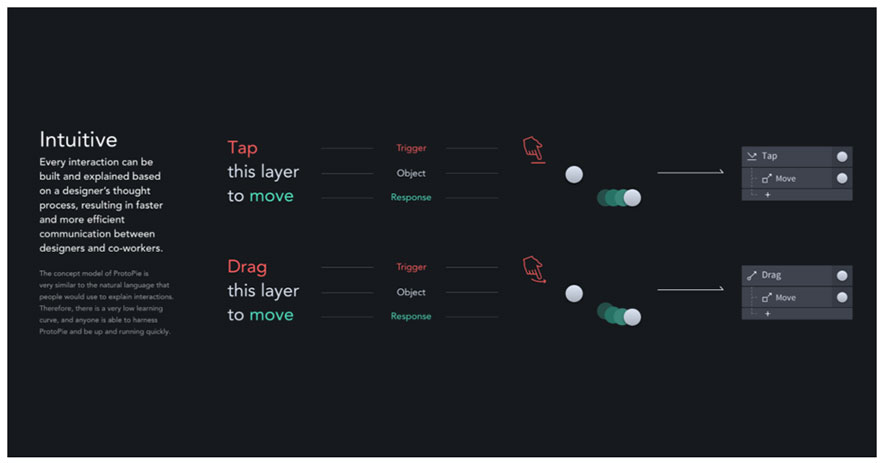 When this was about the core of ProtoPie especially meant for Mac and Windows, there are things designers can do with ProtoPie. Here is the glimpse-

For creating interactions variety even without the involvement of developers.

The designs can be communicated to the development team members easily.

Feedback can be analyzed from real users even before the actual development process.

Furthermore, there are some more good reasons to adopt ProtoPie fully.
4 Reasons To Use ProtoPie
Low Learning Cost
With a concept model, ProtoPie can be understood intuitively. The tool features a user interface quite similar to other graphical tools.

2. No Code
ProtoPie for prototyping does not require coding. The interaction pieces presented in the form of triggers and responses eliminates complex coding process. Thus, it can be easily used for outstanding and interactive prototypes for iOS app development.

3. Gestures & Sensors
The tool is capable of supporting simultaneous multi-touch input making prototypes featuring interactions through two-or three-finger inputs. ProtoPie while supporting uses sensors built-in smartphones for creating prototypes.

4. Test On Smart Devices
ProtoPie makes it easier for designers to test the prototype on actual devices while being accessible to multiple devices simultaneously.

Watch Now – https://www.youtube.com/watch?v=7BELOI3C7lg

Moving on with the how ProtoPie can be proven beneficial for designers is here.

The service empowers designers for creating high-fidelity products' prototypes that involves digital display kiosks, mobile phones, automobile dashboard screens, etc. ProtoPie is also refined with the adaptability of prototypes based on readings from sensors like motion detection.

In a nutshell- "Prototyping is as easy as having Pie"

Jenna Yim, Chief Strategy officer added- "ProtoPie is "a lot more expressive than other tools you might see".

Clubbing the goodness and reasons for using ProtoPie, the take is on how well designers can make use of it.

---
---