Users no longer utilize cash or credit cards since mobile devices may now be used to make speedy payments. The 21st century produced new inventions that left a lasting impression on the financial business. And we're talking about the trend of abandoning the usage of bank cards entirely and the benefits of NFC for business.
NFC is the technology that makes this feasible. Near-field communication is referred to as NFC. This technology operates similarly to Bluetooth in that it requires proximity between two devices to perform. Cardless and contactless banking transactions are already available to you, as are all current technologies.
The NFC market was at around USD 17.5 billion in 2020, and it is currently anticipated to reach USD 39.8 billion by 2026. The worldwide mobile market is expected to reach $3 trillion by 2024.
It's interesting because it allows end users to carry out purchases and transactions directly through mobile phones. They are fortunate to have this facility since Near Field Communication, or NFC has grown so rapidly.
Table of contents:
What is NFC?
NFC is a wireless communication technology that allows end-users to exchange data between devices that are located far apart from one another using RFID readers and beacons.
Because it uses less energy and is low-cost communication technology, it allows them to complete transactions with little difficulty.
NFC focuses on personalized communication by allowing for safe detailed data transmission between two users in a less invasive manner. NFC also helps merchants to improve the in-store experience to compete effectively. NFC changed the future of the payment industry.
Customers' preferences are based upon two factors: convenience and time. Customers either visit retail locations because they do not want to wait for their orders to be delivered to their homes, or they prefer online shopping since it is more convenient.
Furthermore, the major goal is to make the entire process of acquiring a product as simple as possible for them.
NFC employs electromagnetic radiation to send information between two devices, such as beacons or RFID tags and enables users to conduct transactions without difficulty.
Few markets in Asia, Japan, and Europe have begun to use NFC to improve the payment experience. People are still expected to embrace this technology by widely applying it.
How Do NFC Payments Work?
NFC (Near Field Communication) allows two devices to communicate wirelessly when they are close to one another. When the payment device and reader are both engaged and close together, an exchange of encrypted information from the NFC chip occurs, completing the payment.
NFC-based payments are currently regarded as secure and dependable ways for all sorts of payments due to their easy process and numerous technological capabilities. For increased security, the trends in digital wallet payment applications make use of NFC technology.
Another feature of NFC is that it can connect with only one mobile device at a time so it reduces the possibility of nearby users accidentally paying bills for someone else. It also allows users to keep various credit and debit cards on their smart devices and they don't have to worry about losing them.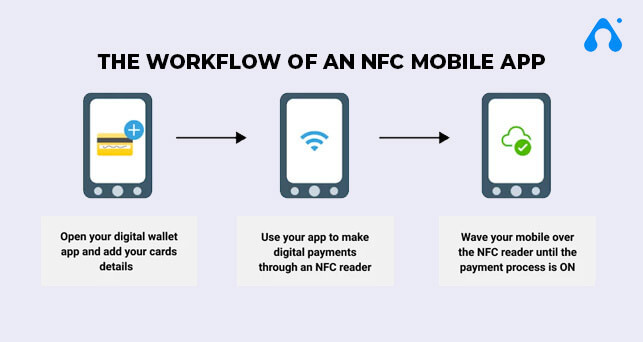 NFC in Banking Apps
1. Contactless Payments
Banks used NFC technology to enable contactless payments before we even knew about the coronavirus epidemic. In 2021, for example, more than half of payments in the UK were contactless, while in South Korea, the figure rose to 96 percent, compared to only 3% in the US.
The services offered by Samsung Pay, Apple Pay, and Google Pay are well-known, but few people are aware that they use near-field communication. A cardholder signed up for the service can make a no-touch purchase using their smartphone, watch, or another wearable device.
If a bank or credit union wants to provide its clients the greatest experience possible, it may decide against using a third-party mobile wallet like Apple Pay and instead create its banking software or at the very least modify the one that already exists to make it NFC-friendly.
2. Customer Acquisition and Loyalty
A top banking app and trends may be used for more than just monitoring your account balance and performing financial transactions. Customers may need to go to a bank branch and speak to bank workers in person for a variety of reasons. It could be possible to "check-in" using the NFC tag inside the bank branch. It gives consumers the freedom to pick what they need right now, empowering bank tellers to respond accordingly and offer helpful advice. A notification containing the identity of the bank employee and the potential wait time is sent to the customer's phone.
3. Identity Check
NFC technology makes it simple to implement such a functionality. All the information about the consumer is obtained by a bank employee's computer with only one tap of the phone to the tag at the desk or in the bank. This may be particularly crucial for loans as NFC-based verification eliminates any possibility of fraud. Additionally, major banks with numerous branches in several states or abroad may find the identification check feature beneficial. For instance, a regional manager may pass by bank branches, and the activation of an NFC tag upon arrival makes it easier to audit the location.
4. Paperwork and NFC
Additionally, NFC banking apps may facilitate document completion and offer strong fraud prevention. Government-issued ID cards and passports have RFID chips, thus NFC technology might be utilized to speed up onboarding procedures and accurately fill out or instantaneously validate banking papers.
5. NFC Digital Wallet
Bitcoin and other cryptocurrencies with blockchain technology trends are entering traditional financial institutions. National financial systems all around the world will start using cryptocurrency if not now, then tomorrow. Cryptocurrency owners have the opportunity to send or receive money, link their digital assets to mobile banking applications for development, and enable contactless NFC payments at commonplace locations.
Benefits Of NFC-enabled Payment Apps For Your Business
Provides clients with an enhanced purchasing experience. Zaptap connects users to a website that contains information about products and services, making optimal use of NFC technology.
Removes the problems associated with paying at businesses by coming up with effective solutions. In the blink of an eye, issues may be resolved with a simple NFC tap from a mobile phone.
Added protection for your wallet The two-step verification approach protects your money against fraud even if your smartphone is lost.
enhanced convenience in terms of quicker payments since it makes the payment procedure much simpler for the clients.
Reduces operating costs since alternative payment processing systems don't use as much paper or human resources to process payments.

Why Opt To NFC Banking App Development?
Bank customers are freed from carrying their cards around thanks to NFC app development. As a result, the technology has transformed the payments industry that can now be made using a mobile device. What advantages can NFC business cardless banking transactions offer?
1. Encryption and Security
End-to-end encryption is used to transport data during NFC chip-tag interactions. Additionally, NFC payment scanners only allow one active device (a mobile phone) to be linked, preventing customers from paying the incorrect bill. Banking applications use a random string of characters to obfuscate the payment data to solve security weaknesses in digital systems (tokens).
2. Convenience
Without needing to carry real bank cards, it would be able to add several bank cards and handle payments using banking applications or mobile wallets.
3. Quicker Payment Time
The initial winners of contactless payments facilitated by NFC are merchants. Having more purchasers also implies that end users will have a better shopping experience.
4. Cost Efficiency
Since NFC interaction uses less power, retail chains that have NFC tags integrated into POS (Point-of-Sale) terminals conserve electricity.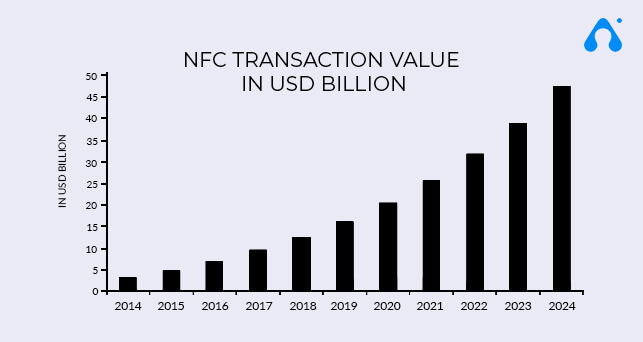 How to Implement NFC Features into Your Banking App?
It's crucial to work with a capable development business. Examine their FinTech-related experience and prior initiatives. If necessary, get in touch with the business's former customers and get testimonials.
Make sure you have a comprehensive understanding of the advantages NFC technology might offer your business or financial institution. Determine the size of the team that will work on your application and go over your expectations in detail with the developers. During the project phase, these and other important actions should be considered.
Negotiate the budget and how the desired functionality may be accommodated within it. Typically, the cost of development includes the solution, its integrations, and ongoing maintenance. There are opportunities for startups occasionally.
Check to see if the business you wish to partner with employs a variety of expertise, from UI/UX designers to AI experts. You may alter your app's appearance during development and add additional functions like cloud sharing or machine learning.
Most Secure And Reliable NFC Payment Apps In Today's Market
1. Apple Pay
Since 2014, Apple Pay has been available. Users may use it to pay for goods and services in stores, online, and even on Apple devices. One of the main factors contributing to Apple Pay's popularity is its security. It generates fake account numbers rather than storing your actual apple credit card information on the aforementioned system.
2. Google Pay
Google Pay is a prominent competitor in the market. The launch of this well-liked NFC payment method at the beginning of 2018 gave consumers access to a personal banking system. End-to-end encryption facilitates safe device-to-device transactions as NFC applications examples. Today, millions of brick-and-mortar establishments accept payments using NFC technology.
3. PayPal
An NFC program called PayPal has been a player in the world of online payments for more than a decade. You may use the nfc mobile payment app to shop or securely transfer payments throughout the world. It functions well on both iOS and Android app development. You can maintain tabs on your transactions thanks to the alerts. Additionally, it is compatible with Apple Pay and Google Pay, allowing users to send up to 10,000 dollars at once.
4. MasterCard PayPass
PayPass is a cutting-edge payment option that makes use of near-field communications for quick, smart, and secure transactions. It works well in settings with lots of cash where efficiency is crucial. Users may make purchases at businesses that have a PayPass terminal by using this NFC tap and pay option.
How Much Does It Cost To Develop A FinTech App With NFC Features?
The process of creating an app is ongoing since it involves adherence to the dynamic ecosystem defined by NFC in business, technology, and other factors. Here are some elements that might affect how much it costs to design an NFC app:
Region – targeted
Managing the change in the regulatory framework
Possible third-party integrations
Back-end architecture development
Environment Setup
Design – based on the target audience
QA timeline & Bug Fix
Project Management
Project Documentation
The tap and pay applications assist businesses in offering regular clients cutting-edge payment choices. To "talk to the customer," businesses like yours must adapt to the most recent trends. Additionally, expanding your adoption of this technology will support your efforts to build a global footprint.
Conclusion
The banking sector is undergoing a major upheaval because of NFC technology. It not only offers the highest level of security for your money and transactions, but it also makes cardless and contactless interaction within the banking facility possible (scheduling, ticketing, identity verification, etc.). Remote transaction processing will boost bank client loyalty and draw in new clients.
By providing quick, simple, and completely secure financial transactions, banks that have implemented NFC technology are a step ahead of their rivals and occasionally even ahead of the curve.
Appventurez a finance app development company have an experienced Enterprise mobile app development team with the required competency to help you with NFC payment options. We use AI in finance app development and have comprehensive knowledge of designing, creating, and developing customized NFC-based solutions & services that can help you render customers' interactive experiences.

FAQs
1. What is NFC service for banking?
NFC (near-field communication) is a technology that allows two devices, such as your phone and a payment terminal, to communicate with each other while they are nearby. NFC is a technology that allows for contactless payments.
2. What is an NFC tag in a cash App?
It is the technology that lets smartphones and devices such as payment scanners interact with one another, and it enables safe, contactless payments such as Apple Pay or Google Pay—transactions that do not need physical touch between the payment device and the payment reader.
3. What is NFC-based payment?
NFC is a wireless data transmission technology that enables smartphones, laptops, tablets, and other devices to communicate data while they are in close contact. Contactless payments are enabled via NFC technology in mobile wallets such as Apple Pay and Google Pay, as well as contactless cards.
---
---