Your business took a great jump and made the investment to develop and launch a mobile application, which was also your dream project. Congratulations. Now you can take a sigh of relief, sit back, relax, sip a cup of coffee and let the app do its work in order to gain market share, customers, insights, greater ROI and many more advantages. 
Right?
Well, no.
In reality, your work has just started. A mobile application only pleases customers when it is fresh in terms of content, UI, colors, etc. And to offer the same to the users, you need consistent updates to keep your app relevant, useful, pleasing, and fresh. 
In a digital parallel world, mobile apps are like a living organism, they need updates and care to keep them useful and relevant. 
So, now the question is how often should you update your application and what are the factors you should consider while updating the app.
But before heading towards these factors, let us first look very basics of the mobile application updates
Many successful apps in the market release 1-4 updates a month.
The mobile app update frequency will entirely depend on various factors like user feedback, team size, and data.
It is mandatory to balance faster bug fixing updates with longer feature releases.
It is essential to plan 2 to 4 updates prior to their developmental stage.
Remember that most feature updates should always be scoped to be no more than 2 weeks.

Why do app updates matter?
Being an app entrepreneur you must be aware of the fact that frequent app updates are one of the best marketing tools. Offering timely updates to the user can help your app to get more mindshare.
Meanwhile, there are many other things that change with time once your app enters the market. Let us check out those things –
Change in Programming languages 
Change in the user's demand
Update in security standards
Release of new devices 
New Android and iOS versions
Even the slightest change in any of these brings a major impact on your app visibility in the market.
These changes are not the only reasons why you should update your application. There are several others. 
Why should startups update their apps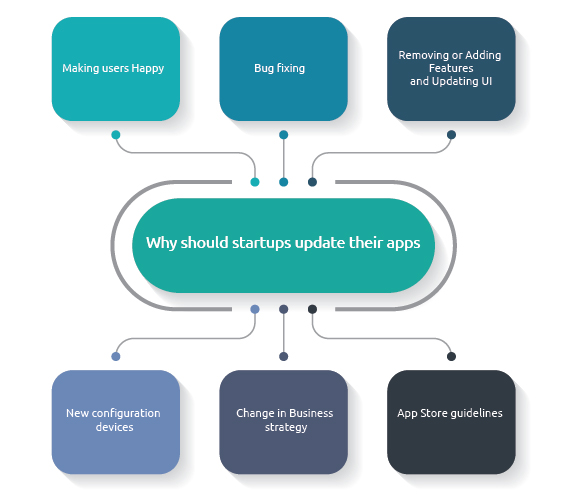 Making users Happy
There is always room for improvement, no matter how much resources, cost, time and effort you have invested in app testing and launching, your app users will always come up with their list of feedbacks about ways to improve your app.
Implementing the changes that they have asked for will show that you are concerned about the experience that your users are getting within the application. This, in return, will automatically increase your user engagement count and earn you more loyal customers. 
Bug fixing
You need to admit that, no matter how thoroughly you have tested your app you are likely to find bugs in the system.
In such a situation, two things will happen – if you iron out the issues quickly, you will retain users but if you ignore the problems, your app will rot and users will abandon it slowly. 
You certainly do not want to fall in the second category, hence, going ahead with solving issues can be a lot favorable condition for you. 
Removing or Adding Features and Updating UI
Both – removing and adding features from and in an app – are important parts of the app updation process. 
When it comes to adding a feature in the app, make sure you are considering the user's feedback. Prioritize what users are asking for and then add features according to their wishlists.
Just as important it is to add features in the mobile application, it is important to look into the features that should be removed. Sometimes, features do not work as per the expectation, hence removing features becomes necessary. 
New configuration devices
There is no denying that every now and then you will witness a new mobile device in the market that makes app updates an important task for developers. 
Why? 
Well, once a device enters the market, it comes up with significant changes in terms of feel, look, the functionality, etc.. Hence, it becomes difficult for your application to fit well and be equally in sync with all the versions. And thus, create a need to update the application accordingly.
Change in Business strategy
No matter how revolutionizing your app idea is, you will always find your app's competitor battling to take the top score. Thus, there are chances that users might switch to another app.
And even if this is not the condition, many a time, mobile app developers realize and notice that they are not getting much traction from the users as recorded earlier. And in situations like these, they start looking into ways to improve upon their apps. 
App Store guidelines
Another important thing that makes it necessary to make the app update is the change in-app store guidelines.
Google Play Store and Apple App Store keep on changing their app submission guidelines routinely. The changes in guidelines impact the future of the mobile application directly. Thus, making it necessary to update mobile application timely.
These were the reasons to keep your apps up to date.
Let us now check out how to update your app along with looking at how often should you update your app.
How to update your app 
Following the difference between Android and iOS platforms, the steps to follow will also vary. Here, in this section, we will give you insights into how to update an iOS app and Android app individually. 
How to update apps on Android 
Increment the Version
The version number is assigned when uploading an app in the Play Store. In the case of Android,  the best practice is to change the version number in the "App Info" section of the Andromo setting. Once you are done with updating the version, make sure you download its new APK file.
Upload the new APK
Once the new version is ready, the next step is to sign in to the Google Play Developer Console and select your application from the list and select the APK tab there. Next, click on the "Upload new APK to Production" button.
You can either send the file for publishing or save it, reaching the next level.
Update app description
After making changes and publishing the new version of the app, it is your responsibility to inform users about the change. 
For this, put in what changes the data in the "Recent Changes" tab of the description box. After the completion of the new version update, it takes almost 24 hours to make it visible to the users.
How to update apps on iPhone
To update your iOS mobile application, follow these steps:-
Log in to iTunes Connect.
Click on My Apps
Click on '+Version' on the left panel
In New Version box, write the new version number and click on 'Create'
Once done with all the information about the Version in the iTunes App, upload the build.
Use either Application Loader or Xcode to upload the new version of the app
Once uploaded, the new version will now get prepared for submission. If you have gone through it, press 'Submit for Review'.
It takes around 30days for the update to show to the users.
Now, when we are done with the things to keep in mind before updating your app and other parameters, it is now time to know how often should you update your application.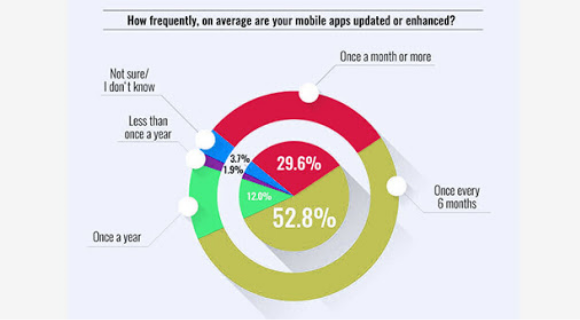 As per the above figure, almost every mobile app development company answers the question differently. 
Some of them update their application in a fixed schedule whereas some opt for the updates only when they are introducing a new feature in the application or targeting a market.
Actually, there is no solid or exact answer to this question.
In fact, there comes an attached risk to it. The process of app update comes with its own ripple effect which is not always in your favor. 
Sometimes, there comes a situation when updating an app can bring up more issues and bugs in the application, completely resetting the existing rating and review. 
Let us take a deeper dig in the next section of our guide to identify what is the right time to update your mobile app by looking at the app industry's trends.-
Appbot, analyzed the releases of around 200 apps on the App Store and categorized them into Free, Paid and Grossing categories to understand this update scenario.
Here is what they found out-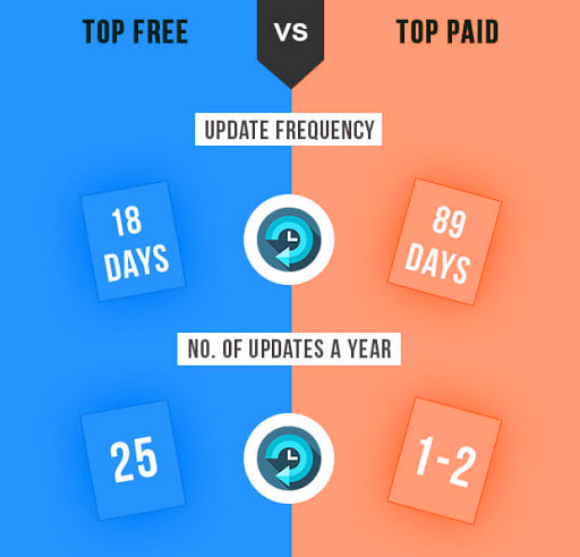 Top Free Apps were updated at least once in the span of 18 days and there were around 25 updates in 75% of the free apps in both the stores.
The paid apps took around 89 days break between 2 app updates and there were just 1 to 2 app updates in a year.
So, what is the final answer to the right time to update your mobile application or how often should you update your app?
Well, it is safe to say that one should update the app as per the given resources, changing technology trends in the market, change in the expectation of users, and when your competitor has introduced a new feature people are going crazy for.
Till now, you must have gotten an idea of when you should update your application, it is now time to look into the costing part of the app update and maintenance as the parting note.
Cost of updating an application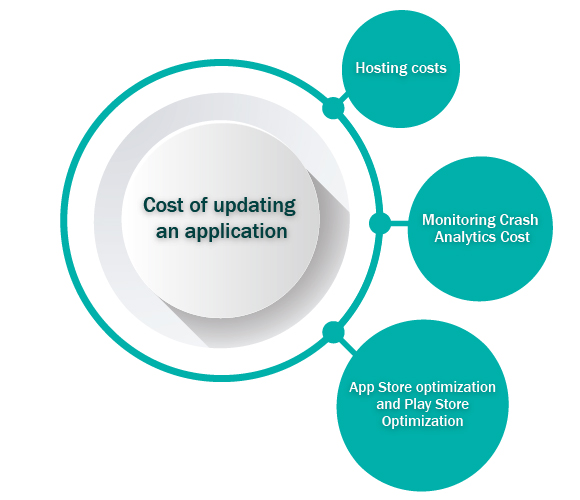 Just like knowing the cost of developing an app, it is also crucial to know how much does it cost to update an app. It depends upon various factors like-
Hosting costs
Your hosting cost alone can reach over thousands of dollars a month. 
Monitoring Crash Analytics Cost
Planning for the app updates along with executing them timely requires monitoring tools
Though most of the crash analytics and monitoring tools are free of cost but you will still be required to invest in people who will be liable for extracting the data in order to gain business insights.
App Store optimization and Play Store Optimization
After making the required updates, you will have to update the description of the app in the stores and rework on your app store optimization policy. You can either do it on your own or take the help of someone who knows how to find the right keywords, design new screenshots, and videos along with having a knowledge of writing the new content, which would come with a cost.
The right time to update your mobile app or cost of updating an application, concluding everything together, it is quite clear that you have to connect with the people who are installing your app. And to let them come back to your application, you need to understand that active users expect some sort of progression from your application. And if they don't get it, they will simply discard using the app, and uninstall it eventually.
In short, your app should be driven by qualitative feedback from the users, quantitative data and an outstanding understanding of the market.
Having the right balance of these elements and timely updates will take some time but the end result will be worthy of all your hard work with increased usage and fruitful ROI from your mobile app development investment.
---
---