The healthcare business is in complete disarray. Healthcare services are more expensive than ever before, the world population is aging, and the number of chronic diseases is increasing.
We are on the verge of a future in which most people cannot afford basic healthcare, a major segment of society will become unproductive due to old age, and individuals will be increasingly susceptible to chronic disease.
Isn't this, as we suspected, the end of the world? Whatever the case may be, IoT app development may help.
While technology cannot prevent the population from aging or remove chronic diseases overnight, it may make healthcare more accessible by providing people with cost-effective medical services.
Companies have made significant investments in cutting-edge technology in order to expedite their business operations and save money. Consumers are increasingly purchasing smart home products and wearables in order to save time and improve their quality of life. If you're planning to release a smart gadget or are contemplating using IoT development to improve the business operations of your healthcare institution, you'll need to know how much IoT app development will cost.
Table Of Contents
1. How does IoT Technology help in Different Sectors of Healthcare?
2. Challenges of IoT in Healthcare
3. How has healthcare been impacted by IoT in Technology?
4. Components of Infrastructure of IoT and Additional Costs
5. Cost of Healthcare IoT Application Development
6. How Appventurez will help you with IoT applications in the healthcare sector?
How does IoT Technology help in Different Sectors of Healthcare?
Healthcare is one of those industries that has never witnessed ups and downs, especially since IoT technology took over its development.
Even during the pandemic, IoT app development technology played a significant part in improving healthcare treatments; you can better examine the important healthcare data with it. You can also look at the 2022 healthcare mobile app development guide.
1- IoT for Hospitals, Doctors
IoT devices are useful for hospitals and clinicians in facilitating medical treatments, in addition to patient health monitoring. In comparison to existing traditional procedures, doctors and hospitals will be able to provide better care to their patients. While increasing population expansion is a key source of worry in terms of growing disease and other health challenges, the future scope of IoT in the healthcare business may assist fulfill the needs.
IoT applications may also be used to assess the effective management and deployment of healthcare personnel in various locations in real-time. Medical equipment is monitored and tracked using IoT devices with sensors attached.
Remote patient monitoring (RPM) combined with electronic health records (EHR) would save $700 billion in the healthcare business over the next 15-20 years, according to the National Broadband Plan.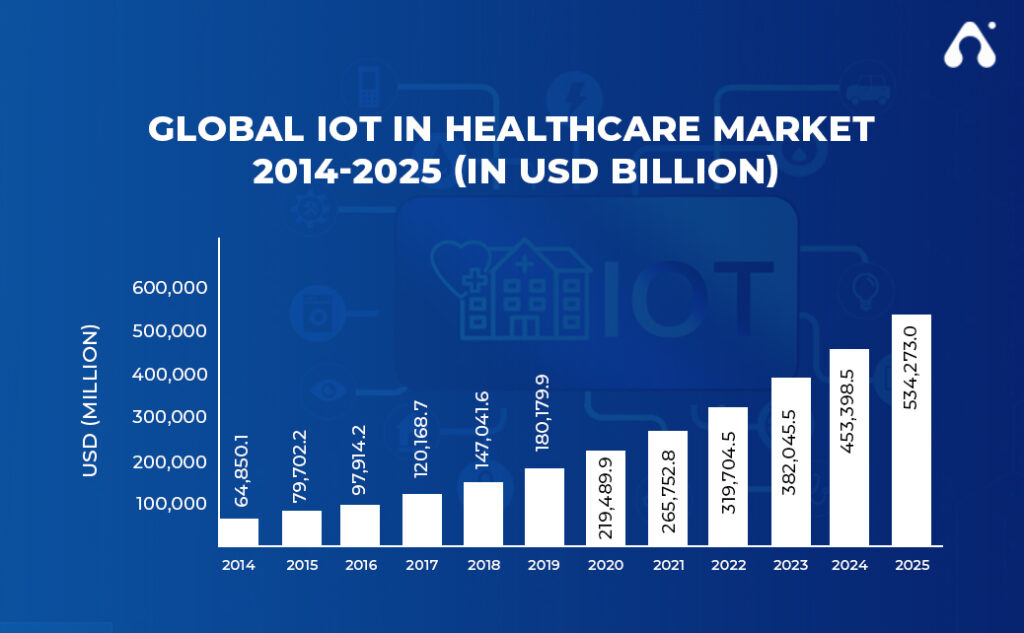 2- IoT for Patients
Wearables like fitness bands and wirelessly linked gadgets like heart rate tracking cuffs are examples of IoT-enabled healthcare products that provide patients with immediate and regular attention.
Additionally, wearable technology trends gadgets with Healthcare software solutions may be utilized for daily calorie counting, glucose monitoring, activity metrics, blood pressure fluctuations, and much more.
Emergency conditions such as cardiac arrest, diabetes, heart failure, asthmatic attack, and others can be maintained under control with regular and comprehensive patient monitoring. Patient's medical data, such as radiography, ECG readings, and blood sugar levels, are saved in the online cloud and may be obtained at any time using the latest devices, such as mobile phones or tablets.
3- IoT for Physicians
Physicians may better monitor patients and track patient data by using IoT-enabled home-based health monitoring devices and medical equipment. They can track how patients respond to medical treatment regimens or provide immediate medical attention in an emergency.
4- IoT for Health Insurance Companies
For their claim procedures, insurance firms might use data acquired through health tracking devices. They will be able to detect fraud claims using this health data. In the claims management process, IoT devices provide total transparency between insurance firms and clients. It also assures data protection and allows for data-driven judgments in the insurance industry.
5- IoT for Business
With its numerous uses in the healthcare industry, IoT tech trends in healthcare are undeniably changing business operations, particularly for Digital Healthcare Startups. In the medical field, IoT offers commercial applications that benefit all stakeholders by linking patients, families, pharmacies, healthcare professionals, hospital facilities, and insurance service providers.
Challenges of IoT in Healthcare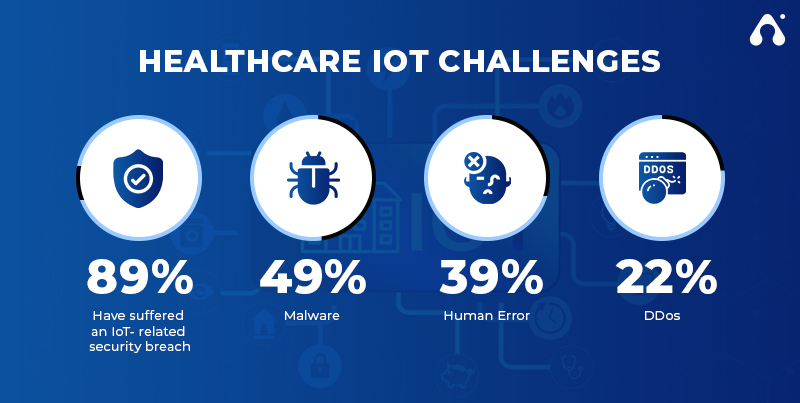 1- Data Privacy and Security
The most significant difficulty in IoT for healthcare is data privacy and security. The Internet of Things is primarily concerned with the transmission and storage of large amounts of data. Hacking can be used against a doctor, hospital, or patient if a breach is discovered. Hackers can also construct phony IDs to buy prescription drugs and then abuse them.
2-Performance of Device
Most individuals own many devices, and integrating IoT into them is producing issues because it may impair their functionality. For data transfer, analysis, and retrieval to be effective, the many devices linked via IoT networks must be compatible with one another.
3- Database Management
Doctors and hospitals store vast amounts of patient information, which can be challenging to handle at times. If this database is not properly maintained, it can put a patient's life at jeopardy if any manipulation occurs as a result of an error. 
4- Cost of IoT System
Furthermore, IoT may help patients save time and money by assisting in the diagnosis of the proper condition; however, physicians and hospitals must invest a significant amount of money to implement IoT in their facilities.
How has Healthcare been Impacted by IoT in Technology?
Despite the difficulties of adopting IoT app development in healthcare, we must recognize that the technology is already having a good influence in the industry. This is what technology is doing to the sector, in case you didn't know:
1- Real-Time Remote Supervision
The gadgets are linked to keeping track of the patients' vital signs. Every second, data is created and sent across equipment in hospitals to improve patient care. This not only reduces the amount of staff required to care for big groups of patients, but it also eliminates the possibility of human mistakes. Doctors can be alerted via automation anytime one of their patient's vital signs lowers.
2- Counterfeit Medications
The healthcare industry is plagued by counterfeit medications. When it comes to people's life, drugs are mindlessly ingested by patients on physicians' orders. We seldom have the mentality to examine their legitimacy, which gives counterfeit drug makers an edge.
3- Blood Pressure Check
IoT is also assisting patients in keeping their blood pressure levels in control, thanks to the proliferation of wearable gadgets. The wearable gadgets detect when the level rises and alert the user to take medicine. Cardiac arrests are also considerably reduced as a result of this.
4- Manage Depression
Not only is IoT tackling physical health, but it's also tackling mental ailments like depression. The backend algorithms maintain track of user-generated data on emotions and behavior and communicate it with users in a visually appealing fashion. They can also identify sleep habits and recommend exercises to help.

Components of Infrastructure of IoT & Additional Costs
1- Network
The Internet of Things cannot function without a highly scalable and high-speed network architecture with minimal latency. Short-range wireless technologies such as Bluetooth, NFC, Wi-Fi, and even cellular networks are frequently used to link IoT devices. IoT market trends in healthcare solutions in this situation comprise linked devices interacting through a network, and you'll need to budget for additional connectivity costs.
2- Middleware
If you want to integrate any third-party device into your IoT ecosystem, you'll need Middleware, which is a piece of software that acts as an interface between different IoT components.
3- Data Center or Cloud-based infrastructure
We'll talk about storage options as well as software that reduces massive amounts of raw data (measured in terabytes) to what's truly useful. Guide to modern cloud app development through PaaS solutions are frequently used by IoT healthcare enterprises to link tiny healthcare IoT devices and analyze data.
Cost of Healthcare IoT Application Development
When it comes to the cost of developing healthcare software for IoT solutions, there are several aspects to consider. They are as follows:
Total Number of supported platforms.
Complete Integration with different third-party solutions such as payment gateways, healthcare wearable devices APIs, etc.
Data ingestion sources as well as requirements.
Security standards.
If you're developing a healthcare IoT solution, you'll need to start with a specific Proof of Concept. If you don't have any experience with IoT development, you may hire a business that specializes in healthcare software development for proof-of-concept implementation and technological feasibility testing.
You must also develop and manufacture hardware for the many related gadgets. If your budget is tight, you may always start with a prototype to gather cash for future development and scale manufacturing.
IoT infrastructure requirements are determined by the complexity of the IoT app development as well as the business model you choose.
If you add up the prices of various IoT components such as infrastructure, hardware, and so on, you'll come up with a total cost of roughly $50,000 for an MVP version of the IoT app.
The creation of a single platform It can take approximately 300 hours to design an IoT healthcare software that works in conjunction with bespoke health monitoring equipment. It may cost anything from $10,000 and $15,000. In order to depict sensor data in real-time and produce high-quality medical graphs, the application will also leverage several programming tools such as the OpenGL library. In this example, the project may take up to 500 hours to complete, with a total development cost of around $20,000.
The total development hours would be about 2000 if your iOS and Android app development in healthcare software is integrated with a number of radiation monitoring devices through Bluetooth, analyses different sensor readings, makes medical reports, and also sends the data to any cloud-based server. The anticipated cost of such large-scale healthcare software development is roughly $70,000.
It will take about 6000 hours of development to create a multi-level IoT solution that includes a web-based admin portal, ERP/CRM features, embedded software that runs on specialized medical devices, and mobile apps. For this sort of IoT app development, you can expect to pay roughly $200,000.
How Appventurez will help you with IoT Applications in the Healthcare Sector?
Despite its obstacles and limits, no one can halt the growth of IoT technology. Nobody can dispute that the Internet of Things has had a significant influence on healthcare. In healthcare, there is a strong desire for IoT to connect every patient in the globe to physicians and hospitals.
It'll only be a matter of time until powerful IoT technologies take over the healthcare business and treat patients from all over the world in less time and at a lower cost. Many major IT firms are already working to make IoT and the future of telemedicine is a winning noble combo for the welfare of humanity.
Appventurez a mobile app development company can assist you in developing an advanced healthcare system if you wish to explore further choices. We design customized Internet of Things apps based on the needs using the best IoT frameworks. We'd be delighted to learn more about your business and assist you with your needs.
So, if you're an IoT development company or an IOT development business aspirant, you now understand the potential of this technology.
FAQ's
1- What is IoT used for in healthcare?
Medical equipment such as wheelchairs, defibrillators, nebulizers, oxygen pumps, and other monitoring equipment are tracked in real-time using IoT devices with sensors. Medical personnel deployment at various places may also be examined in real time.
2- What is the future of IoT in healthcare?
IoT has the potential to make healthcare more affordable and efficient in the future. It can aid in the development of more personalized and patient-centered devices. Furthermore, IoT will enable patients to have greater access to data and individualized treatment, resulting in fewer hospital visits.
---
---