The IoT refers to the Internet of Things, it is an ecosystem consisting of physical objects that are further connected and accessible through internet connectivity.

IoT has seen its acceleration from the last five years and its rapid growth is nowhere going to stop. The global market for IoT technology is expected to reach 751.3 Billion USD by 2023. The graph is surging at a CAGR of 23.88% from 2017.

When this was just the revenue, the connected IoT devices online will be more than 64 billion by 2025.

With this in mind, mobile app development businesses are focused on data-driven applications, cloud data processing, and predictive analytics, allowing to the Internet of Things. Aside from that, the IDE, or Integrated Creation Environment, is a handy toolbox for the development of IoT apps. To discuss the impact of IoT on mobile app development, toolkits can provide end-to-end solutions while aiding with the development, deployment, and management of IoT apps.

Table of Contents
Impact of IoT on Mobile App Development
How Mobile Apps Influencing the IoT Sector
Top IoT Mobile App Development Platforms
IoT Based Mobile Applications Examples
How Will Appventurez Help With IoT on Mobile App Development?
Impact of IoT On Mobile App Development
1# Modified App Development Process
Be it Android app developers or iOS, developers are analyzing how to get started with Integration of IoT Mobile Apps by getting insights into user interaction. This practice helps in figuring out the most personalized way to integrate IoT in mobile applications.
When working with IoT app development, it becomes the priority to understand how the app is going to connect to the objects and to the internet. Without understanding the mechanism, it is impossible to develop a robust IoT mobile application. This is the very first thing showcasing Impact of IoT mobile apps for the business automation.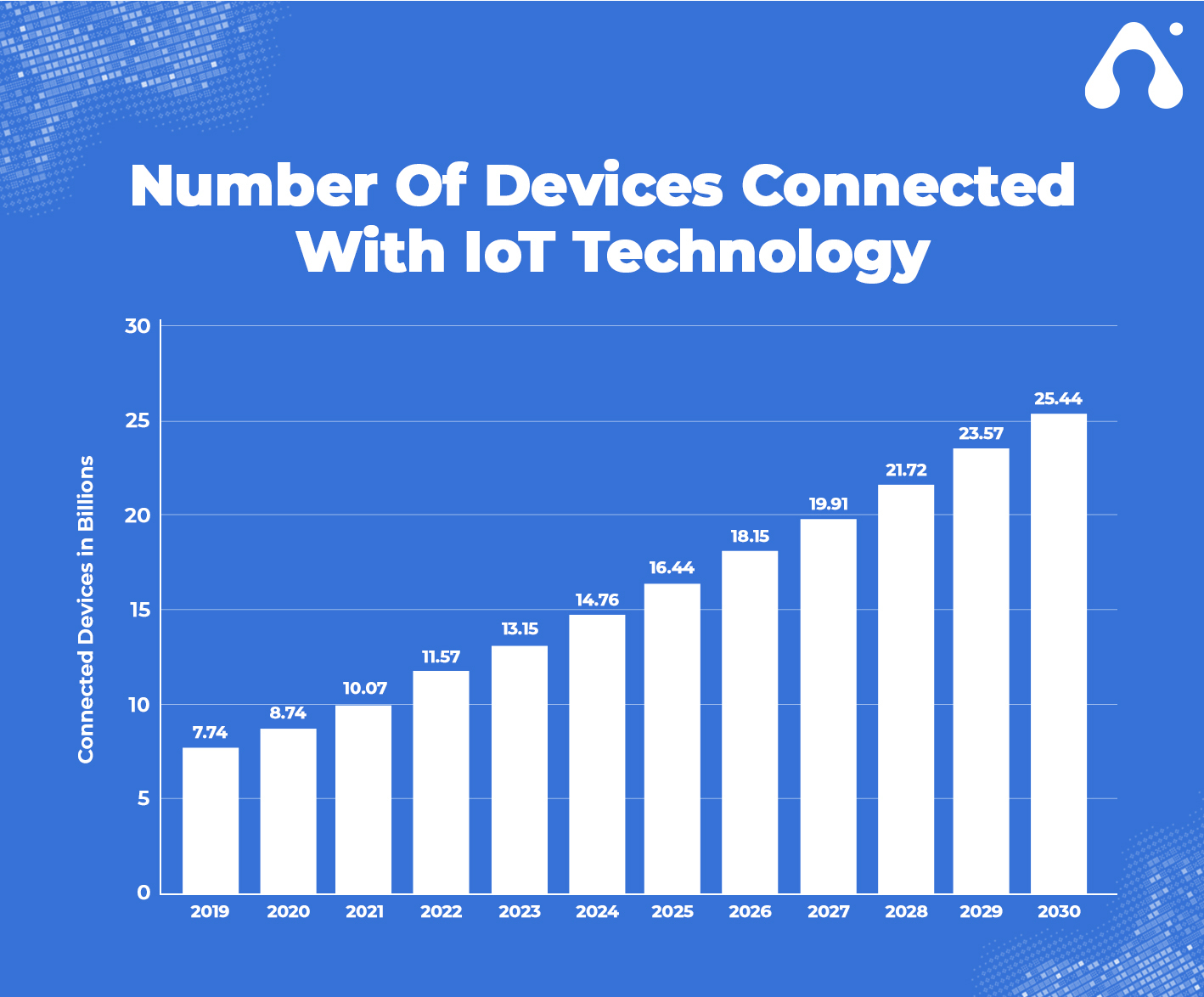 2# Greater Hybrid App Development
The constant battle between Native vs Cross-platform app development is getting more challenging. When it comes to Integration of IoT Mobile Apps development, these approaches are not enough. The technology has the potential to move beyond the boundaries of the native and cross-platform. That's why hybrid apps can be seen as an apt choice.

The hybrid app development approach provides enhanced UX along with incorporating advanced coding capabilities and allowing users to interact with a plethora of multi-platform devices.

3# Promoting the Emergence of Innovative Business
On-demand carpooling ride-sharing apps like Uber, Food Delivery is our daily needs apps and IoT is working in disguise. By collecting data from the connected devices, the on-demand app service allows one to call for the desired things via smartphone IoT.

Without the help of IoT technology, it is somehow impossible to gain knowledge of user requirements. Just like collecting and analyzing user requirements, solving the issues of customers along with delivering services conveniently and more simply is another plus of IoT.
IoT technology is capable of solving user demand in real-time.

4# Futuristic Approach
Internet of Things carries the obvious futuristic approach while holding great potential for the mobile app development company. There are just high chances that technology will bring an era of technological advancements sooner.

This is the reason why mobile app developers are giving great efforts in developing android applications to connect the internet and the objects altogether.

5# Difference in Development Approach
Starting from how much does it cost to design an app to numerous ways to design a mobile application, designing is one of the most important aspects.

But when it comes to designing an smartphone iot app using IoT technology, the process simply gets turned. App developers are required to come up with improvised and new strategic approaches.

6# The Right Platform
Designing and developing an IoT application calls for a different set of the technology stack, top programming languages, and everything. Hence, smartphone IoT applications begin from the very scratch to a robust application. Also, as compared to other application development, IoT app development is a little more time consuming and is open to numerous errors.

Having the potential of upgrading many sectors, IoT is being used by agriculture, energy, retail, IoT in healthcare, and many more sectors.

7# High-Security Protocols
No matter how outstanding the app is, it still cannot help eliminate total errors. On the other hand, mobile applications are prone to external security threats other than cyber thefts too. To develop the app robustly and anti-theft, developers are challenged to come up with a strong idea.
With the help of IoT technology security challenges can be removed & can help in developing a secured and highly strong application along with preventing cyber threats.

8# An Interactive App Development Approach
Any application that is developed using robust technologies becomes a lot more interactive and smooth as compared to apps with fewer technologies. Similarly, apps that are made using IoT are challenging to make but at the same time, they are interactive too.

9# App Development Experience
Not just for mobile app developers, IoT is also giving a unique experience to the users using IoT-based applications. Technology is slowly and gradually becoming the present and the future of society.

The shift or incline towards the technology is enough to showcase how it is becoming a part of the mainstream app development ecosystem.

Why IoT is the Future of Mobile App Development can be proven through the above-mentioned points. Also, there are high chances that in the future, IoT will be the dire requirement for all the app developers to make a mark.
How Mobile Apps influencing the IoT Sector
There's no doubt that IoT, mobile apps, and gadgets are technologies that were designed to work together. So, without further ado, let's take a look at how mobile applications are impacting the IoT industry.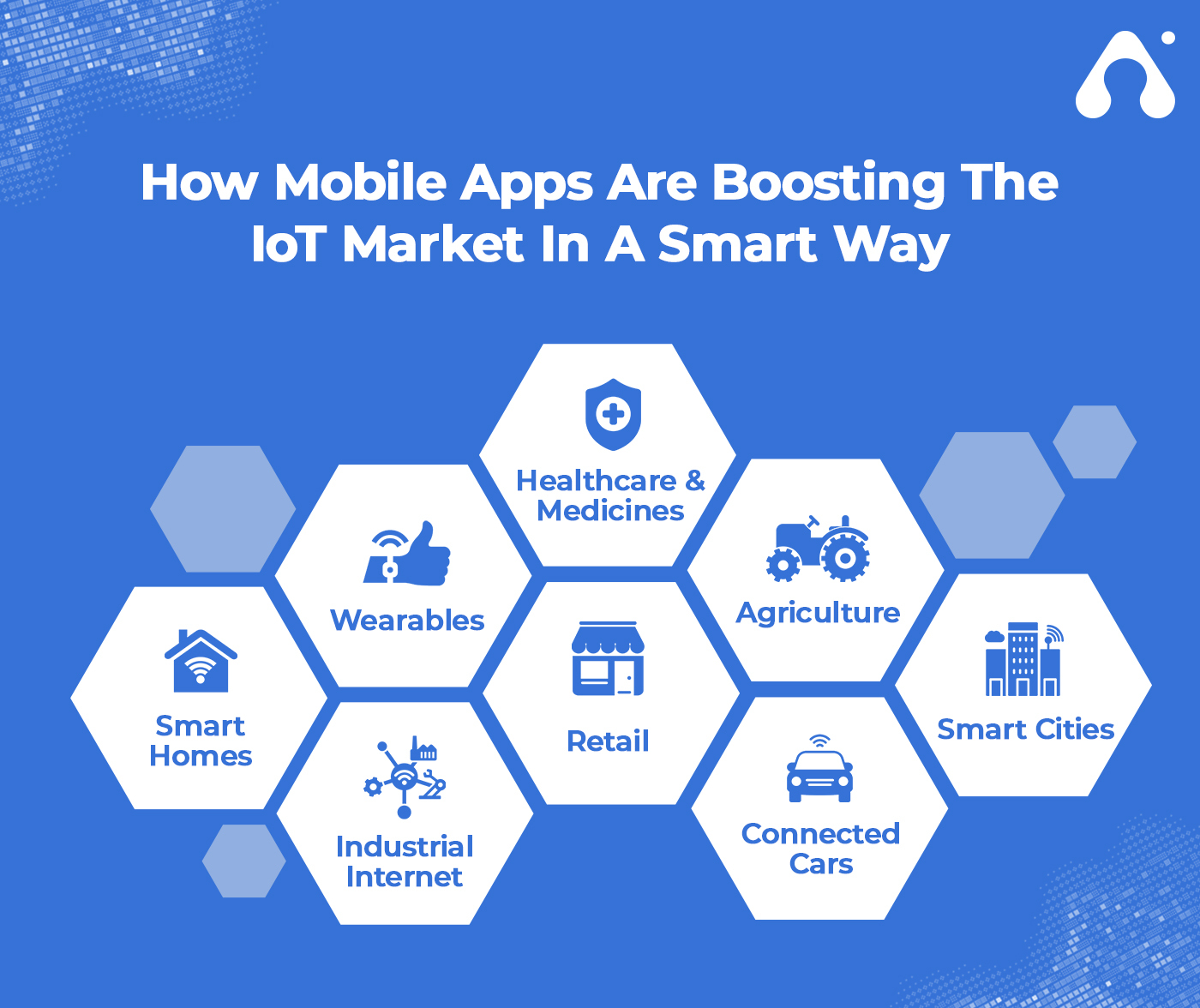 1# Smart Homes
Smart homes are the new concept made through smartphone iot home mobile applications. Smart homes ensure a safe and healthy life by these applications solve the problem of managing multiple smart home devices using one central user control.

A single mobile application can work to consolidate device-specific applications through a single dashboard. The overall procedure helps in providing a smooth and convenient user experience.

2# Wearables
Wearable designing and wearables like Smartwatches and fitness trackers are the modern-day examples of how IoT technology has been integrated into devices.

Through the IoT mechanism, the IoT based devices are capable of sending and gathering data to the corresponding application in the smart device

3# Healthcare and Medicines
The impact of IoT on Mobile App Development has shown its dominance in various industries. Similarly, IoT technology through the device is exploring the potential of medicine and healthcare.

Furthermore, the future scope of iot in the healthcare industry will be used for enabling features like reporting, monitoring, tracking, and alerting along with offering remote medical assistance, etc in real-time.

4# Agriculture
With the help of IoT, farm owners can keep a track of climate changes, livestock monitoring, inventory monitoring management. The application is further connected to the several on-field internet of things mobile devices and sensors in order to bring out the right information in real-time.

5# Smart Cities
IoT applications can help in traffic and accident alerts while warning citizens as well as the authority members.

6# Connected Cars
Connected car technology is quite vast carrying extensive multiple sensor networks, software, antennas along with technologies to ease navigational communication.

7# Industrial Internet
The industrial internet is a mechanism of connected machines and internet of things mobile devices that includes oil, gas, power generation, and healthcare.

8# Retail
IoT technology is capable of connecting consumers, supply chains, and smart storage with the help of an application.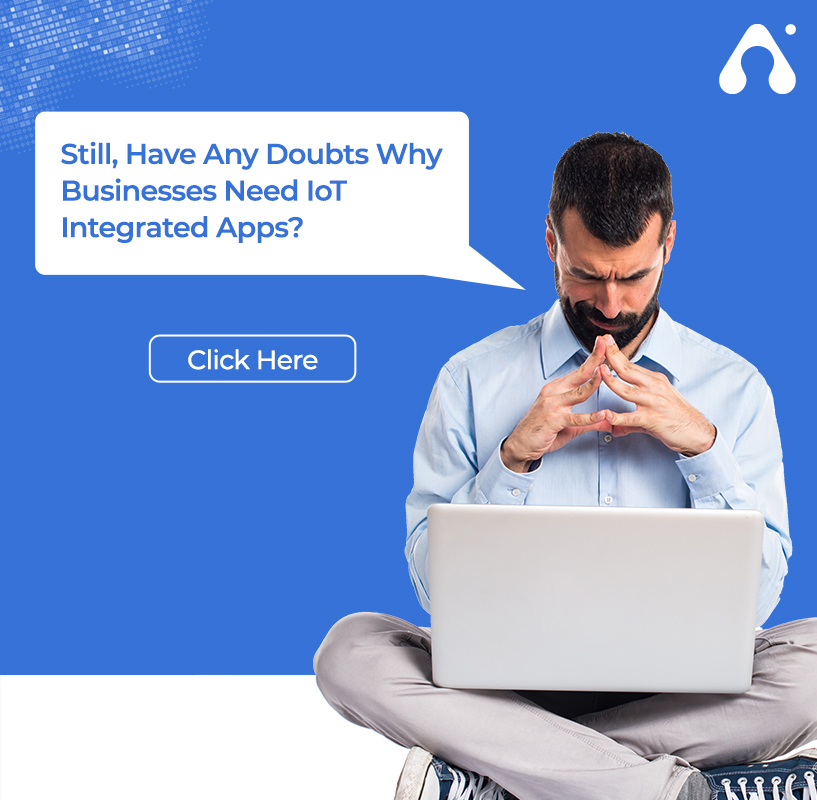 Top IoT Mobile App Development Platforms
IoT also acts as an Integrated Development Environment (IDE) giving users a useful toolkit for the IoT app development process. The toolkits offer end-to-end solutions along with helping with developing, deploying, and managing the applications.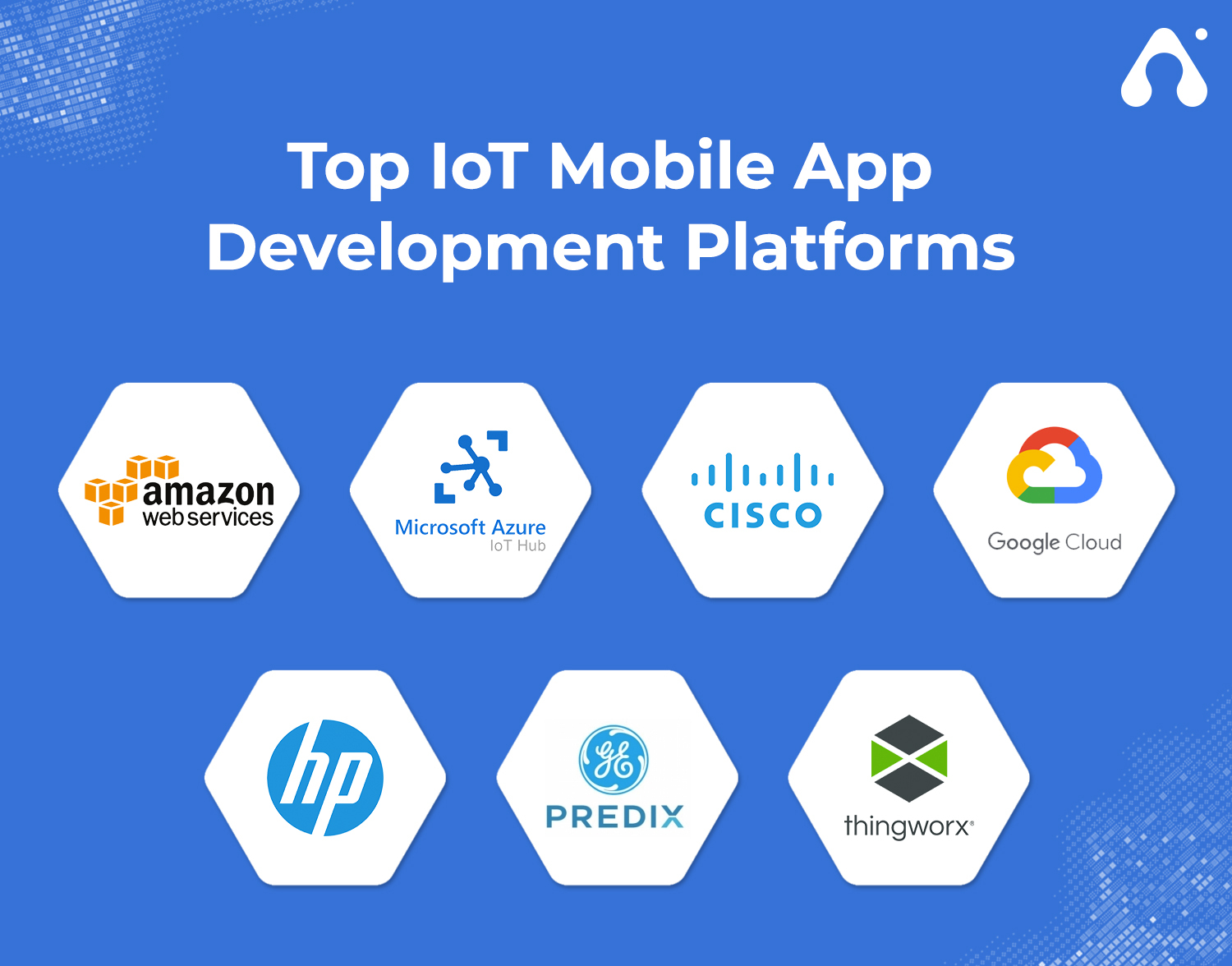 IoT Based Mobile Applications Examples
Enterprise-level IoT Applications
1- IoT Cloud platforms- This IoT data platform works as the foundation of tools to deploy services/products from data prediction to device management. The most famous cloud platforms are- Google IoT Cloud, Microsoft Azure IoT Suite, IBM Watson IoT, and Salesforce IoT Cloud, etc.

2- Advanced Metering Infrastructure- To curb electricity theft, electricity bills difficulty along with poor IT Infrastructure, Huawei's AMI Solution provides a network for collecting power utilization information in real-time.

3- Production flow monitoring- It is used for tracking events across the supply chain along with tracking inventory while keeping a track of waste, packaging process optimization, employee safety, and more. The two most prominent monitoring examples are- QBurst, Oracle Internet of Things Production Monitoring Cloud Service

IoT for Small businesses and Home
1-Smart home apps- Yonomi or Olisto are smart home apps. The app configures rules and workflows for managing group actions, previous interactions, sensor reading, etc. Apart from that, the app connects home devices in an organic way for creating an automated routine.

2- Smart door locks- The app allows users to remotely lock/unlock doors along with sharing access with other parties via a mobile device. The well-known examples are- Friday Smart Lock, August Smart Lock Pro, Schlage, Kwikset & Lockitron.

3- Home robots- iRobot Roomba has made a reputation of automated vacuum solutions way back in 2002. These robots can map out and remember home layout while adapting different surfaces, creating efficient movement patterns, and many more.

4- WiFi thermostats- Devices like Nest, Ecobee, manage temperature remotely. These Wi-Fi thermostats provide geofencing capabilities giving users the capability to adjust the temperature.

How Will Appventurez Help With IoT on Mobile App Development?
The future of mobile apps appears to be both hard and promising, with exciting and novel possibilities.

Great times lay ahead in the bustling mobile app development sector, whether you're a business owner, a designer, a quality analyst, or an app developer. The IoT and mobile apps are constantly evolving, which might lead to a more connected world.

We are recognized as a top mobile app development company. Considering all of these factors, it's clear that the Internet of Things is one of the most significant digital revolutions in the technology business. It is a cutting-edge technology that anticipates their demands and improves their convenience. And there's no denying that IoT in mobile apps is on the increase across the board.

FAQ's
Q1. How does IoT influence mobile app development?
IoT-enabled mobile devices allow you to track cab position, turn on lights, check security cameras, and more. As a result, it has simplified the lives of both developers and end-users. When customers can manage everything from a single device, it reduces the amount of effort developers have to spend developing an app.
Q2. Why is IoT the future of mobile app development?

Data exchange across devices ensures a pleasant user experience, IoT has had a significant impact on the app development business. Enhanced visibility as a result of information exchange has significantly improved the quality of mobile apps in this era.
Q3. What are the main development challenges in IoT?

The three challenges of IoT solution development.The Internet of Things (IoT) is changing the way many companies do business.
The challenges are rapid application development for the IoT, Managing heterogeneity & diversity & Building customizable IoT solutions these are the challenges faced by IoT.
---
---