There is not a single person on this planet who has never heard of Starbucks. Started in one outlet with 3 people, now it has become the world's top American coffee company. Starbucks doesn't go via coffee beans to increase its remarkable fans but also has several data to improve customer experience. What's the secret of Starbucks empowering the market? AI-powered apps!
Table of Content:
Starbucks boosts its CX strategy with a highly functional AI-integrated app
How AI implementation into apps helps Starbucks drive growth?
How to implement AI in your mobile app like Starbucks?
How Appventurez can help in implementing AI in your mobile apps like Starbucks?
Starbucks Boosts Its CX Strategy With A Highly Functional AI-Integrated App
When it comes to AI (Artificial Intelligence), self-driving cars or robotic process automation come to mind. Artificial intelligence technology is a win-win solution that aids Starbucks to develop strong relationships with its customers when making the ordering process more convenient. 
Also Read: How Amazon is Using AI for Customer Experience
Here are some surprising facts about how AI-integrated apps help Starbucks drive business growth:
In 2020, Starbucks generated $19.16 billion in revenue. That's double their revenue after implementing AI into their mobile apps. 
Starbucks app is claimed to have been used by 23.4 million customers at least once every six months. In simple words, it enjoys a user-sharing experience higher than Apple, Google and other popular brands.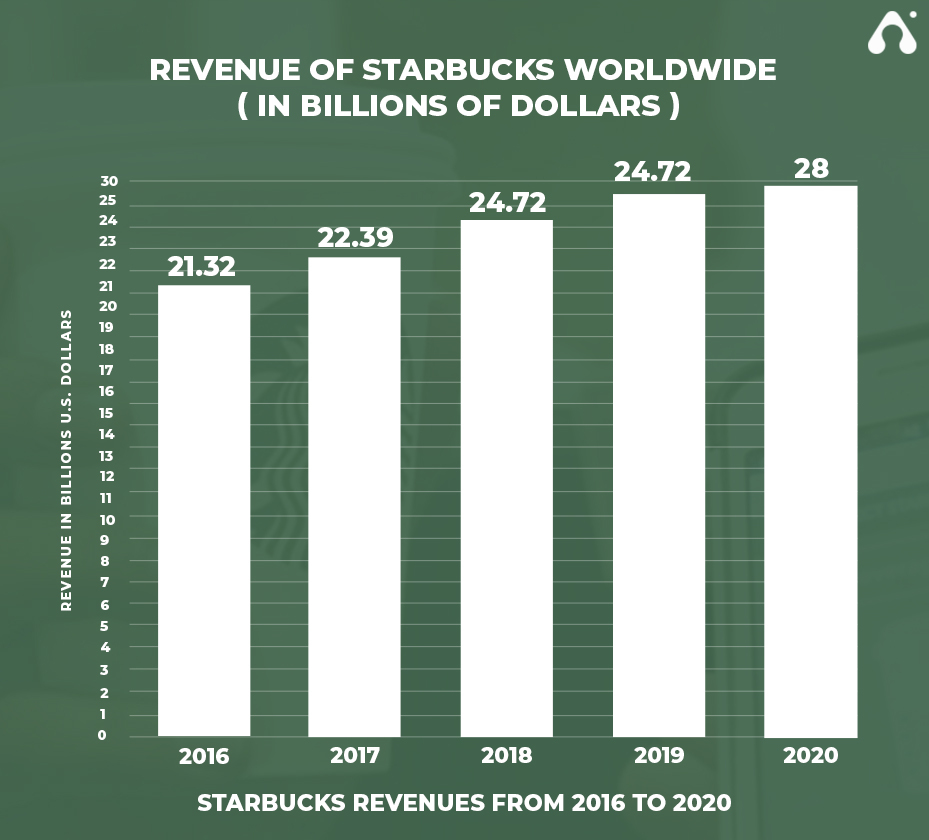 Starbucks' Chief Technology Officer said that, 
                                                                       " We use a data-driven AI algorithm according to your desires, your behavior & behavior that Starbucks is trying to drive. They said that its customization initiative "is the single biggest driver" of improved spend per customer it has seen."
How AI Implementation Into Apps Helps Starbucks Drive Growth?
Starbucks positioned itself as a "third place" customer visit between work & home. The pandemic caused them to enhance the automation pace to involve things such as contactless pickup & mobile pickup. It's important for urban areas as space is limited. If you can reduce the size of your store's footprint, you will be in a better position to open up more locations and increase revenue. Automation is highly popular in the market thanks to AI allowing Starbucks to open up more walkthrough locations in places like Manhattan and other densely populated areas. But why? The coffee shop is a lot smaller and fewer employees are necessary.
Starbucks used several languages for AI development solutions. But python for ml and ai is most popular. 

Here are some ways how Starbucks are using AI technology in their business app:
#1- Using Artificial Intelligence In The Deep Brew Initiative
Deep Brew is a project of Starbucks that is harnessing AI to drive the brand's customized engine. It also optimizes store labor allocations and drives inventory management in stores. It works in tandem with the Internet of Things technology. Data-driven AI not only streamlines operations but also helps to humanize the customer experience.
#2- Controlling Mobile Apps' Power For Customer Convenience
Customers with the Starbucks app chose Pickup-Penn Station as the location and then placed their order. An ordering status at Starbucks Pickup tells customers where the coffee is. 
#3- Using AI To Expanding Its Delivery Networks
As part of a drive to grow its network, Starbucks has been working to expand its delivery via Uber Eats to nearly a quarter of its US locations. It enables customers to have their favorite coffee with breakfast delivered to their doorsteps instead of having to visit Starbucks outlets. 
#4- Virtual Barista
Virtual Barista is another and most popular way Starbucks is using AI to grow their business. This app is ideal for iPhone users and allows them to order via voice or message.
How To Implement AI In Your Mobile App Like Starbucks?
With 90 million transactions a week in 25,000 stores, the coffee giant innovative of utilizing the role of AI in their business to enhance sales & help in business decisions in different ways:
#1 – Identify The Issue To Solve Through AI
When the technology is available in an app feature, it is easier to not just manage but also to exploit to the best purpose. So, identify which app will benefit from Artificial Intelligence? It collects data specifically from that field.
#2 – Understand Things Beyond APIs
When it comes to investing in AI app development projects, Application Programming Interfaces play a vital role. Although these APIs are ideal for converting your app into an AI, they are not enough to support a full-fledged artificial intelligence solution. The fact is that the more you want a model to be smart, the more you want to work towards data modeling – something that application programming interfaces completely can't resolve.
If you want to create an API but don't know how, you need a guide to api development. 
#3 – Employ Data Scientists
Make sure you have data scientists in your team whether you invest in a mobile app development agency or you have your in-house team. They will help you with all refining data and management requirements, especially if you want to stand and excel in your AI game. This is the stage where you want to implement artificial intelligence in your mobile app. 
#4 – Data Integration & Security
Although machine learning implementation for mobile apps, your app will get a better information configuration model. Previous data may influence the effectiveness of AI and ML deployment. It is important to focus on data sets especially if you want to add features to your app. By using efficient and well-organized data along with cautious integration, you can provide your app with high-quality performance in the long run. 
Security is another problem that can't be denied. To keep your app strong and secure, you need to think about integrating security implications, holding to standards and products' needs. 
#5 – Create A Friendly & Smart Digital Assistant
In today's competitive world, customers are not interested in writing long letters or long calls to get support from customer service. But why? The whole process is completed online, the customer doesn't expect online hours in the old sense, so it is important to answer questions around the customer service. 
Surprisingly, some app growth companies have started to adopt AI integration as a great way to help users to get all required information. Creating a smart digital assistant such as chatbots is one of the most effective ways to integrate AI & ML into apps. It also helps in supporting customers with the right customer service. Starbucks is most popular for customer service to improve service efficiency by up to 80%. 
#6 – Study Behavioral pattern
Learning how users behave in the mobile app can aid AI to set a new line in the security world. Anytime anyone can try to take your data and try to impersonate any online transaction without any knowledge. At this time, the artificial intelligence system can track the uncommon behavior and stop the transaction there. 
Three main bases answer what the best method for AI and ML app development solutions can be used in several capacities to allow your mobile app for a better customer experience. 
So, these are some ways you can implement AI in your mobile apps like Starbucks. Undoubtedly, artificial intelligence has paved its way in mobile app development. It is predicted that it will increasingly grow in the future. So, if you are planning to shift your business towards a digital platform, integrating AI into your app will take your business to the next level. Integrating intelligence technology into your business app is the best way to get new users and existing users engaged. 
But if you want to make your business grow like Starbucks but don't know how to implement AI into them, get in touch with a reliable mobile app development company such as Appventurez! 
How Appventurez Can Help In Implementing AI In Your Mobile Apps Like Starbucks?
Appventurez ranks amongst the best artificial intelligence mobile app development companies in the USA. We have a dedicated team of mobile app developers who are qualified and professional in providing a wide range of solutions, from chatbots development solutions to highly-customized business-centric AI services. With the advancement in AI, data is constantly gathered via mobile sites which is a powerful weapon for building a business app. We build AI solutions based on several purposes. These services are compatible with different industries such as finance, eCommerce, marketing, traveling and blockchain. 
Frequently Asked Questions:
Q.1- How to build an app for your cafe like Starbucks?
If your business needs a Starbucks-like app and you are looking for insights into how to build such a cafe app, here is a list of features you need to mention to start your app development journey. 
Registration
Mobile payment options
Customer loyalty program
Order pick-up functionality
Push notifications
Here are some AI features in mobile apps:
Chatbots
Machine learning
Deep learning
Big data
Neural network
Q.2- Why should you implement artificial intelligence in mobile app development projects?
One of the main reasons to merge AI into mobile applications is their tracking user behavior and relevant suggestions on the gathered data. Many apps need a loyal user base to be successful and this intelligence technology helps in getting this. 
Q.3- Which is the best artificial intelligence app?
Here are some of the most popular artificial intelligence applications for both Android and iOS platforms:
Siri
Cortana
Google assistant
Alexa
Elsa
---
---