There is hardly any sphere left that hasn't been touched by digital transformation. From eCommerce to finance sectors, everything is remodeled for faster and more convenient accessibility.
The healthcare and medical insurance industry is also transforming rapidly. Manual data management procedures are replaced by computerized software. Most healthcare and medical insurance giants have switched to digital mediums for quick and precise solutions, and developing a health insurance mobile app is one such step in this process.
This evolution has been long-awaited by businesses in the health insurance industry to provide better services and maximize productivity. Especially when the global health insurance market size surpasses the $2100 billion mark in 2021, having an efficient insurance app can offer you a competitive edge.
A health and medical insurance app has the potential to resolve your real-life insurance-related issues and accelerate your business functions. But do you know what would be the best practice to build one for your business? Let's dive in and get all the answers associated with building your ideal health insurance application.
Table of Contents
Health Insurance Mobile App
: Overview and Significance
The healthcare and medical insurance sector is one of the significant players in the market and will always be. Why? Well, because people do fall sick, get injured, or just need medical assistance. In times when medical bills cost you an arm and a leg, having health insurance becomes a necessity.
With such a surge in the growth of this industry, insurance companies felt the urge to make the process more convenient and easily accessible. That's when healthcare insurance giants like Oscar, UnitedHealth, Aetna, and others decided to launch a health insurance mobile app. The primary objective of launching these applications is to form a transparent link where patients, doctors, and insurance providers can connect altogether.
With a health & medical insurance app, consumers can:
Get insured and receive medical coverage for their treatment without indulging in excess paperwork.

Find and choose an insurance plan that works best for them.

Search for a suitable doctor and hospital within their insurance network.
Today, insurance businesses must have a mobile app to sustain themselves in the market, and the facts and trends in the next section explain why.
Stats Related to the
Health and Medical Insurance App Market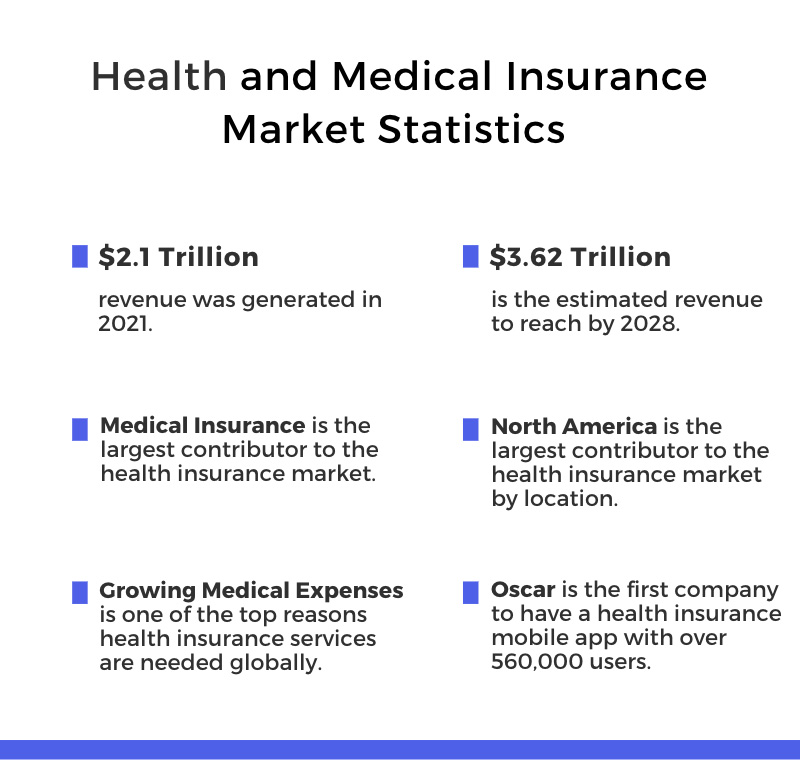 The total revenue generated by the global healthcare and medical insurance industry touched the

$2.1 trillion mark in 2021

. This figure is estimated to reach approximately $3.62 trillion by 2028 at a CAGR value of 9.5%.

One of the significant reasons that create a need for health insurance globally is the growing expenses of medical services.

Medical insurance turns out to be the largest contributor

to the rising growth of the health insurance market.

The

USA (specifically North America) currently holds the record

of having the largest health and medical insurance market in the world which is expected to rise at a CAGR value of 8.1% by 2024.

In 2019, the total revenue generated by the health and medical insurance market in the US is

projected to be over $1 trillion

.

Oscar

, a US-based health and medical insurance company was the

first enterprise to

build a health insurance mobile app

, having over 560,000 users.
Challenges in the Health Insurance Industry
Although the health and medical insurance industry is a lucrative one in the market, it still faces challenges, especially in terms of process execution and service delivery. Here are a few challenges that businesses face in the health and medical insurance industry:
The end customers want their queries to be resolved as early as possible. However, in a traditional health insurance model, the operations are manual which is time-consuming and counterproductive.

Excessive paperwork increases both effort and time required to complete the insurance claim process. This often makes the conventional medical insurance business models inefficient.

In a disorganized healthcare system, it becomes quite challenging to get timely appointments. It also makes it difficult for consumers to choose a suitable doctor and treatment procedure. And even if they do, it becomes hard to pick an insurance policy that covers everything.
The health insurance companies looked for an efficient and intuitive solution to resolve the aforementioned problems. And that's when they decided to opt for medical insurance app development services to overcome these user challenges and make profits at the same time.
Why Are Mobile Health Insurance Apps in High Demand?
Do you know, 30% of patients who experience a longer wait time than expected will leave before seeing their doctors? And that's not it. 20% of patients just switch to some other healthcare provider in such a case.
Now imagine, when people couldn't even wait for their doctor, why would they wait for a health insurance company that takes a long time to provide them with their claim amount? They will just switch to the next better option available to them, and you obviously don't want that.
In order to get away with such a situation, you must provide your users with the most convenient medical insurance solutions as quickly as possible. Having a health insurance mobile app for your business can make this possible by reducing your users' waiting time and offering them a seamless experience. Let's get a more detailed idea of all the benefits you can avail of with a health insurance application.
Why Do You
Need to Build a Health Insurance App
?
Like any other project, medical insurance app development requires an investment of time, money, and effort as well. You might even need industry experts to guide you through the development process. However, if executed correctly, it can prove to be a profitable investment. Here are a few benefits of the health insurance app that made the process of claiming insurance easier for both patients and insurance companies.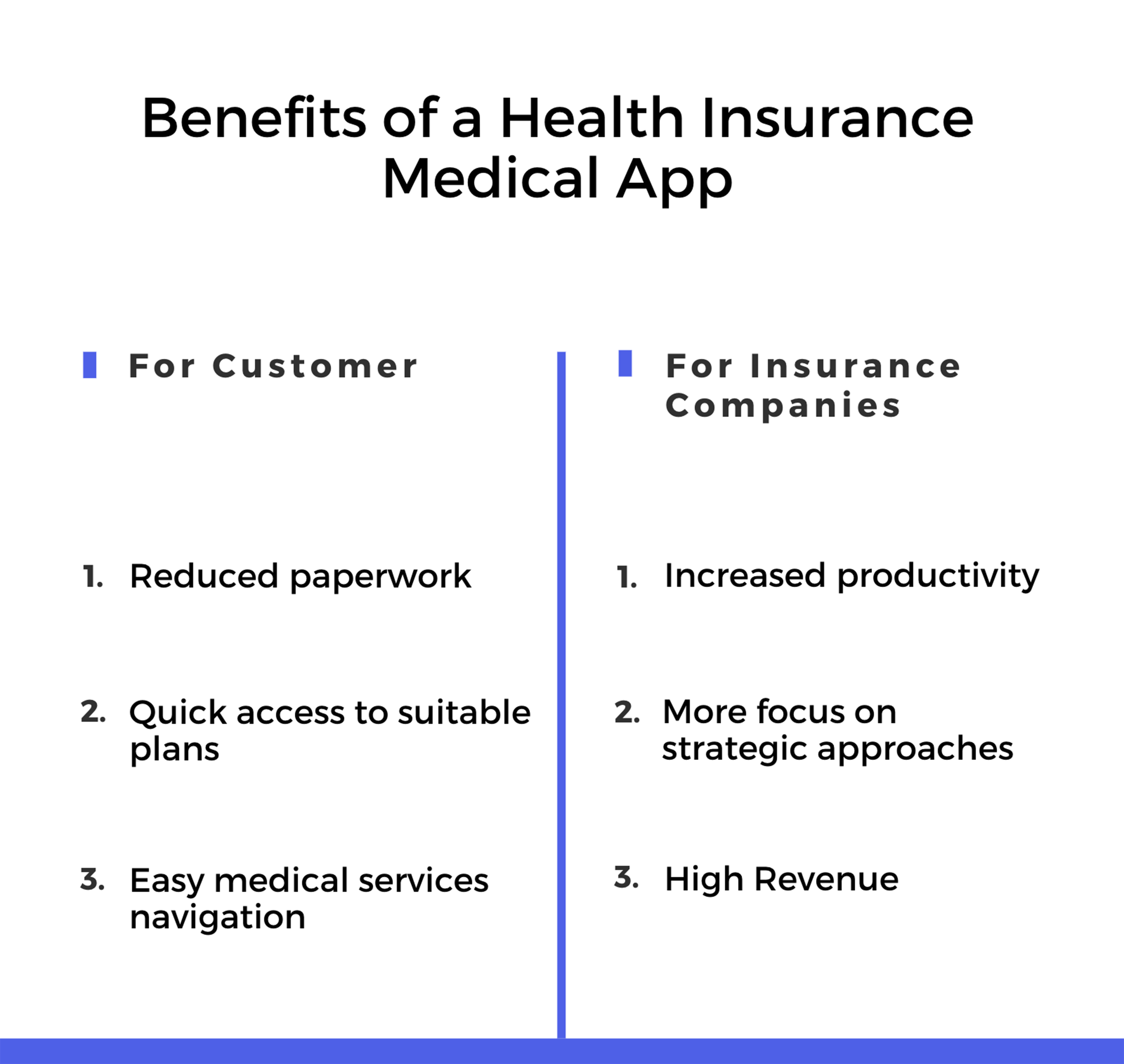 Benefits for Customers
Minimized Paperwork
Gone are the days when patients need to print out the claim records in order to compare them to their health records. With these mobile health insurance apps, users can easily store and access all the required information in no time.
Quick Access to Cost-Effective Plans
Today, there are thousands of insurance companies out there selling numerous plans. Due to a plethora of options in the market, it becomes quite challenging for patients to choose a suitable plan. However, that's not the case with a health insurance app. The users can easily filter out the desirable plans as per their needs, affordability, and preferences and pick the one that works for them.
Easier Way to Navigate Healthcare Providers
People often get baffled in order to find the best medical practitioners and healthcare providers near them. It doesn't even take a lot of time but can also lead to a delay in getting the treatment required by the patients. One of the top benefits of the health insurance app is that you get an advanced navigation system that helps you find suitable doctors along with their ratings, reviews, availability, location, and fees.
Benefits for Insurance Companies
Enhanced Productivity
According to a study, almost 78% of businesses believe that task automation within a company enhances its overall productivity. That also applies to the health and medical insurance industry. And that's not it. A digital solution such as a mobile health insurance app also eliminates the chances of human errors, such as lost documents, transfer of incorrect medical information, etc. In fact, a health insurance mobile app allows insurance providers to update the patients' information in real-time, automatically generate reports, and share policy renewal reminders seamlessly.
More Focus on Business Strategies 
When almost all the tasks are automated, business owners get more time to focus on other crucial aspects of their business. Therefore, instead of worrying about tedious complex tasks, they can invest their time in building impressive business strategies to increase customer engagement, brand awareness, product development, project deliveries, etc.
Revenue Maximization
One of the most important benefits of the health insurance app is that it optimizes the workflow and streamlines the operations leading to better customer service. Better service leads to enhanced customer experience which in turn increases the user base for your business. Consequently, you will be able to earn more profits in a shorter span of time.
Types of Medical Insurance Applications
in the Healthcare Industry
As mentioned, health insurance apps mainly connect three kinds of users: the patients, the insurance providers, and the healthcare providers. However, since every user type has its own needs and problems, a single type of app might not act as a one-size-fits-all solution.
Therefore, based on diverse functionalities and user activities, there are three types of health insurance mobile apps:
Health insurance app for insurance seekers (Patients)

Health insurance app for healthcare and medical services provider

Health insurance app for insurance providers (insurance companies)
Health Insurance Apps for Insurance Seekers (Patients)
The number of people opting for an insurance policy is mostly always greater than the number of insurance providers. That's why this type of health insurance app has the most number of users. Almost all the insurance-related data, like patients' medical records, information related to policy, claim benefits, etc is stored within these platforms.
However, developing these apps is quite challenging as they require advanced functionalities to manage and align with complex insurance policies. 
A robust health insurance app for patients must include the following features: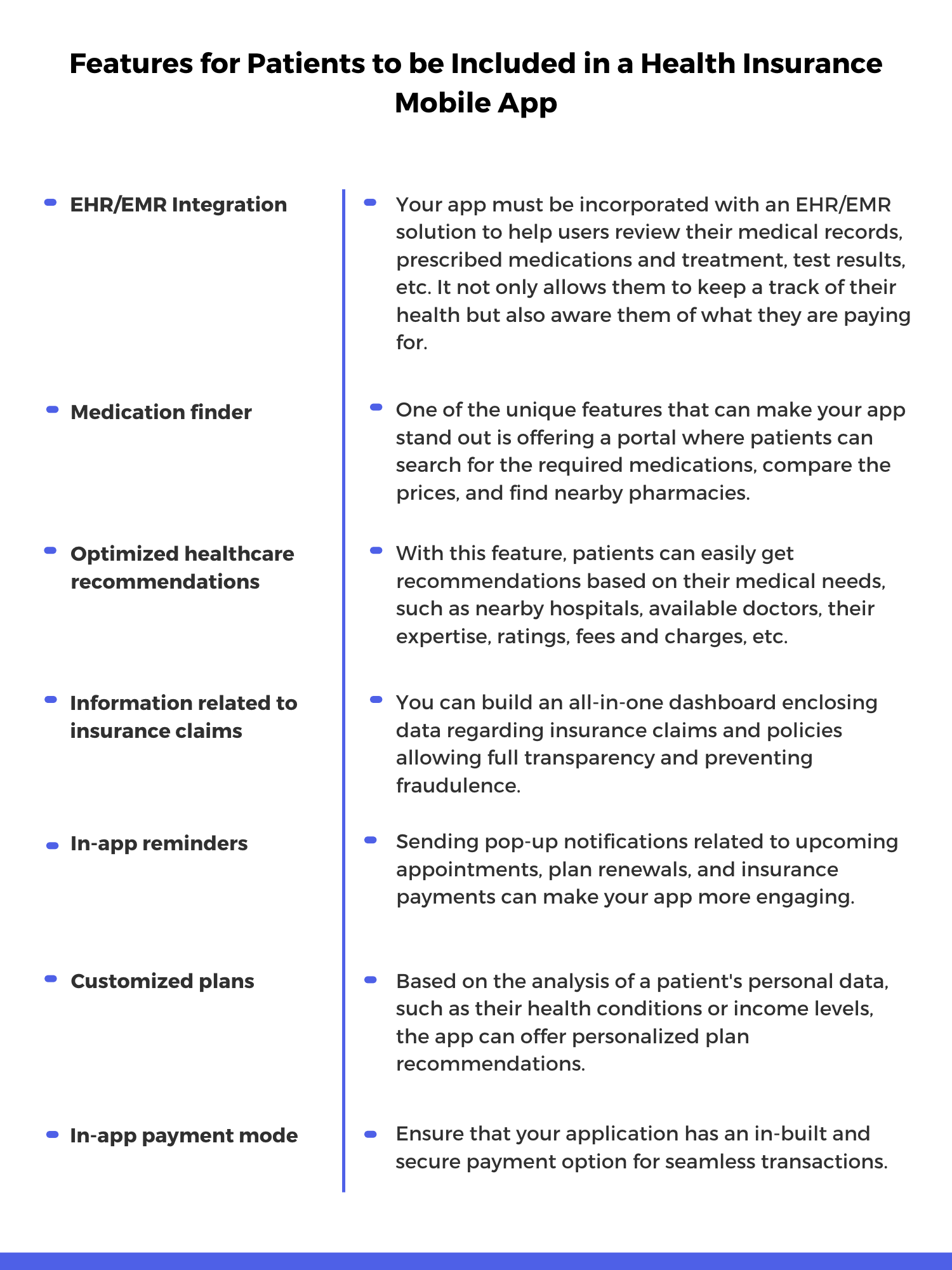 Health Insurance Apps for Medical Providers
The number of users in this category would be lowest as healthcare providers work with several insurance companies simultaneously and it would be challenging to use and manage apps from all of them. However, if you are still looking for a solution for this segment of users, you can develop a health insurance mobile app that allows them to
Check an insurance seeker's eligibility

Verify the documents and insurance IDs of the insurance seekers

Resolve insurance-related issues and queries seamlessly

Send claims without any need to contact the insurance providers
Health Insurance Apps for Insurance Providers (Insurance Companies)
Although the health insurance industry has been working conventionally for quite a long time, the progressive changes in the technological sphere have made them adopt digital mediums as well. Insurance companies mainly need a health & medical insurance app to automate their business operations, avoid excessive paperwork, and prevent errors associated with it. Here are the features you can include in the mobile app for insurance companies:
Real-time updates regarding patient's status

Reminders and notifications regarding claims that need to be covered

Customized dashboard to access the business performance analytics
How to Build a
Health Insurance Mobile App
: Significant Stages of Development
The best way to build a health insurance mobile app with full functionalities and top-notch performance is to consult experienced mobile app development professionals. However, for a strategic process, here are the stages involved in developing a health insurance app.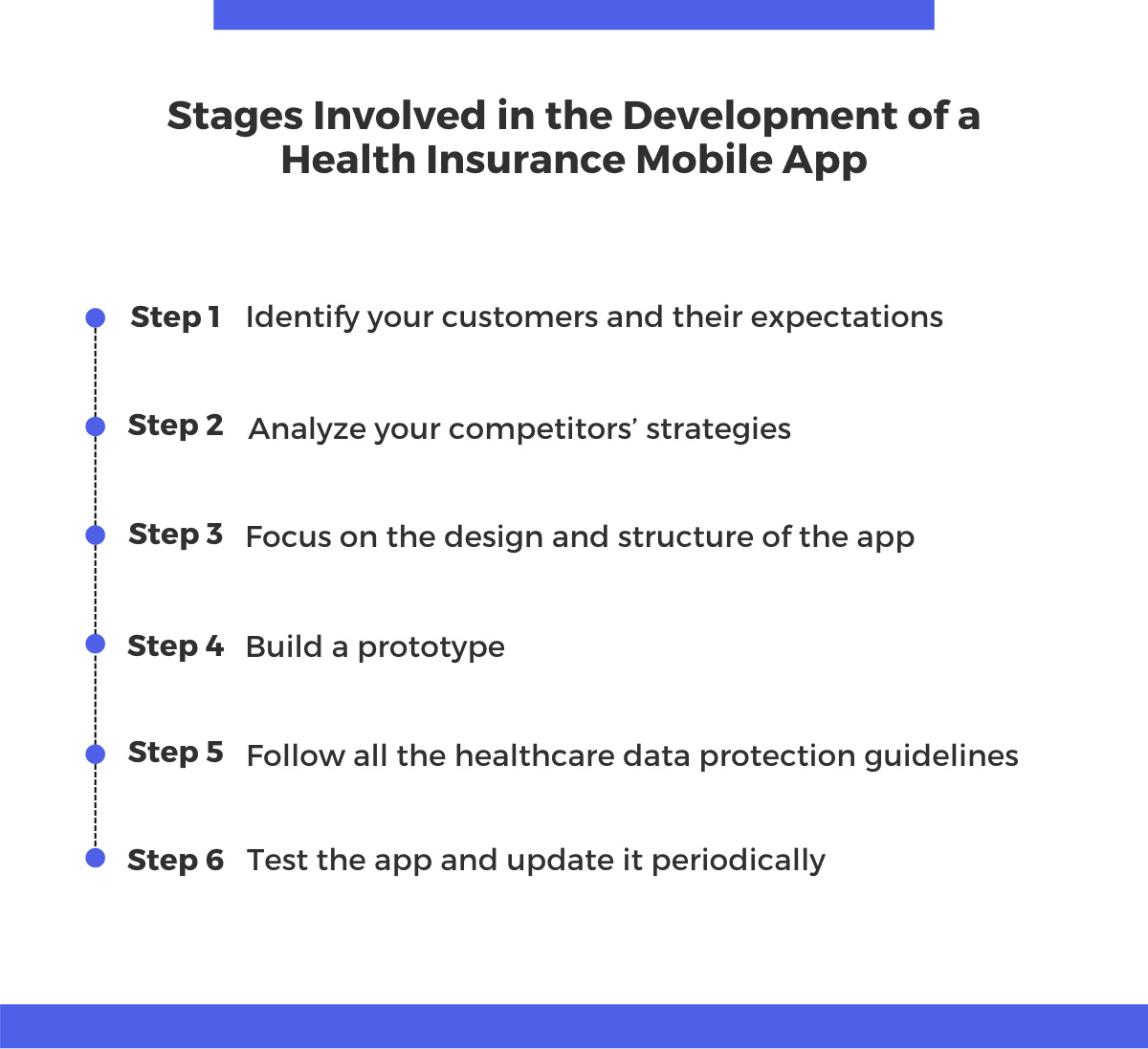 Identify Your Target Audience and Analyze Its Needs
Before developing any product, the first and foremost thing is to identify for whom it is intended and their expectations. After a proper analysis, you must ensure that your app design consists of all the features that fulfill the needs of your target audience. You need to choose a suitable business model for your app and the necessary functionalities to be implemented that would enhance the user experience.
Understand Your Competitors' Strategies
It doesn't matter whether you are an established enterprise or a rising startup, you will always have competitors that might make it challenging to sustain your business. Therefore, it is crucial to stay one step ahead of them by profoundly analyzing the market and understanding what strategies they are working on. It helps you provide an idea of the current market trends and understand the consumer demands in your industry.
Work on the Design and Structure of the App
'The first impression is the last impression.' Well, yes, it is, and it applies to the mobile app industry, too. The first thing that might catch the eye of your users would be the design of your mobile application. Let's imagine they do not like it (make sure it does not happen), do you think they are going to check your app out any further?
Well, according to statistics, almost 90% of users have stopped using a mobile app due to poor UI/UX design and performance. Also, about 58% of users have reported that they are frustrated with UI inconsistencies. Now imagine in the era where consumers have a plethora of options available to them, would you spare to lose them due to such performance issues?
Therefore, it is most important to think about the design and structure of your app according to your users' perspective. The more minimalistic and easy to navigate it would be, the more people will like it. Also, your health insurance mobile app must work smoothly irrespective of the device accessed and its screen size.

Create a Prototype
Creating a prototype or a beta version of your app helps you get useful information and feedback regarding your mobile app performance. Besides that, prototyping a mobile app also saves you time and money that might be incurred later in the redevelopment phase when the app shows any errors.
Once you get the feedback from the test users, you can proceed with the medical insurance app development based on the initial roadmap.
Keep All the Healthcare Data Protection Guidelines Checked
Other than the design and performance of the app, one thing that concerns the users most is their data security. Therefore, ensure that you follow all the healthcare data protection guidelines followed in the country in which your app will be deployed. In short, make sure that your app is compliant with all the legal regulations in the health and medical insurance industry.
For instance, in the United States, a health & medical insurance app must follow the guidelines mentioned under the Health Information Technology for Economic and Clinical Health Act (HITECH) and the Health Insurance Portability and Accountability Act (HIPAA). Similarly, your app must be compliant with the General Data Protection Regulation (GDPR) if deployed in a region that comes under the EU.
Run Tests and Upgrade Features
Last but not least, mobile health insurance apps must be tested thoroughly to ensure that they pass all the most strict quality checks. It's crucial to identify the bugs and flaws in the app that might hinder the user experience and rectify them as early as possible. Moreover, update your app timely with the required features that align with the changing market demands.
Features to Be Included in Your Health Insurance App: What Will Make You Different From Your Competitors?
Since the pandemic, the health and medical insurance industry is on the boom. In such a scenario, finding success in the digital domain of this industry wouldn't be an easy task for sure. Especially when it comes to the mobile app market, it's just the features and design of your health insurance mobile app that might distinguish you from the rest. Here is the list of the must-have features that you can include in your app:
Virtual ID Access
This feature provides your users with a digital ID that can help them access all the medical and pharmacy services included in their respective insurance plans.
Easy Navigation
With easy navigation through search algorithms, patients can effortlessly review the claim policies and services covered in their plans. It offers them transparency to check plans and pick suitable health and medical insurance policies.
Policy and Claims Management
Your health & mobile insurance app must provide users with a feature to manage their policies to review, change, or cancel their current plans. It must also allow them to track the status of their insurance claims.
Payment Options
Integrate your app with various popular payment gateways to streamline the policy purchasing process. Furthermore, make sure along with convenience, you are also providing high data security while they make online transactions through your app.
Communication and Support
This feature lets users connect with a medical expert to get answers to their basic healthcare queries. Moreover, you can also incorporate the option to live chat with the support team for consultations regarding the policy and claims.
Statistical Reports
It is one of those features of health insurance apps that can immensely benefit insurance companies in determining user behavior while choosing policies. These reports can also help them identify the key issues their users come across and how they like to be contacted in such cases.
Detailed Profiles of Patients and Doctors
Your mobile app must contain detailed profiles of the patients and doctors in a well-structured manner so that they can easily coordinate, discuss issues, and schedule appointments.
In-app Reminders and Notifications
With this feature, the users do not have to worry about the due date to renew their policy and health insurance plans. Moreover, through in-app notifications, insurance companies can also share information about their latest offers or updated features with their respective audience.
Key Business Models for Your Health Insurance App
The success rate of your mobile app does not only depend on the development part but the monetization model you select based on the market trends, users' expectations, and business needs. Here are the three major health and medical insurance app business models you can choose from
Freemium
It's the most basic business model that offers users an option to access the application for free. However, if they want to use the app without ads or enjoy the additional functionalities, they have to upgrade the app to its premium version which is paid. Advertisers and physicians who want to appear on the app are the additional sources of revenue in this business model. This model is best for startups that want to build and acquire a large user base. It can be later monetized through various strategic approaches.
Licensing
This business model asks the users to purchase the license key to use the app. This model is better for businesses that already have an existing user base. The additional sources of revenue include selling medications and promoting insurance plans through the app. One of the major benefits of this business model is that you can forecast the revenue to be generated in the next period and use that report to enhance the cash flow.
Advertising and Promotion
Allowing brands to promote and advertise their products and services through the application is another popular health insurance app revenue model. You can charge physicians, pharmaceutical companies, and medical stores to promote their services through your health insurance mobile app. However, you need to make sure to avoid unsettling ads that might significantly slow down app usage. This business model helps you build long-term relationships with physicians, medical institutions, pharmaceutical companies, etc.
Cost to Develop a Health Insurance App
: How Easy Is It on Your Pocket?
Since every health and medical insurance business has its own set of requirements and expectations, it would be challenging to determine the exact cost to develop a health insurance app. However, here are a few factors based on which the cost of building a health and medical insurance app might depend:
The platforms for which you want to develop your app – Android, iOS, or a cross-platform app.

The number of features and functionalities you want in your mobile application.

The specific design you want in your app also impacts its development cost. Generally, the more complex a

health insurance app design

is, the higher it will cost to create.

The location of the development team and the expertise they hold in a particular domain also affect the cost of building your app. For instance, an Indian mobile application development company might charge you less compared to an American development team.

The

health insurance app development

cost

can also depend on the time frame in which you want your app developed. If you want your app to be developed sooner, it might require more resources and better tools, which will require more investment. 
How Can Appventurez Help You Develop Your
Health Insurance Mobile App
?
Today, developing an interactive mobile application is a crucial step in the healthcare and medical insurance industry, especially when you want to segregate your brand from the crowd. The health insurance app development process does take time and effort, but when implemented correctly, it can offer you incredible advantages, such as automated operations, reduction in paperwork, task optimization, etc.
However, crafting a highly robust and functional health insurance mobile app is not an easy assignment. It requires a specific skill set matched with creative ideas to create an engaging medical insurance mobile app.
Therefore, if you do not have an in-house team having experience in this domain, it would be better to consult a professional mobile app development company for this job. Appventurez has a team of highly skilled and experienced developers that can take over all your concerns and provide you with an ideal solution that perfectly matches your project requirements and business needs.

Frequently Asked Questions
Q1. How long does it take to build a health insurance app?
A. The time required to develop a health insurance app can vary from project to project and requirement to requirement. The significant factors that impact the development time are UI/UX, major app integrations, development team size, functionalities to be added, etc. Since the development process is quite complex in the case of a health insurance mobile app, it can take up to 3 to 8 months depending on the complexities.
Q2. How do you build a health & medical insurance app?
A. The steps to develop a health insurance mobile app include identifying the audience, analyzing competitors, focusing on the design, creating a prototype, keeping track of all the healthcare data protection guidelines, testing the app, and updating it at regular intervals.