The banking and financial business has undergone a 180-degree transformation as a result of technological adoption. Fintech, or the combination of finance with technology, has improved the ecosystem's security, speed, and profitability. It has opened up new possibilities, catered to the needs of the underserved, and even had a big impact on other enterprises.

It has been predicted that the global FinTech market will reach $309.98 billion by 2022.
If you plan to develop a money transfer, stock market, online banking app, online payment method, or invoice app, you must look at the best FinTech apps.

This has not just indicated that the financial global economy is heading towards fintech, but has also attracted various Entrepreneurs and traditional investors to become a part of this space.

According to AliPay, it is the most widely used mobile payments app globally with 650 million users worldwide.

Assuming that you are also an Entrepreneur who also wants to be a part of this mushrooming market, but are clueless about what fintech app ideas for business will rule the space, where we will be discussing 7 different opportunities. You can also make your business successful by preparing your fintech startup from failure.

Table Of Contents
2- How Good Financial App Ideas Help in Successful FinTech Startups?
3- Top 7 Finance App Ideas for FinTech Industry in 2022
4- How to Develop a Finance App?
5- What does the Finance App Development Cost?
6- How does Appventurez Help in Finance App Development?
What is a Finance App?
The financial app manages and handles all activities for companies and individuals. The traditional in-person transaction is time-consuming and is not liked in the fast-paced world. These applications are offering practical solutions for accelerating processes. Investing, splitting bills, consulting and other financial services could become easier and faster with cloud computing solutions or IoT services. 
How Good Financial App Ideas Help in Successful FinTech Startups?
There are three factors that financial apps help in your business with the AI technology in the finTech sector. The three factors are including:

1- The increasing Demand for Personal Finance Management
Social development has improved the security of residents and enhanced personal spending, for example, investment in stocks or tuition fees. Seminal reports from trustworthy agencies indicate that the BFSI sector has been rapidly developing various financial services to satisfy human demands. Thus, people are more concerned about how to control those sustained expenses effectively.

2- The growing use of Mobile Devices
The rise of portable devices facilitates online transactions between individuals, businesses, and banks globally. Even users staying at home during a quarantine period can easily pay bills via mobile apps.

3- Requirements for Financial Data Security
Traditional ways to store and organize financial data are vulnerable to physical attacks. Digitization is the best way to avoid unexpected incidents. However, cybercrime is a big challenge that financial institutions, and the banking sector may encounter afterward. So, developing financial apps is the best way to secure confidential data and information.

So, the next concern is what are the best finance app ideas for Fintech startups in 2022.
Top 7 Finance App Ideas for FinTech Industry in 2022
1- Digital Banking

The foremost and most important fintech app idea you can invest in is digital banking.

The way consumers engage with their banks and enjoy financial services has changed dramatically in recent years. Users no longer value the necessity to go to their local bank or ATM for money transfers or other transactions. Instead, they are reaping the benefits of digital banking, such as the convenience with which they can make transactions, invest, create accounts and deposits, block cards, add beneficiaries, and much more with just a few clicks on their devices.

With these features, the idea of investing in digital banking app concepts has gathered a lot of traction in the industry. In 2011, the industry only catered to 9% of the internet audience. However, it has grown to account for 69% of the internet viewership in just six years. What's even more intriguing is that this is only the beginning! Various variables, such as Coronavirus, are driving the industry forward.
2- P2P Payment solutions
Given the growth of the peer-to-peer payment business, planning how to create a P2P payment application is also a good idea.

Consumers may immediately transfer money between bank holders using P2P payment applications like Venmo, Google Pay, Zelle, and PayPal, even if they are registered with different banks and payment systems. They eliminate the need for any third-party middlemen or commission fees to complete any transaction.

3- Robo advising software
Robo-advising, which is one of the most effective methods for fintech to attract millennials, is also a wonderful place to invest in the financial application development sector.

Users may get the most tailored and future-focused financial advice at a cheaper cost thanks to this machine-learning-driven software. They're also looking at their spending and assets to see how they might boost their after-tax profits. They're also making the procedure more convenient by requiring little to no human interaction.

What's more noteworthy is that, according to a Business Insider Intelligence analysis, they'll be in charge of over $4.6 trillion in assets this year and nearly $1 trillion by 2022. Something that indicates that this is one of the many financial startup concepts that will control the industry in 2020 and beyond.

4- RegTech App
RegTech apps fall under the finest mobile app ideas for the top financial businesses category as well.

These mobility solutions assist financial institutions in adhering to all local and international regulations. They allow businesses to automate a large portion of their procedures, such as customer identification verification, report preparation and submission, transaction monitoring and reporting, and so on, while also enhancing client retention.

5- Digital wallets
Digital wallets trends that allow users to avoid carrying conventional wallets or credit/debit cards, their industry is rapidly expanding. These apps allow users to pay with a few taps or biometrics while also receiving valuable coupons and offers.

By 2024, the digital wallet market is expected to be valued at 7,581.91 billion dollars. That should be enough to persuade you to choose this among the many inventive app ideas for companies looking to enter the financial sector.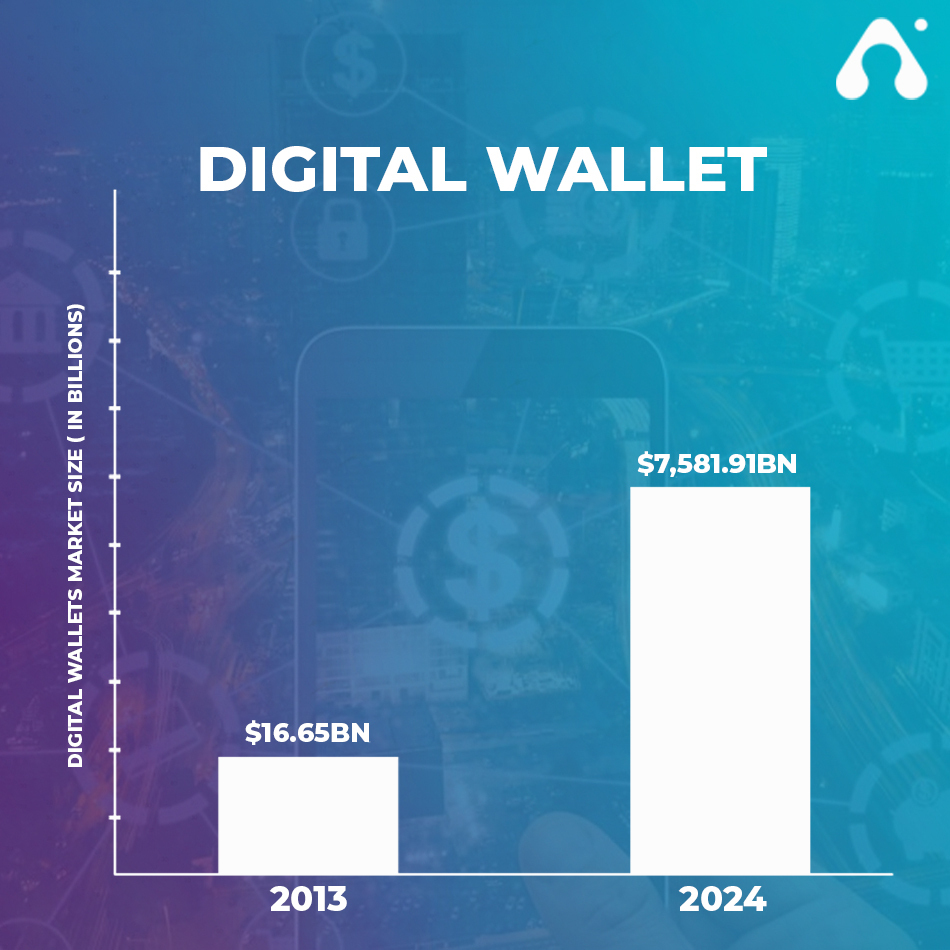 6- Blockchain applications
With blockchain technology in development expanding influence in fintech, using this technology to found a business is an unquestionably beneficial concept.

Currently, fintech startups 2021 and businesses such as We.trade, Circle, LAToken, Veem, and PayStand use this technology to provide a diverse range of solutions to their target user base.
This includes:

Using cryptocurrency to conduct transactions
They will only pay for transportation after they get a notification that the shipment has arrived at the port.
Acting as a decentralized autonomous organization (DAO), in which members follow programmatically established rules that specify who may join, what businesses or activities are permitted, and how tokens or cash can be traded.
7- Crypto exchange platform
Last but not least, creating a cryptocurrency exchange platform like Coinbase is another great financial startup idea.

These platforms let users trade cryptocurrencies for other assets such as fiat money or other digital currencies, allowing them to participate in the decentralized market. To put it another way, they let customers swap one cryptocurrency for another, get crypto tokens in exchange for fiat money, and even purchase and sell their cryptocurrencies. All while benefiting from advantages like transparency, fewer fees, increased security, and faster processing.
How to Develop a Finance App?
Before starting a project, it is essential to consider some factors for successful finance app. These factors include:

1 – Define your Niche Market
It is advisable to choose a specific among different markets such as mobile banking, insurance, crowdfunding, personal finance management, and financial decision making. After deciding on the market niche, do market research to find your targeted audience as per your gender, age, and country. It will help you launch your Fintech startup with better success.

2– Find your Startup USP
Due to the increasing set of opportunities and profits, the FinTech market is booming and competitive day by day. So, it has become more vital for everyone to develop a unique finance app development idea to make sure that their idea will beat the competition. It will help find the common success factor among famous businessmen and their revenue modes.

3- Hire the right Mobile App Developers
Believe it or not, the best finance app idea can't survive in the market without an experienced team of mobile app developers. So, it is essential to hire experienced developers – whether iOS or android developers – to give your idea a real shape. They can choose the right technology stack, revamp your business strategies and scale up your fintech app idea. 


4 – Get Familiar with Technical Knowledge
There are various challenges associated with establishing a fintech startup, especially those associated with digital technologies. For examples,
So, make sure you gather comprehensive information about these challenges and get in touch with a reputed software development company that helps in reducing them efficiently and effectively.

5– Launch an MVP
Last but not least, it is essential to test products with MVP (Minimal Viable Product) first before developing a full-fledged fintech mobile app. It will not only help enter the market faster but also helps raise funding.

By following these steps, you can develop an app for your finance business. Here are some must-have features for the finance apps shown in the figure;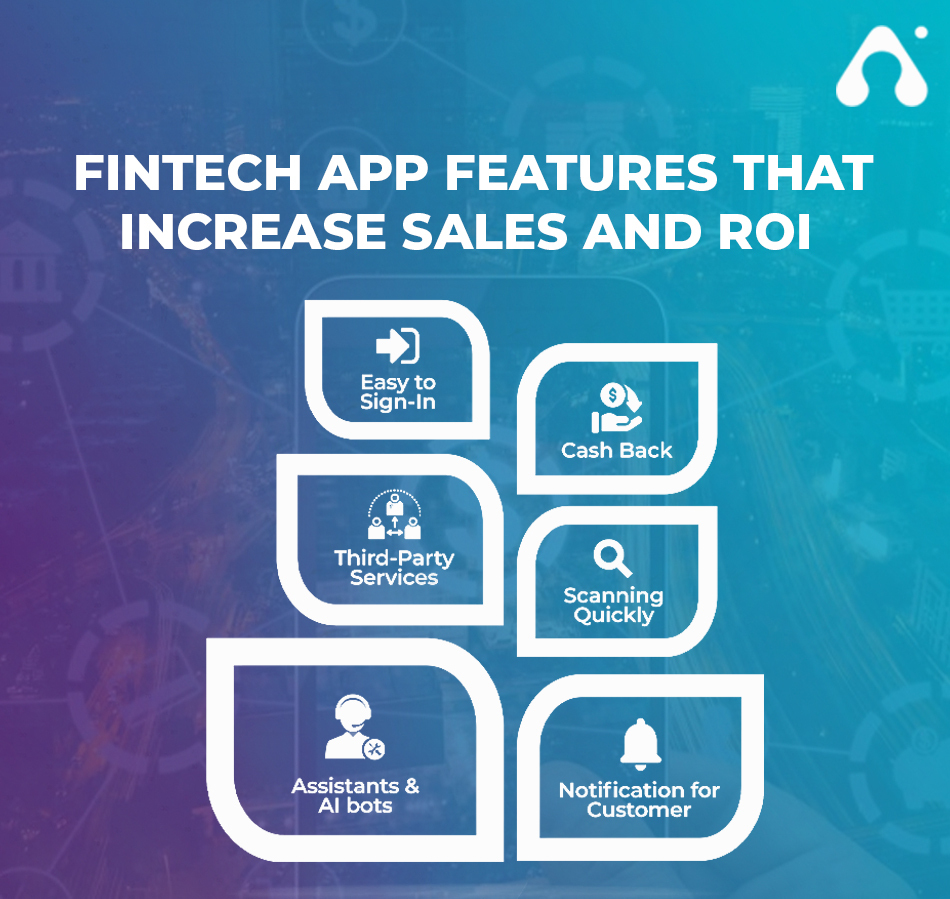 When it comes to developing a successful finance app for the fintech industry, knowing the cost to build an MVP, the major concern that comes to every developer's or business's mind is the cost of fintech app development. 

What Does the Finance App Development Cost?
The cost of finance app development depends on different factors. Some of them are:
Features and complexity of the app
The technology stack of the app
The platform to launch your app
Geographic location
Approximately, the cost is between the US $30,000 to $1,00,000 for a finance app development. But, the cost may vary as per your specific requirements.

How Does Appventurez Help in Finance App Development?
In a competitive world, reliable finance apps with user-friendly features, seamless performance, and robust security will stay ahead of the curve with a fintech software development partner. Hopefully, these ideas will help you get rid of the hassle associated with a new app. So, it is better to get in touch with a reputed mobile app development company for a successful fintech app. 

Appventurez is a leading finance app development company. Our dedicated team of experienced developers can develop a user-friendly finance app with exciting features in an affordable way. Want to know more about FinTech apps? If so, contact us today!

FAQ's

1- What technologies are disrupting the fintech industry?
Blockchain, Robotic Process Automation (RPA), Augmented Reality (AR), Prescriptive Security, Artificial Intelligence (AI), and Quantum Computing are some of the technologies revolutionizing the fintech space.

2- How do fintech apps make money?
A few of the fintech app monetization strategies that Entrepreneurs are focusing on are in-app advertising and referrals, business collaborations, subscriptions, and introducing API as a product.

3- How to validate fintech application ideas?
One of the easiest yet most effective ways to validate your fintech app ideas is to launch the MVP version. This app version, with the least possible features and functionalities, will help you to test the competition in the market as well as raise funding, in addition to preparing the audience for the future.

---
---