Do you know the way we play, work, travel is going to change?

Well, it is true.

Virtual Reality and Augmented Reality combining with AI and automation are going to transform our lives at the workplace, at home or anywhere we are traveling. Together, they have the potential to change the world for a better future.

In a layman language, Virtual Reality is all about offering humans a completely digital and computerized world whereas Augmented Reality creates computer graphics that can be easily viewed in a usual environment.

This is the reason both of these technologies are being used at the industry level, for entertainment, for enhancing the gaming experience, solving traffic woes, enhancing the shopping experience and for many more purposes. Businesses that started AR/VR market trends as a trial are now majorly integrating them into their business operations.

For instance, if an online business is selling furniture, the AR application can help customers to visualize how a piece of furniture will look in their drawing room without the prior need to buy the product or going into the store.
Also, there are few numbers that are pointing towards how AR/VR market trends together changing the global way of working. As per the global augmented reality market which was valued at around $3.33 billion in 2015 is expected to reach approximately $133.78 billion in 2021, promising huge opportunities for growth. On the other hand, VR is expected to generate $150 Million in revenue. And together they are unbeatable and unstoppable.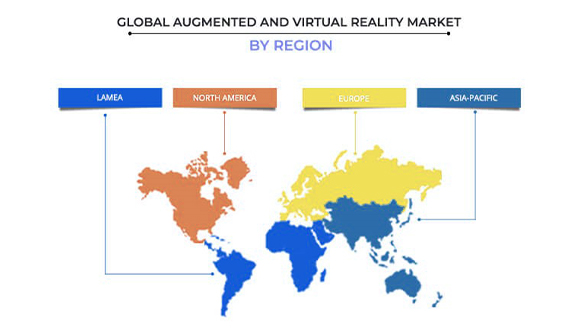 Seeing the numbers and continuous demand for AR/VR related devices and applications in the market, it is possible that AR/VR based mobile app development companies are going to open their doors for more experiments regarding apps as powerful devices and their capability of creating higher quality visuals are on their way to market.

With this premise, here are Top Trends for Virtual Reality (VR) /Augmented Reality (AR). Let's get started with them-

Top AR/VR Market Trends to Look

AR/VR Holding The Hands of AI
Seeing the potential and continuous growth of both AR and VR, mobile app developers will build smarter and cognitive functionality into their applications.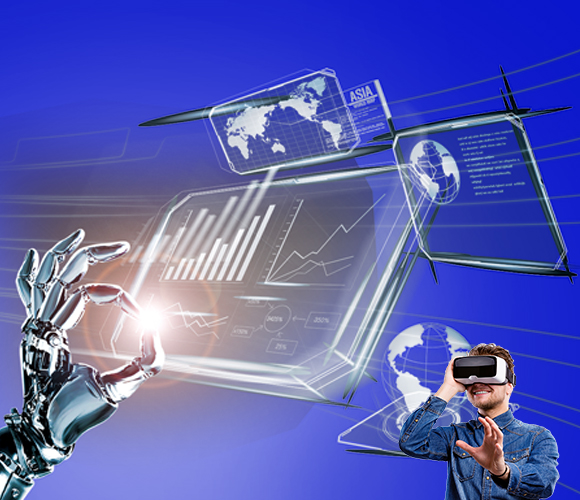 Artificial Intelligence technology, a digital vision that allows computers to understand what they are "seeing" through the cameras, is the most essential part of Augmented Reality-based operations that allows objects in the user's field of vision to be labeled and identified.

Snapchat and Instagram are still the best examples showing the amalgamation of AI and AR and the popularity of these apps are in fact going to be higher. Meanwhile, Google's machine learning-enabled microscope is another device that showcases how AI and AR are together suspecting the cancerous tumor growth through the samples only.

On the other hand, we have VR acting as a mechanism that puts people inside virtual environments. And its inhabitants are likely to become more intelligent in the coming years.

There might be chances that it will include more voice control stemming from AI natural language processing, increasing immersion by reducing the reliance on icons and menus intruding into the virtual world. Meanwhile, VR gaming experience is likely to grow even more as computer-programmed players will react and adapt to individual play styles.

AR/VR for Teaching and Training
Both of these technologies are quite prevalent in the field of education making a plus point for top AR and VR trends.

With VR, virtual environments can be created that will allow students to practice things starting from construction, science experiments, surgery by eliminating the risk associated with real-world training. VR gives the power to scale and make learning more dynamic and engaging.
Moving on to Augmented Reality, its Augmented environments relates to the information passed to the student in real-time about hazards, danger, objectives or best-practice as per the requirement.

According to the report by new-gen apps, in 2016, 150 thousand shipments of AR glasses taken place and the number is expected to rise to 22.8 million units by 2022. This is not enough, Walmart announced that it is using 17,000 Oculus Go headsets for training its employees in skills ranging from compliance to customer service. The US Army has made a deal with Microsoft to use its HoloLens technology during military training to let soldiers get real-time readings on their environment.

AR/VR market trends have created a certain standard that will get better and best with each passing day. Till now, they both are continuously proving their worth by reducing risk and cost associated with the training session.

Entertaining Entertainment
Since the introduction of consumer headsets in the market, VR adoption at home was very obvious. Though the rate of adoption is higher compared to last year, still mobile app developers and hardware developers haven't spotted the place to hit in order to bring in the fully-functional flawless VR application.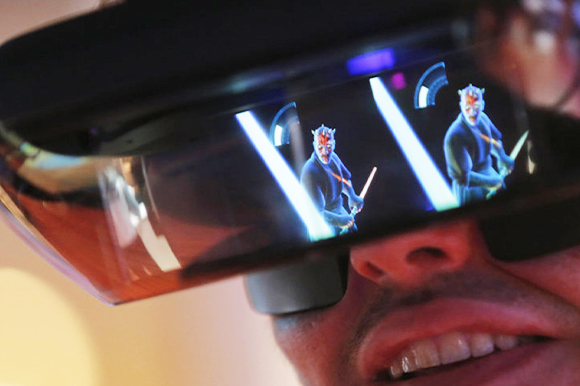 Earlier, VR headsets were limited in one of two ways- either the users were meant to be tethered to the computer that limits the mobility or by relying upon low-powered mobile tech for controlling stand-along headsets. Both were the barrier towards the ultimate experience.

Contrary to the expectations, this year looks like it is devoted to AR/VR market trends and technologies to make them more powerful, more accurate and more fun. Vivo and Oculus are the examples that will present stand-along headsets incorporating powerful, dedicated computer technology. Also, VR developers will create realistic and accurate simulations of the real world within their virtual worlds.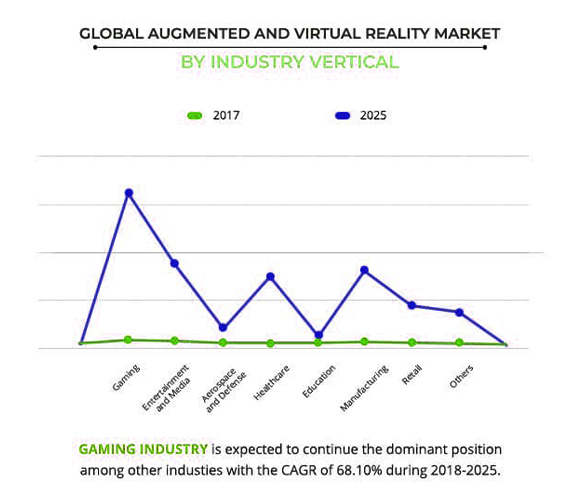 This is the reason, the newbies' headsets will hit the market with improved technology that will power and enhance the virtual experience by including features like eyeball-tracking and increased field-of-view.

In addition to this, Amazon has already listed over 200 different VR headsets available to buy and many of them are created by startups with promising features and functionality.
Collaborative and Social
Purchase of Oculus by Facebook makes it clear that the Social media giant believes that Virtual Reality is the future and it will become vital to the way we build online environments.
Another pioneer Spatial is using AR tools for their boardroom and office activities that make employees see virtual whiteboards and pinboards along with working on documents overlaid on real-world objects. Tencent is no stranger to VR, hence it is also planning to introduce VR to its WeChat mobile messaging system.

In short, the interaction of AR/VR headsets will enhance the meeting and interaction more realistic.

Advanced Vehicles
Last but not least point in the list of important augmented and virtual reality trends, the cycle of four-wheelers and vehicles is going to roll smartly.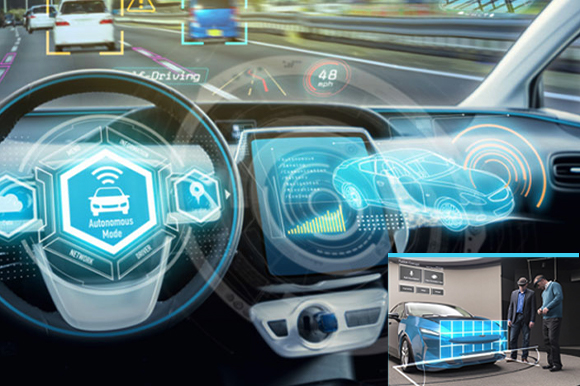 Voice assistants will remain the most significant trends in new vehicles even in this year while manufacturers are implementing their takes on Siri and Alexa and in-car AR.

One of the most prominent examples is Nvidia's DriveAR, powered by machine learning uses a dashboard-mounted display overlaying graphics on camera footage from around the car that points out everything from hazards to historic landmarks.

Another example- Alibaba-backed startups WayRay takes the route of projecting the AR data directly onto the car windshield while providing navigation prompts, right-of-way information, hazard detection, and lane identification.

Seeing the constant demands and craze among users, Mercedes-Benz, Audi, Tesla, Toyota, Volvo are all set to experiment with the technology. In-car AR has the potential to improve safety by allowing drivers to keep their eyes on the road as they will read feedback to increase comfort and driver convenience. It will not be wrong to say that the future of AR technology is bright and powerful.

So, these were the most sorted and biggest AR/VR trends in making users, companies, well-established organizations, and startups end their wait to integrate them into their businesses. Seeing such great technology and experiencing them fully this year year will make us realize how we were living without them earlier.

As both of these technologies have the potential to change the world for a smarter future, there are many companies that have accepted the idea of AR/VR and are proudly implementing the same in their business operations.

Here is the list of handful of companies working with AR/VR technology-

NEXT/NOW
GameAnax Studio Pvt. Ltd
Appventurez
Intellectsoft
Apptension
Zco Corporation
Quy Technology
Intelivita
Capermint Technologies Pvt Ltd

Future of AR and VR
It seems what was predicted last year, we all are going to live and experiment them today fully. Meanwhile, here is the list of predictions on AR/VR by members of Forbes Agency Council which are going to take shape in the near future.

Let's get started with them-

Attract And Convert Clients
Experiential marketing has become the norm when it comes to attracting, converting and retaining clients. Virtual and augmented reality will assist many verticals in displaying what the client can expect — from granite countertops to plastic surgery. It's the visualization and experience which add value to the sales and marketing process. – Tom Felix La Vecchia, MBA, X Factor Media

With AR technology, advertising will no doubt become more integrated into our daily lives. Advertising and marketing will utilize more real-time data based on user preference to dynamically affect messaging, colors, avatars, timing and placement. A more fluid human experience is the ultimate goal. – Bernard May, National Positions

Integrate Into Existing Technology
AR has great potential for e-commerce because of its integration into every new consumer smartphone OS. This enables brands to allow consumers to engage with products in a way that they could never before. For example, Ray-Ban recently used AR to let consumers try on different styles of sunglasses through an Instagram sponsored post with the ability to purchase directly. New custom suit ateliers are using AR to allow consumers to measure themselves more accurately from the comfort of their own home than if they were to come into a store. VR, on the other hand, has shown more potential in the documentary, gaming and entertainment spaces. Until this technology becomes less invasive from a hardware standpoint, it's hard to predict how successful it will be as a useful marketing tool. – Darryl Mascarenhas, LivelyGroup

Explore New Products And Services
I believe VR and AR will allow consumers to have more immersive experiences when exploring new products or services. In a world where everyone reads reviews or looks at photos before clicking "add to cart," VR and AR could allow consumers to get a 360-degree view of a product before actually purchasing it. This could benefit the e-commerce space and also allow for more experiential marketing. – Michael Mogill, Crisp Video Group
VR is completely immersive, shutting out everything else. AR augments live experiences with digital elements. Marketers will need to invest in tech and ideas to ensure the client's brand remains innovative, creating independent experiences or by partnering with existing ones where the brand is a focal point. And thoughtfulness will be paramount as we'll need to create aligned brand narratives. – Fiona Bruder, George P. Johnson (GPJ) Experience Marketing

With AR technology, advertising will no doubt become more integrated into our daily lives. Advertising and marketing will utilize more real-time data based on user preference to dynamically affect messaging, colors, avatars, timing and placement. A more fluid human experience is the ultimate goal. – Bernard May, National Positions

The above-mentioned predictions are enough to show that there is no situation like Augmented Reality vs Virtual Reality, as both of these technologies are parallel to each other supporting to embark on a better future.

We strongly believe in the concept of AR/VR and the constant rise in the graph of AR/VR trends in the market. Accepting the demand and witnessing the top AR and VR trends, we offer great solutions related to them.
We are the leading AR/VR based app development company actively providing the latest AR/VR based solutions. Get in touch with us for more information…!

---
---