How about getting all the stock-based information on your smartphone without opening the business news channel? Sounds good? Well, take it ahead, how about buying and selling stock points and shares through the application itself along with tracking the transactions all the data on a screen. The picture might look cleaner and more static now. 
No matter, if you are a businessman, stock market trader or a layman looking for a static solution to all the stock-related solutions, stock trading app development is portraying as a savior. 
Knowing a bit more compared to another person can make a great difference between a good day and a bad day trading. Also, the accessibility of high-speed internet, smartphones, and app-trading mobile applications have made the life of traders easier, smoother, quicker and responsive.
With the arrival of such applications and high-speed internet, the need for switching between business news channels gets eliminated and checking stock points in a single click is like having a choco-pie. This is the reason, investment apps like Robinhood have been such a success, especially among the younger generation.
Starting from checking the real-time streaming market price of any of the stock, making a portfolio, drawing stock charts to getting updates on market trends, everything is just a click away from the stock-based mobile application. 
Here in this written piece, we will be highlighting the core of stock trading app Development covering its inches and corner to let you understand its importance for the current time.
Without further ado, let's start from scratch to build a strong foundation for further development work.
Let's dig deeper to bring out more facts and figures about the Stock market-
A Quick Glance At The Stock Market Share Through Percentage
Information technology: 19.1%
Financials: 16.3%
Healthcare: 12.9%
Consumer discretionary: 12.6%
Industrials: 11.3%
Consumer staples: 8.1%
Energy: 6.5%
Materials: 4.7%
Utilities: 2.9%
Real estate: 2.9%
Telecommunication services: 2.6% also, another market share picture somehow looks like- 
The United States represents 40.01% of the entire world stock market capitalization.
There are 16 stock exchanges in the world with a market capitalization of more than $1 trillion.
With a 19% market share, the technology sector leads the US stock market in market capitalization.
More than 80% of the stock market is now automated.
The most expensive stock in the world is Warren Buffet's Berkshire Hathaway.
Information Technology companies dominate all other industries 16.31% whereas Real Estate ranks surprisingly low carrying 3.24% of the global stock market.
Valued at $1.03 trillion, Microsoft leads the world's corporations in market capitalization.
Seeing the market phase, let us now move towards the advantages associated with the Stock trading app. 
Advantages of Stock Trading Applications
1. They are Easy to Use
Questions like how to invest in the stock market is a talk of the past. Or the curiosity of figuring out what is so fascinating about the stock market or what is so critical about the numbers and graphs in it was once a daunting task. With the arrival of stock trading applications, the answer to these questions is everyone's cup of tea. 
Using a stock trading application, starting from amateur investors to high-end investors and traders, they can easily know the numbers and graphs in a better way. In fact, stock market investing related tips and tricks are also made available for the users. The ease of tutorials and quicks tips along with a dose of the navigational system is what makes these apps easy to use. 
2. They Make Trading Convenient
Investors these days are open to downloading the stock market applications because of investing in trade is way more convenient than the traditional method. 
Earlier, a scenario like checking out the business news channel for stock market health to look for a broker who can help them in buying the stocks gets eliminated with the installation of the stock trading mobile application. 
The enormous ignite gives rise to Stock trading app development too. By using stock trading applications, users can have the freedom to buy or sell stocks as per their requirements without any technical glitch with total transparency. 
3. They Show Better Companies to Invest In
Thanks to stock trading app development, the listing and complete details of the companies are just a click away. The details filled in the application can provide anything and everything about the current financial health of the company along with its performance index in the market. The transparency thus in return will help users to invest in the companies as per their requirements. 
Stock trading apps are basically a one-stop destination to all investor-related needs that are just a click away to let the user decide whether they want to invest or not. 
4. They Give the Flexibility to Trade Anytime, Anywhere
Using stock trading applications, investors and traders can trade anytime, anywhere irrespective of location, demographics, time-zone, etc as long as there is a strong internet connection. 
In most of the markets, trading generally happens in the day, but having a stock trading app on the side can let investors, traders go ahead with the trading easily at any point of time. 
5. They are Highly Secure
Stock trading applications are loaded with strong security features making users do the transactions without any additional concern. 
Also, here at Appenturez, our stock market app developers always make sure that the information given by the users is protected from theft, outer access by someone and other security concerns like this. Hence, security builds a new level of confidence among users. 
So, these are the few facts about the stock market showing how the market is changing for the good. Holding these data, let us know dig to figure out the advantages investors can get from stock trading applications.
List of Eminent Stock Trading Applications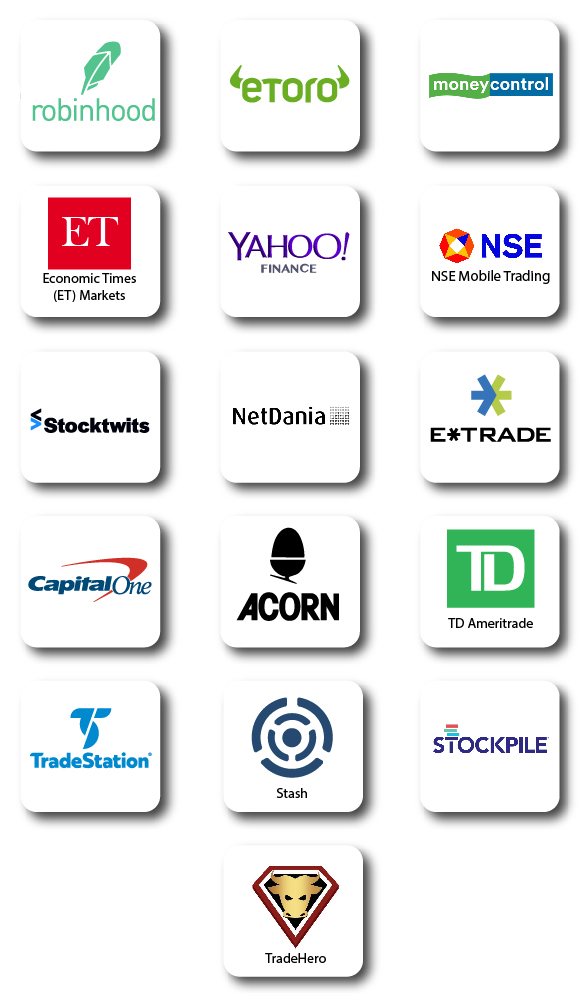 These are the players that are still very much active in the Stock Trading industry creating a huge impact in the life of traders and stock investors newbies, the layman in the same line.
Let's check out what actually makes them sensational and at the same time the topmost apps. 
Key Features of Stock Trading App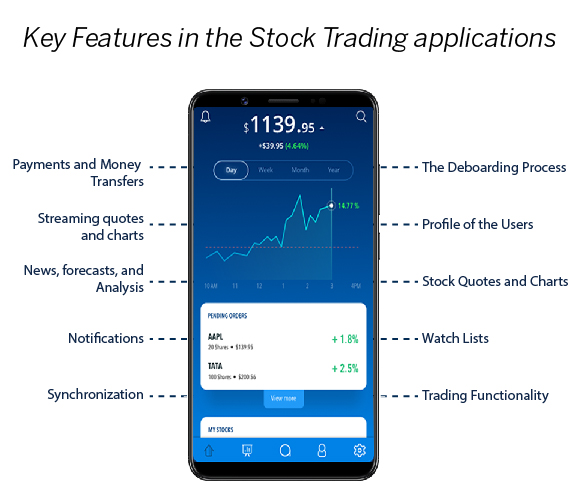 1. The Deboarding Process
The easier and smoother the deboarding is, the more people will turn toward the app. Also, the authorization process should be simple and secure. This is the stage that decides the next step of the app, hence, when developing the app, make sure to offer multiple check-in options like the use of pin code, biometrics, Phone number, email, etc.
2. Profile of the Users
Here at this stage, users should be given the option of saving their personal information and other related monetary preferences. 
3. Stock Quotes and Charts
The features enable users to get the most accurate analysis of stock, price patterns and other efficient strategies. 
4. Watch Lists
This should be the mandate feature in the app as it is the way through which users can keep an eye on stocks for further investment plans along with showing price, volume, bid price, and percentage changes.  
5. Trading Functionality
This is the core of your application. In order to offer a smooth trading experience to the user, you need to display real-time data, company profiles, and other related relevant information. 
6. Payments and Money Transfers
Developing a stock-based app and not including payment and transfer options in it is like leaving the app half done. Hence, you need to have highly secured money transfer functionality in it.
7. Streaming quotes and charts
The stock market is a rapid business and decisions need to take place in seconds. For this reason, stock information in the app should be precise and up-to-date from reliable sources. 
8. News, forecasts, and Analysis
Three of these things are equally important to experienced traders as well as for the one who is stepping in this direction. Thus, informing them about stock-related happenings can make them predict price fluctuations and other related required things. 
9. Notifications
Just like streaming quotes and charts, you also require push notifications. Offering users to choose the notifications they want to get can make them not to miss important happenings in the stock market. 
10. Synchronization 
If you are developing the trading platform for more than one type of device, it is mandatory to integrate it with account syncing. Also, do not forget that the data should also be synced between the devices smoothly. 
These are the must-have features in the Stock Trading Applications lying down demands for stock trading app development companies. It is the right time to look into the expected Tech Stack and APIs. 
But before reaching the tech stack in stock trading apps, let us get a brief overview of the Robinhood app first. 
A Quick Look at Robinhood App
In layman's language, the Robinhood App lets investors, traders and amateur investors trade stocks without charging anything in return. 
The Role of Robinhood App
Using Robinhood, investors, and traders can create investment portfolios and trade stocks. 
The app also pushes in notifications about upcoming events like dividends.
The app provides investors up-to-date market data.
The app and Robinhood Gold itself allow users to trade without letting them wait for funds. 
The Secret Behind The Popularity Of Robinhood App
This Is How Robinhood Makes Money
One of the selling points of free stock apps like Robinhood app is that it offers commission-free trades while showcasing the "Learn how we make money" button on the landing page. Also, the app is backed by well-known investors like Google Ventures and Index Ventures. 
So, the primary source of revenue for the app is offering a premium account popularly known as Robinhood Gold meant for users with more experience and who are willing to take greater risks. 
Apart from that, Robinhood Gold takes monthly payments and in return provides investors with extended trading hours and increased buying power. In short, this is how to make money in Robinhood has been taken seriously by other stock trading Apprenuers. 
Tech Stack Behind Stock-Trading Apps Like Robinhood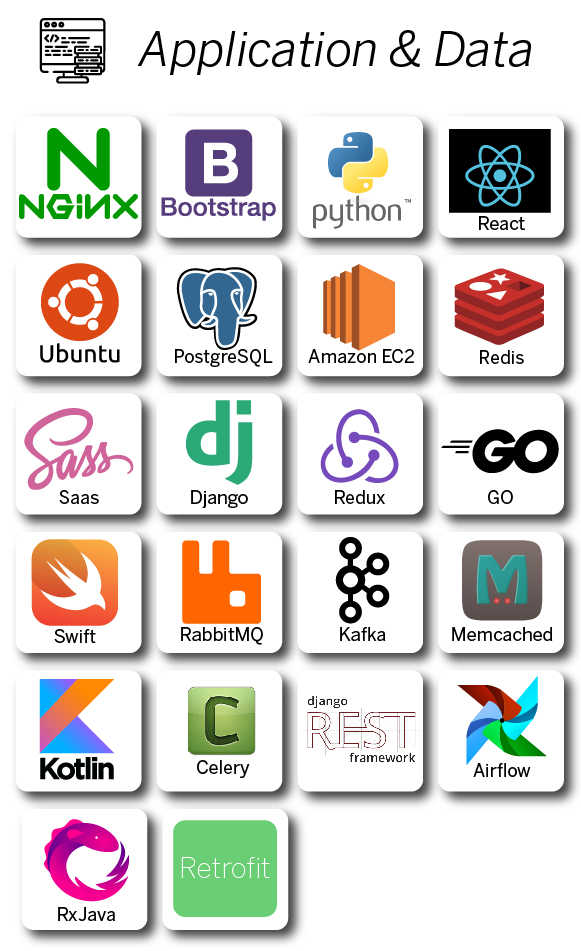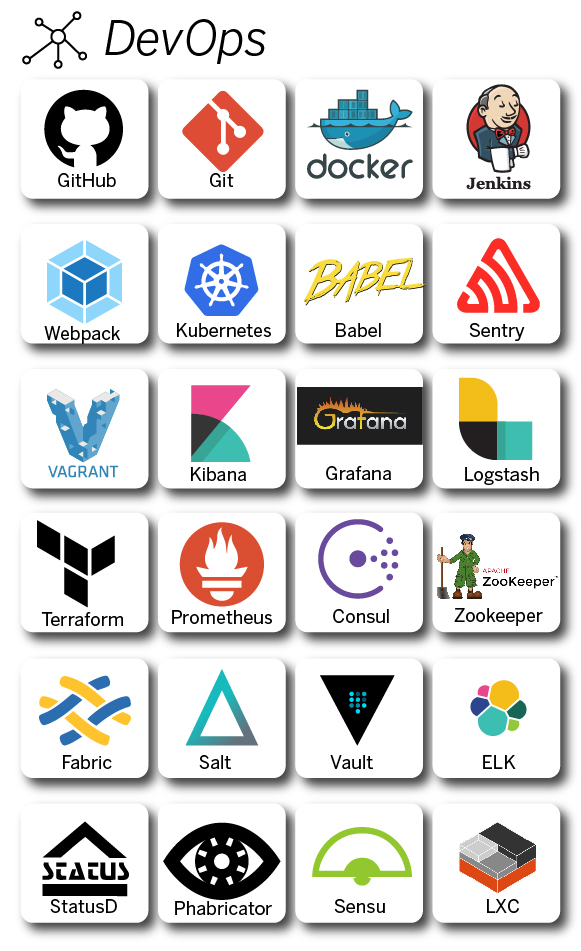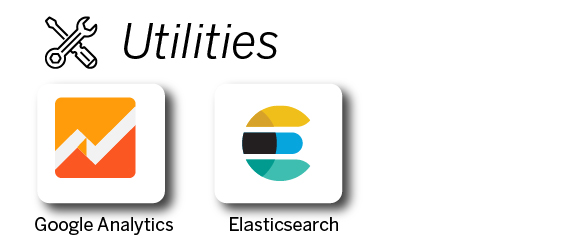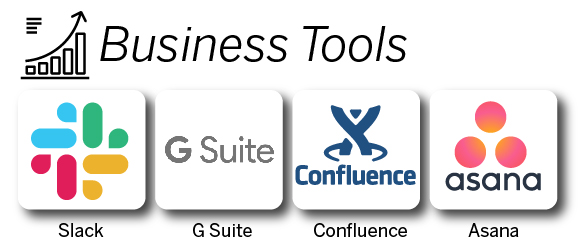 API's Required For Stock Trading Apps
Here at Appventurez, our stock market app developers often use these APIs when developing an app like Robinhood:-
E*Trade
E*Trade API is useful when you required to-
Manage user's account data
Retrieve option chains
Get quotes along with managing orders
Searching for exchange
Apart from that, E*Trade also offers SDKs that are though short in need but are quite useful for the development of a trading app like Robinhood.
TradeKing
It can be used for when-
You want to control user's account data like history, holdings info, and balance
You need to place and preview orders
You need to create and manage watchlists
You need to search for strikes, news, and quotes
TradeKing's another feature called Streaming can be used for real-time data. Also, the documentation in it is very easy to use along with presenting comprehensive information about every request. Furthermore, it also contains code snippets for making the overall development process easier.
Intrinio 
Intrinio API is useful when you will be requiring-
Access to the real-time price data feed.
Getting useful information like economic, holdings, companies, security, and bank data feed.
Till now, the only SDK Intrinio offers developers is Node.js SDK while planning to support other languages like Python, PHP, .Net, R, Java, Ruby, JavaScript, etc. Its documentation is handy and contains all the needed information like requests and responses in detail.
Back-End and Services
Back-end structure of the mobile app are divided into-
User/account management
Payments
Newsfeed
Notifications
This is how a rough sketch of it looks like-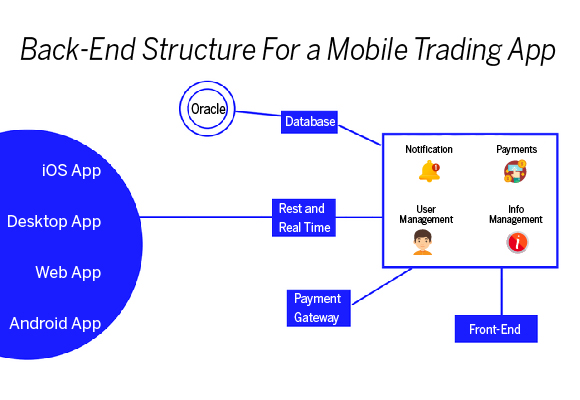 Seeing this, you might want to figure out one specific reason to invest in Stock trading app development- well, we got you many reasons to invest in the same. 
Reasons to Invest in Stock Trading App Development
1. Number Of Investors Are Rising
We have been mentioning about mobile applications from the very beginning, thus, it will be unfair to say that mobile applications are not changing the domains of various industries. 
As per Statista, there are about 14.1 million users in the USA who are actually using online methods for investing money in stock trading. The survey conducted by CNBC showed that 93% of stocks are held by 20% of households, whereas the remaining stocks are owned by 80% of households.
Looking at the actual target audience in the market, people in the age group of 30-40 are more interested to try their hands on stock trading specifically for their retirement plans. Apart from that, there are stock trading companies that do not offer rightful trading services as per the interest of the users. The need for the right solution is portraying how the need for stock exchange trading apps is becoming a priority. 
Hence, stock market app development companies are trying their best to match the level of services users are asking for. 
2. Higher Risk Factor
Frequent stock trader users often complain of brokerage companies claiming to offer genuine and safer advice to the investors, but in reality, the picture is a bit shattered. 
The chaos fuels the need for stock trading mobile applications giving ample opportunities to stock trading app development companies. 
3. User Portfolio Management
Investors and stock traders most of the times do not find their performance of their portfolio management satisfactory which gives birth to the need for stock trading mobile applications. 
The fuss about Robo-advisor, sort of a software tool for managing a portfolio is real. Also, these apps help in notifying traders and investors for making choices as per their portfolio. The never-ending demand for stock trading applications is opening great opportunities to stock market app development firms in a greater way. 
4. Self-Interest Is Becoming A Concern
There are situations when advisory companies often look for their interest more than looking at the interest of investors and stock traders escaping the process of offering solutions and insights into the correct data and real market conditions. 
The loophole here gives rise to the need for Stock trading app development that can help in monitoring the data and analytics makes users aware of the market. The data on the SmartScreen makes users take decisions wisely. The concern of transparency does not occur making users take the right decisions accordingly. 
5. Performance-Related Issues
It has been observed that services rendered by financial advisors or brokers do not satisfy individuals who are availing of the services. Also, instead of receiving bigger interest value after investing a large sum of money for a longer time span of 20-30 years, receiving a mere 10-12% take away the trust from such financial companies and advisors. 
Thus, it will not be a bait to invest in stock trading app development.
6. Account Protection Is A Must
The question of security in terms of confidential information like account details with anyone takes away a large number of traders from investing or showing interest in stock trading. To cut the concern, stock exchange trading applications offer greater security comfort to the investors while notifying them of any sort of misleading claims, etc. 
7. Alerting Is Aid
Just because of the tight security feature of stock trading apps made from the latest technologies and highest of techniques send real-time data alerts via push notifications making users see the real condition of the stock market. 
Apart from that, the scenario like giving detail information about the stocks that are running high/low along with offering what and when to invest in. 
8. Cutting The Need For Brokerage Account
Another reason to invest in the stock trading mobile application is that your potential users will not be required to open a brokerage or Demat account for indulging in stock trading culture. 
So, this was about the core of Trading applications. When everything is handy, not knowing the cost of developing such applications is like not finishing the race even after having the potential. Let's figure out how much does it cost to develop a trading platform application?
Cost Of Developing A Stock-Based Application
Every mobile app development company develops the app as per their set process. And the cost and quality of the application heavily depend upon the process, functionality, and features of the app along with the time required to meet the requirement.
Here at Appventurez, we start from the very beginning that is- Discovery Stage. The stage conceives all the practice that validates if the app idea carries the potential to rock in the market or not. 
From the discovery stage till deployment, our experts keep everything in mind before handing over the app to the client. You can figure out everything about how much a general app cost before heading for the stock trading app along with having a look at the time taken to develop an application.
After getting some idea about it, you will figure out that there is no precise cost of developing an app. Stock market apps monetization depends on a number of features like real-time forecasts, news feeds, and other real-time notifications as well as features for monetary transactions. The more features and functionality your app will have, the cost of developing the same will automatically increase. 
Thus, there is no concrete cost estimation for developing the app.
Everything is done till here but if you still have doubts regarding how to earn money from Stock Trading mobile applications, let us make your path easier and doubt away. Here is how you can with smart ideas and brilliant strategy can earn a monetary advantage.
How To Earn Money From Stock Trading App?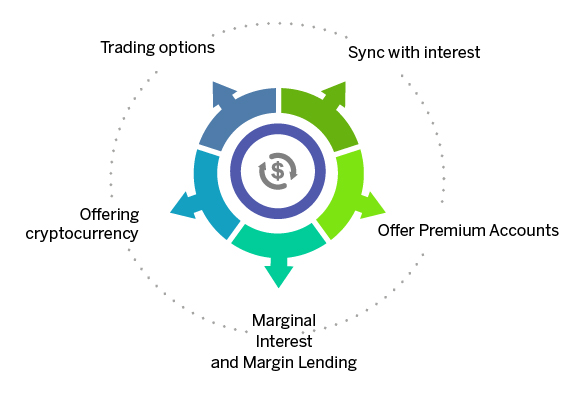 1. Sync with interest
The app can easily make money from the interest made by lending out investor's idle cash. 
Apps like Robinhood earn money from interest from customer's cash and stocks similar to banks collecting interest on cash deposits. 
2. Offer Premium Accounts
It is the ultimate way to earn from the application. By offering a premium account, you are ultimately making the traders who are using your app feasibility to trade with more than they have in their cash balance. 
3. Marginal Interest and Margin Lending
The company's margin trading service is the ultimate way and a major source of income for the stock market trading applications and this is how you will be earning money from the application. 
4. Offering Cryptocurrency
By offering the option of Cryptocurrency to the users and traders, there is no way you will be lagging behind from other competitors.
5. Trading options
By not asking for a base fee, no exercise and assignment fee and no other per-contract commission, offering free trading options initially can boost the health and presence of your application. Later, you can charge a fee for the service or as and when required. 
With this, 
Are you ready for your First Stock Trading App development because we are here to develop the best one for you. Get in touch with us today.
---
---