Over the years, the workspaces have seen many breakthroughs in terms of technology and tactics to enhance the consumer experience and lead their business to newer heights. Whether it comes to make the assistance expedient for customers by integrating Chatbots in an app or counting on tons of intelligent analytics systems that keep a tab on the customer's buying patterns, downloads, activities, etc.
Undoubtedly, technology has grown to become an immense part of our personal lives and has ultimately reshaped the average workplace to an immeasurable extent. In order to keep the business organized and going, the organizations are placing reliance on empowering the workplace with cutting-edge technologies. 
Every organization has different exigencies that highly depend upon the nature of the business. So there are basically many challenges faced by CTOs to decide a few great technologies from a horde of progressed mechanics to adopt and embrace in the workplaces. The majority of the CTOs in the business environment zero in on employing favorable technologies based on the customer experience, IT and data security, data and analytics, and many significant factors.
However, before investing in any technology, it is better to rule on the potential risks and benefits of that particular technology. This is what exactly the Chief Technology Officer (CTO) does while breaking down the business particulars and readying it for devising technological advancements for business enhancement. 
Keeping every important aspect in mind, this article will reflect the top seven important technology areas that CTOs should invest in 2021. This post will also unleash how innovative technologies will transform business operations thoroughly in the forthcoming years.
Check this post – Top 10 Digital Transformation Trends to Set Sights on in 2021
Top Seven Technology Trends CTOs Should Look For In 2021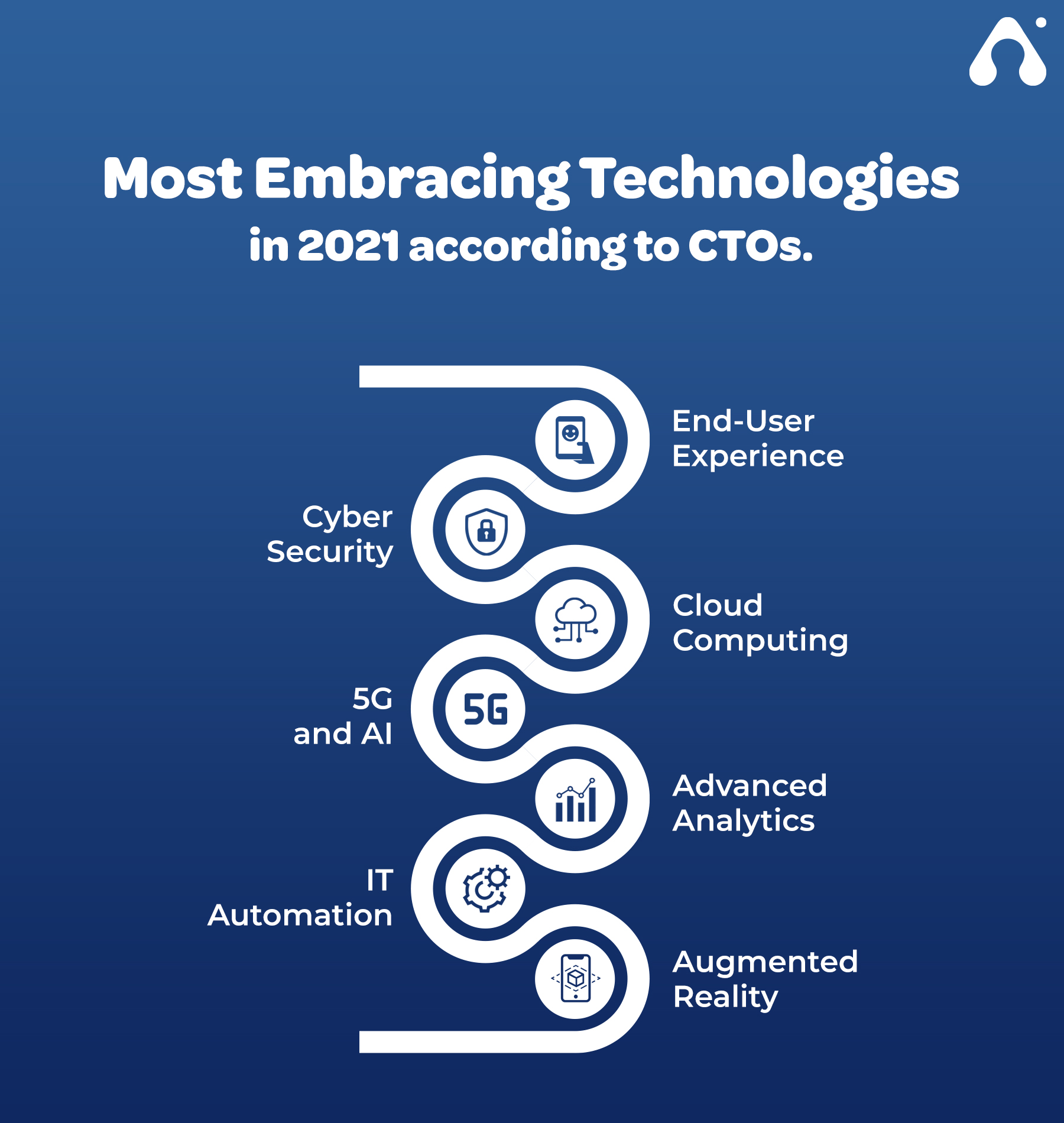 Choosing the perfect technology for your business could be challenging like building your dream house rich with out-of-the-real-of-imagination features. While you, as a business leader, might find yourself asking – what are the important technology areas that CTOs should invest in over and over, integrating technologies in an organization isn't an easy feat and requires a thorough mull over. The decision of choosing the right technology depends upon loads of factors such as the size of a company, its product, budget, and many other specific objectives. Before coming down in favor of the best-ever technology for your business, it is important to understand how that particular technology is going to proliferate the growth of your business and in what ways. 
What are you focusing on by embracing technology in your business? Do you want to streamline the day-to-day business operations, want to improve customer service, or gain a competitive advantage? Know the reason before the implementation. While there are so many things to seek answers to, let's begin with knowing the role of CTO in an organization. In a broad sense, CTO is the one who possesses the highest executive position in a company and eventually leads the technology or engineering department with regard to the technological interests of a company. 
Also, read – Latest Mobile App Development Technologies in 2021
Here are seven most-trendy technologies that CTOs would contemplate investing in.
1- End-User Experience
You may have seen organizations gauging the ways to enrich user experience. Not only for the budding startups but those who have already established in a rigorous manner pay more attention to user experience. Why do you think UX matters? While the core of every business is the customer, improving their experience apparently becomes the need of the matter for the business. When CTOs ponder over the technologies to embrace in the organizations, keeping the core aim of providing the perfect end-user experiences becomes the nucleus. The top CTOs of the decade integrate tools that improve customer experience to the core.
2- Cybersecurity
Shielding organizations from phishers and hackers should definitely be on the company's utmost priority list. However, as communication and technology continue to evolve, the system vulnerabilities, on the other hand, are also securing the starting grid, making businesses go on their knees, mostly the budding startups. It might appear shocking but small businesses and startups are most prone to online frauds and attacks. When the organization seeks the answer to the questions such as why CTOs should invest in technology like cybersecurity, the most apparent reason is to limit the risks involved with businesses. Moreover, protecting sensitive business data, information systems, and keeping up with the security challenges of IoT etc. is crucial irrespective of the business and its nature.
3- Cloud Computing
With plenty of technologies to choose from, the business community continues to reap the benefits of far-reaching ones that allow companies to flourish with time. One such technology that CTOs of organizations will definitely be looking forward to integrating into the projects is – cloud computing. But the question is why CTOs should invest in technology? Is it the only thing that guarantees business success? The discovery of the internet has sent a jolt of revolutionary ideas to businesses making them employ strategies that aid them to induce business windfalls. With the embracement of cloud computing and its optimal use, an industry can become more adaptable and goal-oriented. The major reason why CTOs will be zeroing in on implementing cloud computing technology in the upcoming years is to give businesses the ability to communicate and share information, files, and other important stuff more easily rebelling against traditional methods.
4- 5G and AI
Avant-garde technologies are going to take the first seat in serving the business by increasing their productivity and efficiency. 5G and AI-ML development technologies are inevitably going to be the path-breaking technology trends of the coming era. The leading business owners are gearing up for evolution by making the best use of technological tools in which the company's vision to determine the important technology areas that CTOs should invest in plays a promising role. When looking at the potential risk and possibilities, CTOs consider the spectrum of operations before embracing the 5G and AI technology in the right manner. Businesses apparently will rely on mobile networks more than ever to streamline the fastest network growth. For that, the majority of leaders will need to work with IT specialists to redesign and simplify core operations with the integration of AI.
5- Advanced Analytics
Irrespective of the organization and nature of the business, data continue to be an integral part that requires a thoughtful strategy to give the company direction. Businesses who are investing in technologies to get real-time insights on their enterprise need to choose a variety of options from advanced analytics. Whether it is about enhancing customer interactions, product management, etc., the use of tools like data processing and distributions enables businesses to make data-driven decisions. Though there are numerous challenges faced by CTOs while making the tech decisions, with the help of advanced tools, organizations can easily attain insights into the change as exactly as it is taking place making businesses operate more responsively.
6- IT Automation
What IT solutions CTOs should invest in? Since the majority of organizations decide to adopt innovative digital transformation technologies, the role of CTOs in this regard is proving to be more decisive than anyone else. The reason being they are the ones who bridge the connection between the customer and businesses by grasping the need of the market and organization. Information technology has a pivotal role to uplift the business and it would not be wrong to tout the IT industry as the important technology areas that CTOs should invest in forthcoming years. Data management and inventory management systems are common examples of IT technology that companies are outsmarting to invest in so that they can capitalize on their investment.
7- Augmented Reality
The technologies are meant to make your everyday work effortless and provide an edge over the conventional ones. Augmented reality is one such technology that is garnering attention all over the world mainly in the business community. What does AR mean? In simple terms, AR is a software technology that exists side-by-side the virtual information in the current environment. But you might be thinking about how it is beneficial for businesses? Augmented reality helps businesses proliferate brand outreach, build a loyal customer base, and connect with their audience by bridging the gap between imagination and reality. Since it is one of the coming-age technologies, it would definitely be one of the important technology areas CTOs should invest in 2021.
Factors to Be Kept in Mind While Selecting the Technology for an Organization
In a recent study, it has been found that CTOs, in order to select the production technology for the organization, need to be super aware of the latest trends. Based on trends and business requirements there are a few critical factors to be taken care of while investing in technology such as –
Availability of developers.
Time to integrate and complete setup. 
The complexity of technology deployment.
Accomplishments of business objectives.
Effective in security measures.
Suitable for a particular purpose.
Roles and Responsibilities of CTOs in Startup and Small Businesses
Digging up important technology areas that CTOs should invest in prospective years is quite formidable but a decisive task as well. Now we have understood that the major role of CTOs in an organization is to keep it technologically sustainable which would eventually lead the company to gain a competitive advantage. The CTOs, on the contrary, are also responsible for fitting the technology as per the company's marketing aims and operations. In short, all the technical side of the business is taken care of well by the CTO (Chief Technology Officer). Here are some integral responsibilities CTO takes heed to.
Building MVP: It might be surprising to you but in order to understand the important technology areas that CTOs should invest in, they get involved with the technical requirements and employ an approachable strategy such as while deciding with MVP (read – How much does it cost to build an MVP app?)
Hiring, Onboarding, and Training: When it comes to hiring skillful IT specialists, developers, or testers to build an app, tool, or software for the company itself and client, CTOs are one of the persons who is involved in making critical hiring decisions. 
Product Management: Startups are quite low on resources and capital and this is why they mostly entrust the majority of undertakings to CTO's shoulders that they take care of in a long run. Hence, for startups CTO acts as a product manager that manages primarily tech decisions for businesses.
Establishing Vendor and Customer relationship: Though CTO's duties are foremost, it keeps changing as per the growth of the company. While CTO is involved in setting up a vision for how technology would be used in an organization, ensuring that vendors and customers go along well with each other is what they focus more towards.
Do you know that AI is one of the most sought-after technologies that will grow by leaps and bounds in prospective years?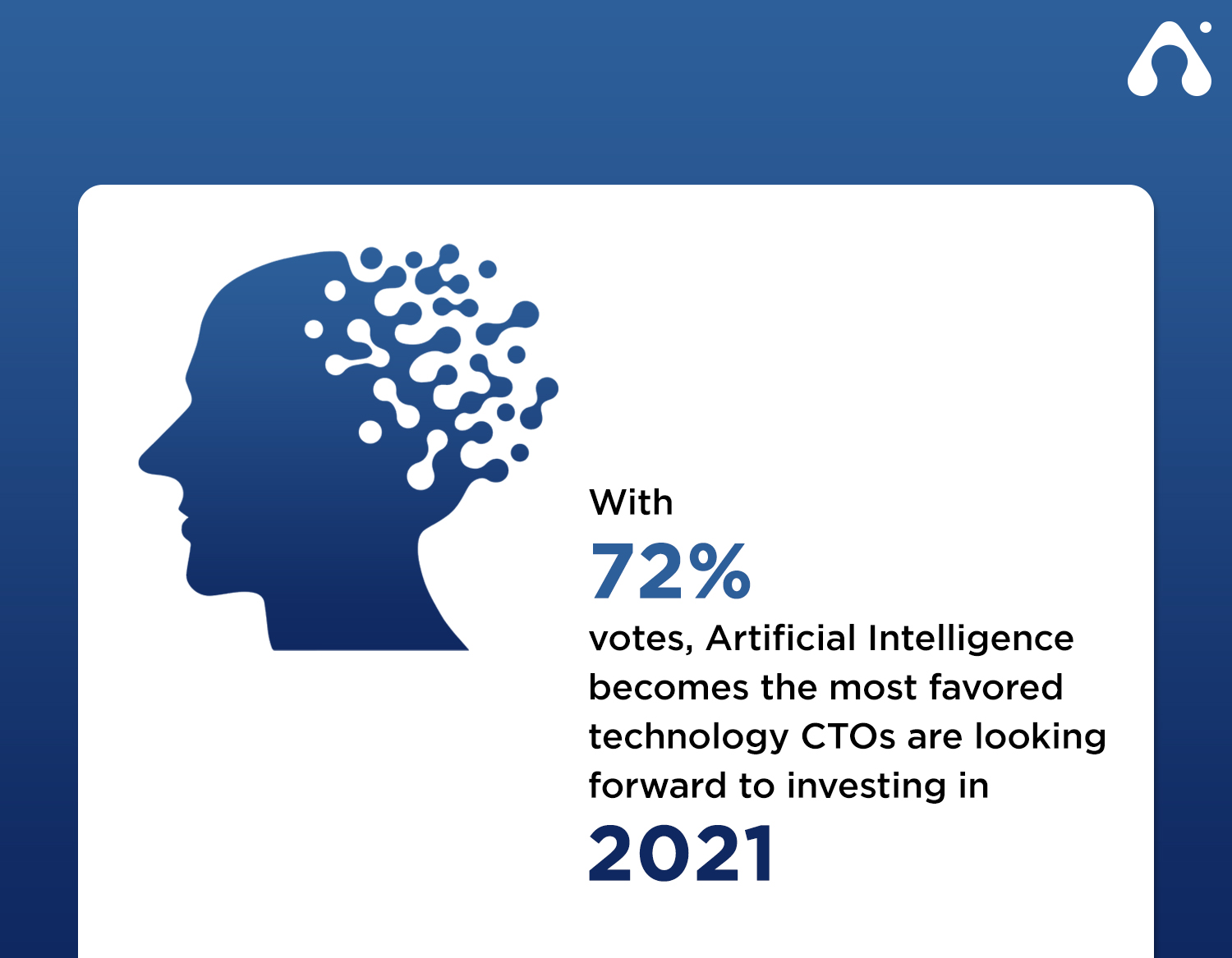 Also, read – Why You Should Invest in AI Application Development?
Why CTOs Should Invest in Technology?
Since technological innovation is bolting at an unmatchable pace, the question, what's the need for digital or technological advancement for a company is worthy of attention. Or should I say what IT solutions CTOs should invest in that could make a difference as per business perspective is a hot topic in the market? When it comes to adopting new technologies and trends, many organizations ideate it with machine learning, AI integration, or encompassing automation in the rational business verticals. But technology is beyond automation.
Technology, with time, is becoming an intangible asset of a company that has grown beyond establishing effective communication with customers and forming a future-proof business environment where every operation can be carried out easily. With that said, getting the grips with notable and important technology areas that CTOs should invest in forthcoming years, is followed by the reasons why current-era businesses are craving for implementing avant-garde technologies.
To Reinforce Organic Business Growth
Organic business growth is one of the most powerful and crucial factors that can drive businesses to adopt technologies. You might have crossed paths with plenty of articles online guaranteeing business growth in organic manners, the truth is there is no one-size-fits-all that can make your organization expand by leaps and bounds. Budding businesses are more apprehensive of deciding on the right technology to invest in. That's where the chief technology office ropes in. The role of CTOs in startups are significant to enable organizations to make the right decision. In this digitally flourishing world, investing in tech-oriented solutions either for embracing workplace operations and business functionalities gives a unique approach to accomplishing organizational goals in less time.
To Meet Project Requirements
Over the years, there has been a sudden surge in the enhancement of technologies to reorganize project development and make it see the light of the day with the ever-changing technological landscape. Project management tools like Trello and Jira (read – Trello vs Jira: Project management tools) are emerging as a favorite solution for project managers and teams which aids to identify potential roadblocks and issues and resolve them as quickly as possible. Though the requirement of projects varies as per the nature of the business, the majority of project managers believe that technology can alleviate communication to a great extent. Moreover, project management is one of the important technology areas that CTOs should invest in full-potential as it is one of the ways to increase productivity within teams.
To Drive Seamless Business Operations
As per the reports published by McKinsey & Company, COVID-19 has accelerated the adoption of digital technologies for businesses. The application of scientific knowledge has been there in the world for a long haul and it won't be wrong to say that the recent spread of COVID-19 has led many organizations to take adaptive actions to escape the hampering of global production in which the innovative tools and applications have helped a lot. Also, the business leaders have released the list of IT solutions CTOs should invest in 2021 and beyond that could uplift the business operation even better than before letting the companies maintain seamless operation on a regular basis. While remote work became the new-normal, cloud technology, work collaboration tools came to the rescue for organizations.
To Embrace Security in the Workplace.
Since the technology has become embedded in the majority of operations performed on a day to day basis, however for CTOs, it sometimes becomes challenging to single out the right one that can embrace security in workplaces. Investing in security to protect the business from malware and cyber attacks is one of the most pressing matters. Tools like intrusion detection systems, data loss prevention systems are emerging as a huge help for organizations. There are significant factors to be taken care of while investing in technology and this is where CTO ropes in. Emphasizing heavily on data security, they assimilate organizations' tools and softwares with corrective technologies.
Check this post – Top IoT Trends For Businesses To Keep An Eye On!
How Appventurez Can Help CTOs Choose the Right Technology for the Company?
Appventurez is a leading mobile app development company that promises to deliver innovative tech-driven solutions that add to speak for businesses upfront. With a pool of talented professionals with over 10 years of experience in transforming businesses and enabling companies to accomplish core objectives, we keep the kernel of our operation centric to users and clients. While softwares helps startups and large-scale businesses meet customer requirements and gain a competitive advantage, choosing the right one could be difficult but nothing to worry about unless our experts are there to help you. We, along with the organization, will be unraveling the important technology areas that CTOs should invest in 2021 and beyond. Tell us your requirements by reaching out to us and we will watch every step from there.