A computer and technology can mimic human emotions. What comes naturally to humans is challenging for computers in terms of unstructured data, absence of real-word intent, or maybe lack of formal rules. 
To make things digitalize, Artificial intelligence has taken the momentum with greater human dependency on computing systems. The computing system can further communicate and perform tasks as per the requirements.  
With greater potential in itself already, Artificial intelligence's subset Natural language processing can derive meaning from human languages. 
The language using the algorithms of AI picks up human language trends. Companies using technology can automate various processes like appointing agents to the customers for attending them. Also, starting from sentiment analysis for customer relationship management to other tasks, NLP solutions are there to serve!
At the same time, we all are using NLP on a daily basis without even realizing it. A quick look at the beginner's guide to natural language processing can help. 
And there are many natural language processing examples that we all are using for the last many years. Before knowing them in detail, let us first understand a few things about NLP. 
Let's get started- 
What is Natural Language Processing?
Natural language processing is described as the interaction between human languages and computer technology. Often overlooked or may be used too frequently, NLP has been missed or skipped on many occasions. 
A few of the most prominent examples of NLP we use on a regular basis are- 
Autocomplete
Spell check
Related keywords on search engines
Voice text messaging
Spam filters
Google Assistant, Siri, Alexa
In any of the cases, a computer- digital technology that can identify words, phrases, or responses using context related hints. The same way humans take reference for. It is a technology that works straightforwardly. 
Its potential is more than what takes employees months and years to accomplish. 
But do organizations really need NLP systems? 
Let's figure out the answers to the question-
Why should businesses use natural language processing?
The right interaction with the audience is the driving force behind the success of any business. Any business, be it a big brand or a brick and mortar store with inventory, both companies, and customers need to communicate before, during, and after the sale. 
This brings numerous opportunities for NLP for improving how a company should operate. When it comes to large businesses, keeping a track of, facilitating and analyzing thousands of customer interactions for improving services & products. 
On the other hand, data that can be extracted from the machine is nearly impossible for employees for interpreting all the data. 
Hence, an NLP can bring enormous benefits to an organization easing the job of employees to the core. Investing in NLP can be a great idea!
But how?
How Can Businesses Use NLP?
There are various ways businesses can use Natural Language Processing to the core-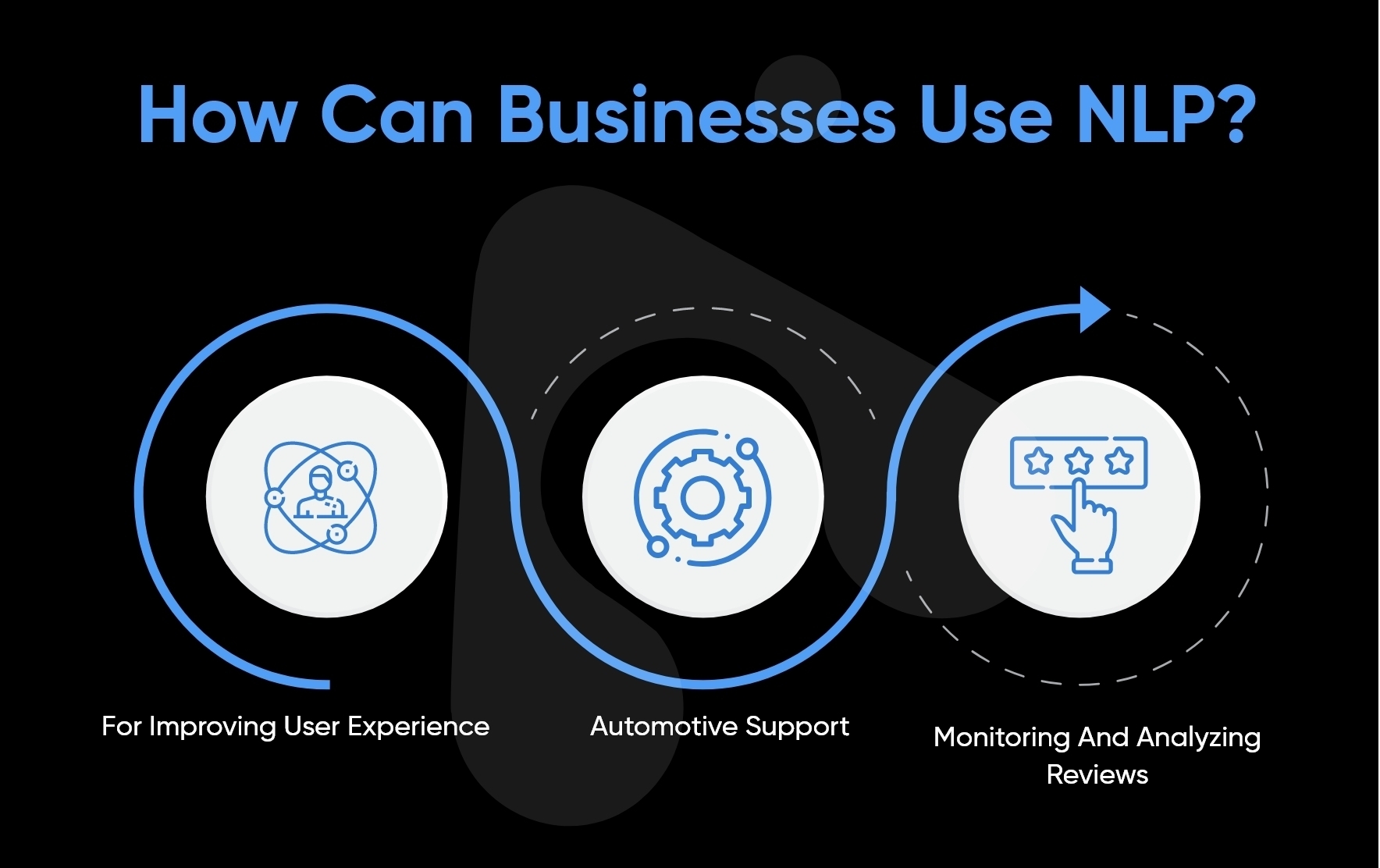 For improving user experience
NLP can be simply integrated into an app or a website for a user-friendly experience. The NLP integrated features like autocomplete, autocorrection, spell checkers located in search bars can provide users a way to find & get information in a click. This makes users navigate them to the site. 
Automotive support
Chatbots are the most integral part of any mobile app or a website and integrating NLP into them can increase the usefulness. The role of chatbots in enterprise along with NLP lessens the need to enroll more staff for every customer. 
A few important features of chatbots include users to navigate articles, products, services, recommendations, solutions, etc. Above all, the addition of NLP into the chatbots strengthens the overall performance of the organization. 
Monitoring and analyzing reviews
Feedbacks are the quite obvious thing received by any organization. The reviews and feedback can occur from social media platforms, contact forms, direct mailing, and others. 
Using the NLP system can help in aggregating the information and making sense of each feedback and then turning them into valuable insights. This will not just help users but also improve the services rendered by the company. 
An MVP version of the website or an app can bring way better and smart results without losing resources in the first go. 
Read also- how to increase app user engagement
With it, comes the natural language processing examples leading organizations to bring better results and effective communication with the customers. 
Top natural language processing examples businesses are employing
Smart assistants
One of the first NLP examples is smart assistants like Amazon's Alexa, Apple's Siri, Cortana. These smart assistants using voice recognition mechanisms infer meanings and then provide meaningfully and required information. 
Take NLP application examples for instance- we often use Siri for various questions and she understands and provides suitable answers based on the asked context.  This is where the use of NLP takes place without us realizing it! Alexa on the other hand is widely used in daily life helping people with different things like switching on the lights, car, geysers, and many other things. 
A part of AI, these smart assistants can create a way better results. 
Know more- why to invest in AI application development
Search results
Search engines are the next natural language processing examples that use NLP for offering better results similar to search behaviors or user intent. This will help users find things they want without being reliable to search term wizard. 
For example- natural language processing example projects Google that not only predicts popular searches that might help in the user's query but also looks at the overall picture and then recognizes what users are trying to type rather than the exact search words. 
Using the NLP, getting answers in a few steps is quite easy which is being used for many years. 
Predictive text
Predictive text is considered the next NLP application examples. Autocorrect, autocomplete, predict analysis text is the core part of smartphones that have been unnoticed. 
Predictive analysis and autocomplete works like search engines predicting things based on the user search typing and then finishing the search with suggested words. Many times, an autocorrect can also change the overall message creating more sense to the statement. 
And we thought autocorrects were annoying! 
Other than changing the meaning, Autocorrect also learns from you. Predictive analysis, on the other hand, predictive text customizes itself as per the users' personal language. 
This is why an organization should use NLP for the growth of the organizations. 
Language translations
Many languages carry different orders of sentence structuring and then translate them into the required information. 
Integrating NLP into the system, online translators algorithms translate languages in a more accurate manner with correct grammatical results. This will help users to communicate with others in various different languages. 
The technology here can perform and transform unstructured data into meaningful information.
Digital phone calls
There are calls that are recorded for training purposes but in actuality, they are recorded to the database for an NLP system to learn and improve services in the future. This is also one of the natural language processing examples that are being used by organizations from the last many years. 
Furthermore, automated systems direct users to call to a representative or online chatbots for assistance. And this is what an NLP practice is all about used by companies including large telecommunications providers to use. 
Also, NLP enables the computer to generate language which is close to the voice of a human. For example- Phone calls for scheduling appointments like haircuts, restaurant timings, etc, can be scheduled with the help of NLP. 
Text analytics
The next natural language processing classification text analytics converts unstructured text data into structured and meaningful data for further analysis. The data converted for the analysis procedure is taken by using different linguistics, statistical, and machine learning techniques. 
By integrating the NLP system for organizational purposes, the technology can gather customer interactions in terms of social media comments, feedback, review, the organization's name mentioned in order to gain the rapport of the brand. 
The process of gathering information helps organizations to gain insights into marketing campaigns along with monitoring what trends are in the market used by the customers majorly and what users are looking for. This will help in enhancing the services for better customer experience. 
When this was about the NLP system gathering data, the text analytics helps in keywords extraction and finding structure or patterns in the unstructured data. 
And this is not the end, there is a list of natural language processing applications in the market, and more are about to enter the domain for better services. 
Virtual assistants
Natural language processing techniques can be presented through the example of Mastercard chatbot. The bot was compatible when it came to comparing it with Facebook messenger but when it was more like a virtual assistant when comparing it with Uber's bot.
The MasterCard virtual assistant chatbot can provide a 360 eagle view of the user spending habits along with offering them what benefits they can take from the card. 
This is how an NLP offers services to the users and ultimately gives an edge to the organization by aiding users with different solutions. 
Detecting duplications
Quora like applications use duplicate detection technology to keep the site functioning smoothly. 
Let's understand this natural language processing examples- Suppose you searched for "Fresh meat is healthier than frozen meat" on Quora and the next moment you will see a list of similar questions thread previously asked, including- 
Is fresh meat healthy?
Is frozen meat healthy?
Which is healthier, fresh, or frozen meat?
Is it better to consume fresh instead of frozen Meat?
Is buying fresh meat better?
The overall thread of questions will make it easy to pick one that can solve the purpose of the question letting one come to the conclusion. 
For making the solution easy, Quora uses NLP for reducing the instances of duplications. And similarly, many other sites used the NLP solutions to detect duplications of questions or related searches. And this is how natural language processing techniques and algorithms work. 
Social media monitoring
Social media is one of the most important tools to gain what and how users are responding to a brand. Therefore, it is considered also one of the best natural language processing examples. 
Through social media reviews, ratings, and feedback, it becomes easier for organizations to offer results users are asking for. By integrating NLP into the systems helps in monitoring and responding to the feedback more easily and effectively. 
Take for example- Sprout Social which is a social media listening tool supported in monitoring and analyzing social media activity for a brand. The tool has a user-friendly interface and eliminates the need for lots of file input to run the system. 
 Marketing strategies
Marketing is the most important practice a business commonly works upon to list them among the successful businesses. Also, without marketing, circulating the ideology of business with the globe is a bit challenging. Hence, marketing is an asset to an organization. 
Also, marketing is a vast subject and consists of content too. By using NLP technology, a business can improve its content marketing strategy. 
MarketMuse is one such natural language processing example powered by NLP and AI. The software analyzed each article written to give a direction to the writers for bringing the highest quality to each piece. 
Check- the need for customer relationships management 
Descriptive Analytics
Like we said earlier that getting insights into the users' response to any product or service helps organizations to offer better solutions next time. And using NLP gives an edge to offer better services. 
NLP equipped Wonderflow's Wonderboard brings customer feedback and then analyzes them. By doing that, it shows the plus and minus of the feedback. 
By collecting the plus and minus based on the reviews, it helps companies to gain insight of products' or services' best qualities and the features most liked/disliked by the users. 
The practice of automatic insights for better delivery of services is one of the next big natural language processing examples. 
Automatic insights
Natural language processing example projects its potential from the last many years and is still evolving for more developed results. And automatic insights are the next step to this development. 
Automatic insights not just focuses on analyzing or identifying the trends but generate insights about the service or product performance in a sentence form. This helps in developing the latest version of the product or expanding the services. 
The Wonderboard mentioned earlier offers automatic insights by using natural language processing techniques. It simply composes sentences by simulating human speeches by being unbiased. The negative feedback is also welcomed as positive ones. 
These are the 12 most prominent natural language processing examples and there are many in the lines used in the healthcare domain, for aircraft maintenance, for trading, and a lot more. 
Meanwhile, as technology has been in the market for the last many years and is being used by us in various ways, there are companies that have accepted the technology wholeheartedly and are now using it fully for business operations. 
Let's have a quick look at them too- 
Top 7 Natural language processing solutions
Twiggle
One of the first natural language processing examples for businesses Twiggle is known for offering advanced creations in AI, ML, and NLP on the market. It offers solutions based on search technologies for human interaction. For example- developing a deep understanding of the linguistic structure, making search engines, and bots mimic real-life sales agents like roles. 
Digital genius 
The next natural language processing examples for businesses is Digital Genius. It concentrates on delivering enhanced customer support by automating repetitive processes. 
Using software solutions, its NLP tool can be further integrated into the existing software for better results. 
TaskUs
Known for offering next-generation customer service solutions, TaskUs, is the next big natural language processing example for businesses. By using it, companies can take advantage of their automation processes for delivering solutions to customers faster. 
AnswerRocket
AnswerRocket is one of the best natural language processing examples as it makes the best in class language generation possible. By integrating NLP into it, the organization can take advantage of instant questions and answers insights in seconds. 
Parlamind
parlamind is the future of intelligent communication for enabling omnichannel automation for customer service. The integration of state-of-the-art software, Machine learning, NLP are used for analyzing, routing, and answering incoming customer communications. 
Hence, it is an example of why should businesses use natural language processing. 
IBM Watson
Watson is one of the known natural language processing examples for businesses providing companies to explore NLP and the creation of chatbots and others that can facilitate human-computer interaction. 
Using Waston Assistant, businesses can create natural language processing applications that can understand customer and employee languages while reverting back to a human-like conversation manner. 
Amazon Lex
The next leading natural language processing examples is Amazon Lex. It is a technology built as a conversational technology that can be integrated into any of Amazon's applications using text and voice combination. 
Using Lex, organizations can tap on various deep learning functionalities. The functionality also includes NLP and automatic speech recognition. The technology can be used for creating more engaging User experience using applications. And this is where the use of mobile applications arises. 
A mobile application not just connects a brand to the audience, it also connects what a user is looking for in the application. Hence, for robust applications, preferring a leading mobile app development company can never go wrong!
These are the top 7 solutions for why should businesses use natural language processing and the list is never-ending. 
For Thoughts
If you are entering into the world of mobile applications, using NLP should remain your topmost priority. Being in the race of successful mobile applications, business or to create a global level user base, using NLP is the need of the hour. 
The above natural language processing examples are proof of why NLP is important. If you still have some doubt or want to know more about it, connect with our NLP experts today!
---
---