Be it mobile technology in manufacturing industry or any other sector, it's going to rapidly transform various industries. Therefore, it becomes all the more important to be updated about the technologies that can impact the industries. This is the reason why we shall be discussing the impacts of mobile technology on manufacturing processes. We'll also provide informative content about the pros and cons of tech and how it'll affect the business. 
The manufacturing industry is one of the most important contributors to the economy. However, the ever-changing dynamics of technology implementation in the industry can't be neglected. Therefore, understanding technology implementation and its importance of it is vital in the 21st century.
The information provided in the blog will be backed by statistics, facts and figures, to provide better judgment. We'll take a look at how mobile app development company are helping the manufacturing industry.
Check Out the Importance of Mobile Technology in Manufacturing Industry!
With the introduction of mobile apps in the manufacturing industry, most things are done with conventional methods. However, people still ponder how is mobile technology helping the manufacturing industries? Therefore, we aim to provide clarity regarding this aspect. 
#1- Increase in Operational Efficiency
One of the reasons to use mobile technology in manufacturing is the increase in efficiency. You can monitor the work done in the palm of your hand by simply tapping on your smartphone.
#2- Data Entry Becomes Simple
Workers working in the shipping docks or assembly line can use mobile apps for updating their tasks. This will help in the quick update of data entry which can be monitored by just tapping the app.
#3- Organize Device Management
With the introduction of apps, the number of devices allocated for management can be reduced. Custom apps for management can be used to keep track of work.
#4- Allows Flexibility to Monitor
Tasks and assignments in manufacturing industry can be monitored on the go. It just requires an application to tell you what all work has been done and where's the delay.
#5- Secure Monitoring of Tasks
Since you're using mobile apps for keeping tabs on your workers, the updates provided by them are foolproof. Only you'll be able to access the app using the correct credentials and it'll be a foolproof system.
#6- Management of Resources & Inventory
The customized mobile apps for the manufacturing industry will have special provisions for resources and inventory. You can always check them to know which all things you have in excess and what resources you need.
The above are some points that lay emphasis on why mobile apps are important in the manufacturing industry.
Take a Gander at Some Striking Benefits of Mobile Technology in Manufacturing Industry!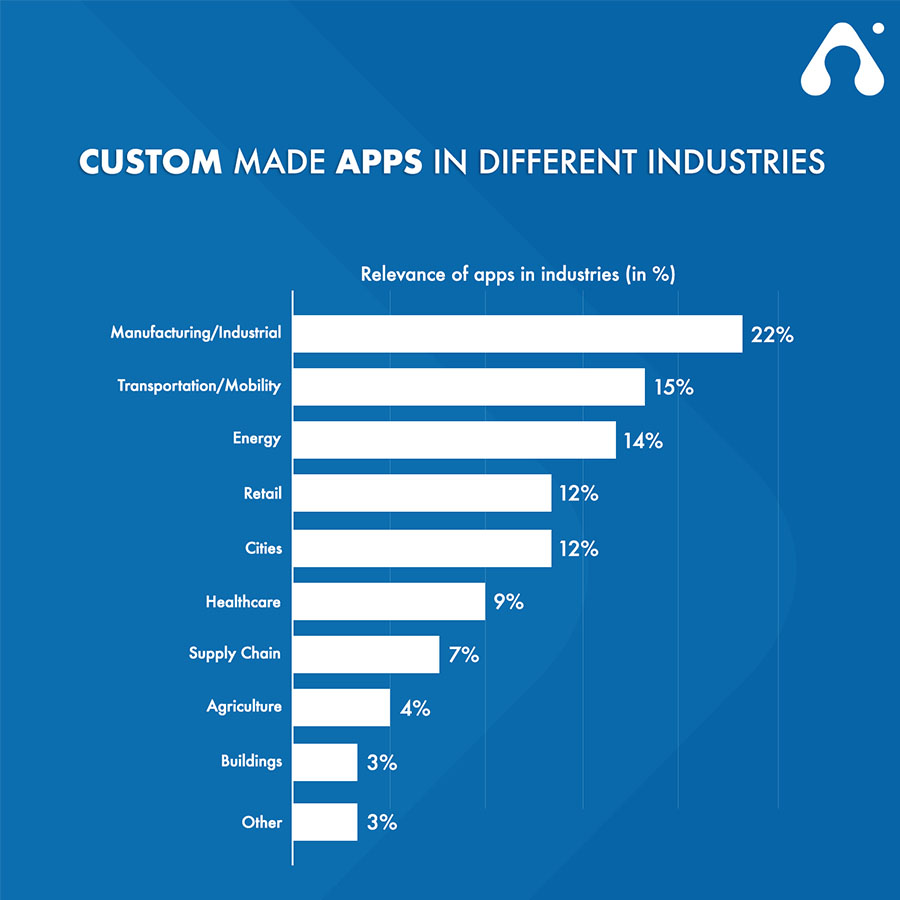 The graph above indicates the relevance of apps in various industries with manufacturing industry-leading. This solidifies the fact that there are huge benefits/advantages of custom-made apps and mobile tech in the industry. So it becomes non-negotiable for us to look at the benefits that mobile technologies can have in manufacturing industries.
#1- Judicious Data Usage
The implementation of mobile technology has many benefits. One of them being judicious usage of data. This is so because in manufacturing industries a lot of data is saved on computers. These outdated practices can be removed by using mobile apps for storing and analyzing data. It'll help in directing the resources(computers) where they're needed the most.
#2- Processes will Improve
As we know there are laborious tasks in manufacturing industries. Due to the automation and the introduction of apps in the industry, processes have become fast. Therefore, it is easy to get the tasks logged and monitored. Mobile apps can be used for tracking and storing data in an industry like manufacturing.
#3- Priority to Innovation
The tasks in the manufacturing industry can be repetitive and boring. Therefore, the introduction of mobile technologies has expedited processes and removed boredom. This will also lead to more time spent in innovation and designing new things. The time can be spent well in improving the efficiency of the plant by contributing innovative ideas.
#4- More Attention to Customers
The introduction of mobile tech has also lead to a reduction of effort and an increase in time. The time can be spent in providing attention to customers and building a rapport with them. Since customers are one major factor of investment in the business, therefore they need to prioritize.
The above are some points that address the query, how manufacturing industries are taking advantages of mobile apps?
Awesome AI Mobile Apps for Manufacturing Industry that'll help your Business!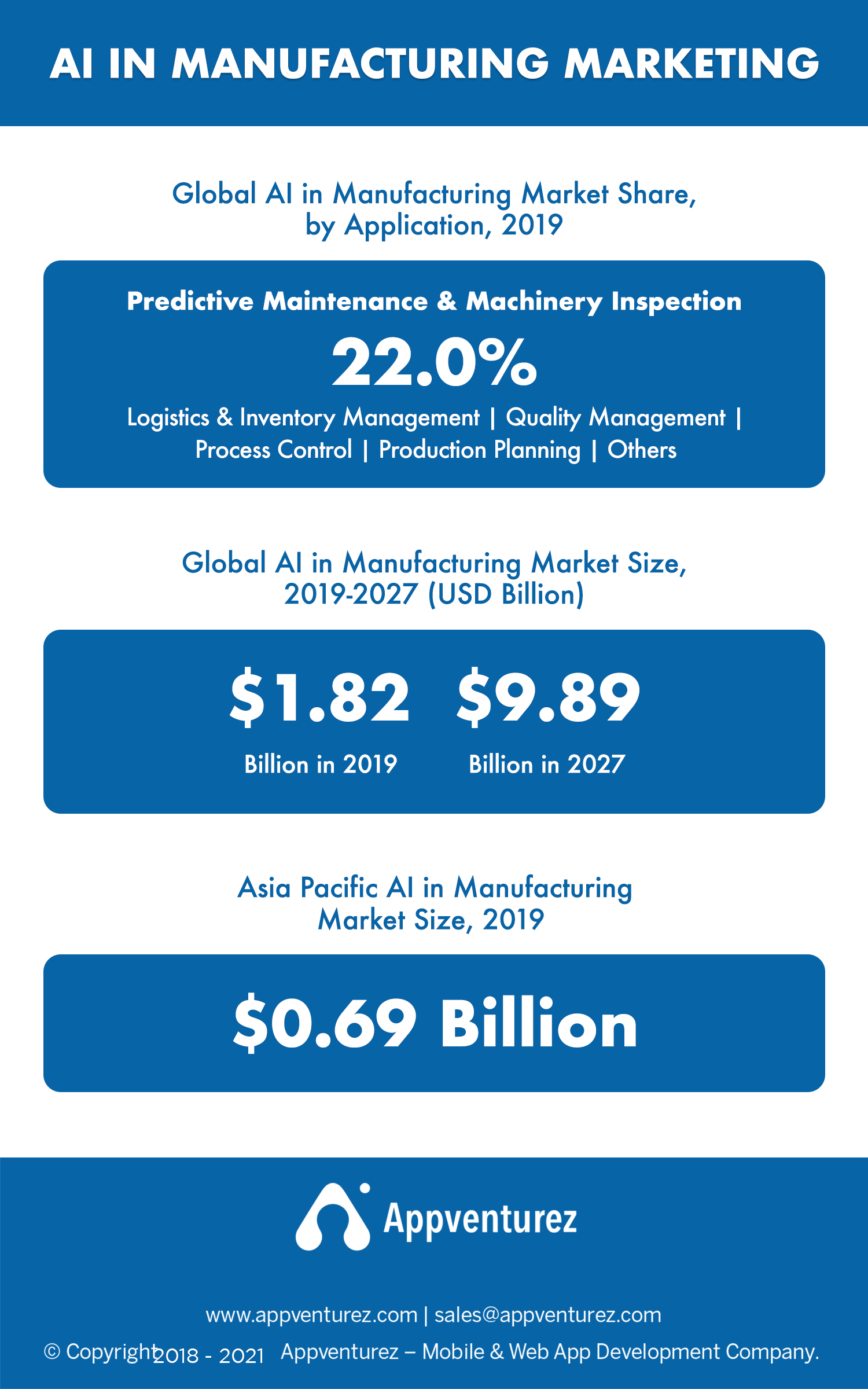 The power of AI-enabled apps in the manufacturing sector can't be ignored. Therefore, you must look to invest in AI application development for manufacturing industries. According to the data in the image above, there has been an estimated rise of approx USD 8billion between 2019-27. This shows that AI will have a huge role in the years to come. 
As of now, let's talk about some amazing AI-enabled apps that've been working wonders in the manufacturing industry.
#1- Pocket Analytics
If you're looking for an app that helps in data organization, then Pocket Analysis is a must. You can use the app to see your data presented in statistics, graphs, or charts. This will help you in analyzing the data quickly in the form of images. Such an app will save you time to comprehend the complexities.
#2- Venmo
In manufacturing industries, there are frequent bank transactions like sales and purchases. Therefore, Venmo replaces the requirement of checking the transactions every time. Since it's an AI-powered app, it keeps a tab on your finances and gives you accurate updates. It's one of the most reliable apps to be used in manufacturing industries.
#3- Manufacturing 360
If you're interested in the updates in the manufacturing sector, then Manufacturing 360 is a must. The app connects you with the news, experts, and advice related to manufacturing. You can even get consultancy and know about all the new trends in the industry that'll keep you updated.
#4- Lean App
Your search for an app that manages tasks, enhances productivity and decreases expenses is over. Lean App is a specially designed app for the mentioned tasks and performs exceptionally well. This helps you with the digitization of the manufacturing unit and you can invest more in innovation.
How Manufacturing Industry is Affected by the Pros & Cons of Mobile Technology?
With the introduction of advanced mobile technologies, we must also look at their merits and demerits. This will give us a complete analysis and our judgment will get better as to where to use technologies. Therefore, we must take a look at the advantages and disadvantages that are provided below.
Merits of Using Mobile Technology
Take a look at some interesting points that'll amaze you how mobile technology is beneficial.
Efficiency and productivity of staff increases 
Increase in the quality and the services offered 
Wireless payments are one of the options  
Ease of communication expedites processes
Access to industry specifics apps and services 
Strong networking capability 
These are some points why mobile technology in manufacturing can be helpful!
Demerits of Using Mobile Technology
Expensive 
Training cost 
Distractions in workplace
IT security required 
These are some demerits of having a mobile or using mobile tech in manufacturing industries. 
Although when it comes to giving a verdict, then the pros overshadow the cons. Technology has always bought challenges and they've been handled accordingly. However, neglecting to adopt technology in manufacturing will do more harm than good. Mobile technology and apps have immense potential to revolutionize the entire industry and save money as well. Therefore, it makes no sense to shun the tech.
Read about steps to enhance mobile security to have a secure network/app. 
US Economy to be Strengthened by the Introduction of Mobile Tech in Manufacturing?
One of the most important industries in the US is manufacturing. Its contribution to the economy is around USD 2269 billion. Therefore, to modernize the industry, the implementation of technology goes without saying.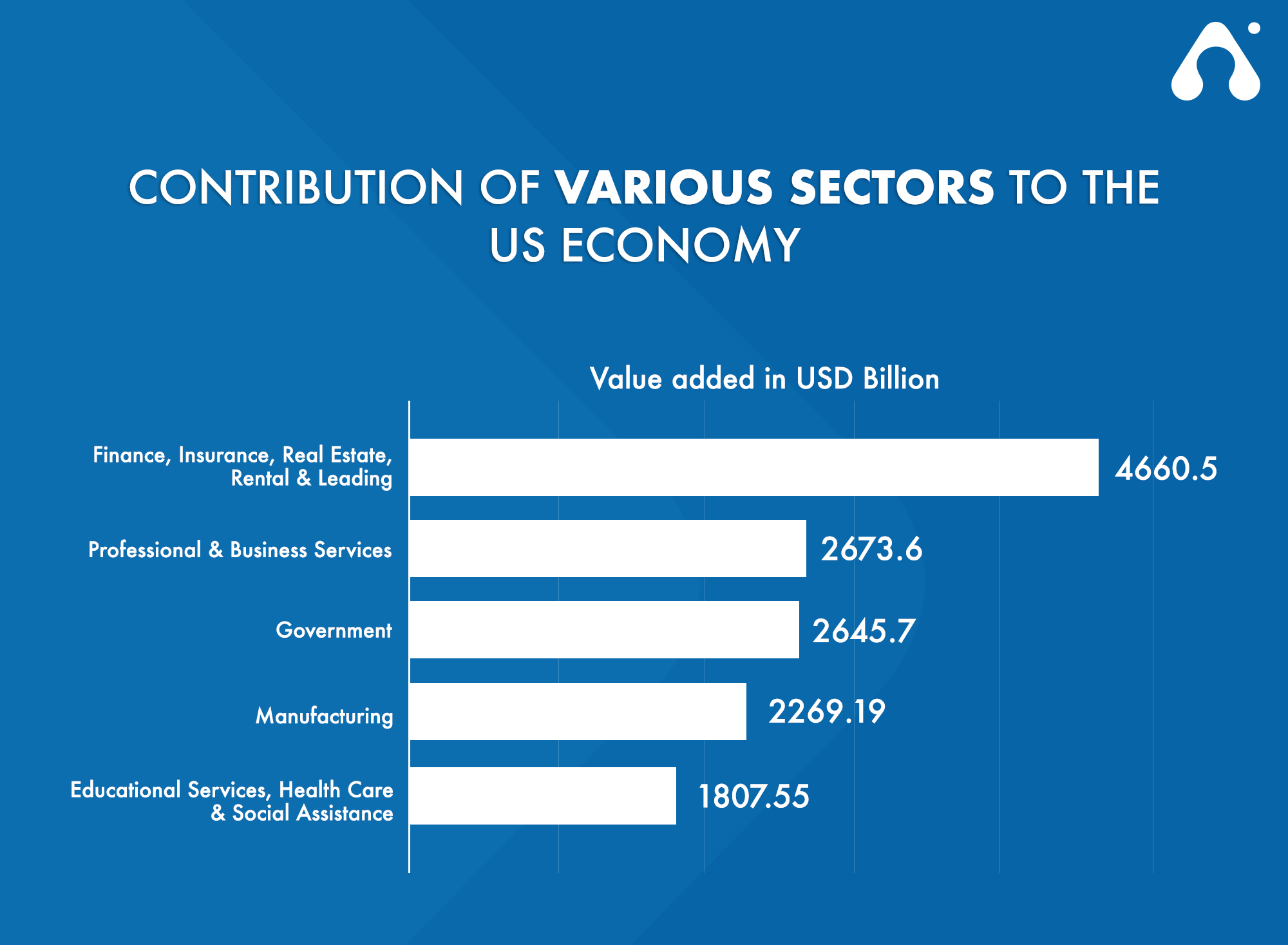 Let's take a look at how the industry gets strengthened.
#1- Redundant Activities Get Eliminated
Using mobile technology in the manufacturing industry does help you in maintaining repetitive records fast. Keeping records manually is a monotonous job and doing that repeatedly can burn you out. Therefore, using custom-made apps that can maintain the records is a blessing in disguise.
#2- Better Management of Resources
Having technology incorporated in manufacturing does a lot of good. It helps in doing things efficiently and takes fewer resources in order to complete a task. This helps in cost-cutting and saving resources for another task. The judicious use of resources is made possible only by the implementation of mobile technology.
#3- Efficiency in Inventory Management
Manual inventory checks can be quite a cumbersome task and can lead to monotony in a big industry like manufacturing. Having mobile technology to perform tasks like these can save time and energy. This saved time can be spent on other vital tasks. 
#4- Coordination Between Logistics & Supply Chain
The coordination between logistics and supply chain is critical and it should happen without time lag. This is where it takes time and reducing its implementation of mobile solutions is a must. It helps in saving time and getting the job done fast. This leads to better efficiency and output.
#5- Using Predictive Analytics
With the implementation of predictive analytics, you can forecast the techniques to be used. This can prove to be quite beneficial when it comes to improving efficiency. Therefore, mobile technology can help in revolutionizing the manufacturing industry's processes.
What's the Cost to Develop a Customized App for the Manufacturing Industry?
The manufacturing industry in the 20th century was predominantly manual. However, after the arrival of the mobile phone and with major modifications in mobile tech, things have changed. We've seen a tectonic shift in the process that the industries follow after the implementation of tech. This reinforces that mobile technology in manufacturing industry is the way forward. 
So, if you're looking for a dedicated app for the manufacturing industry, then check out the info below.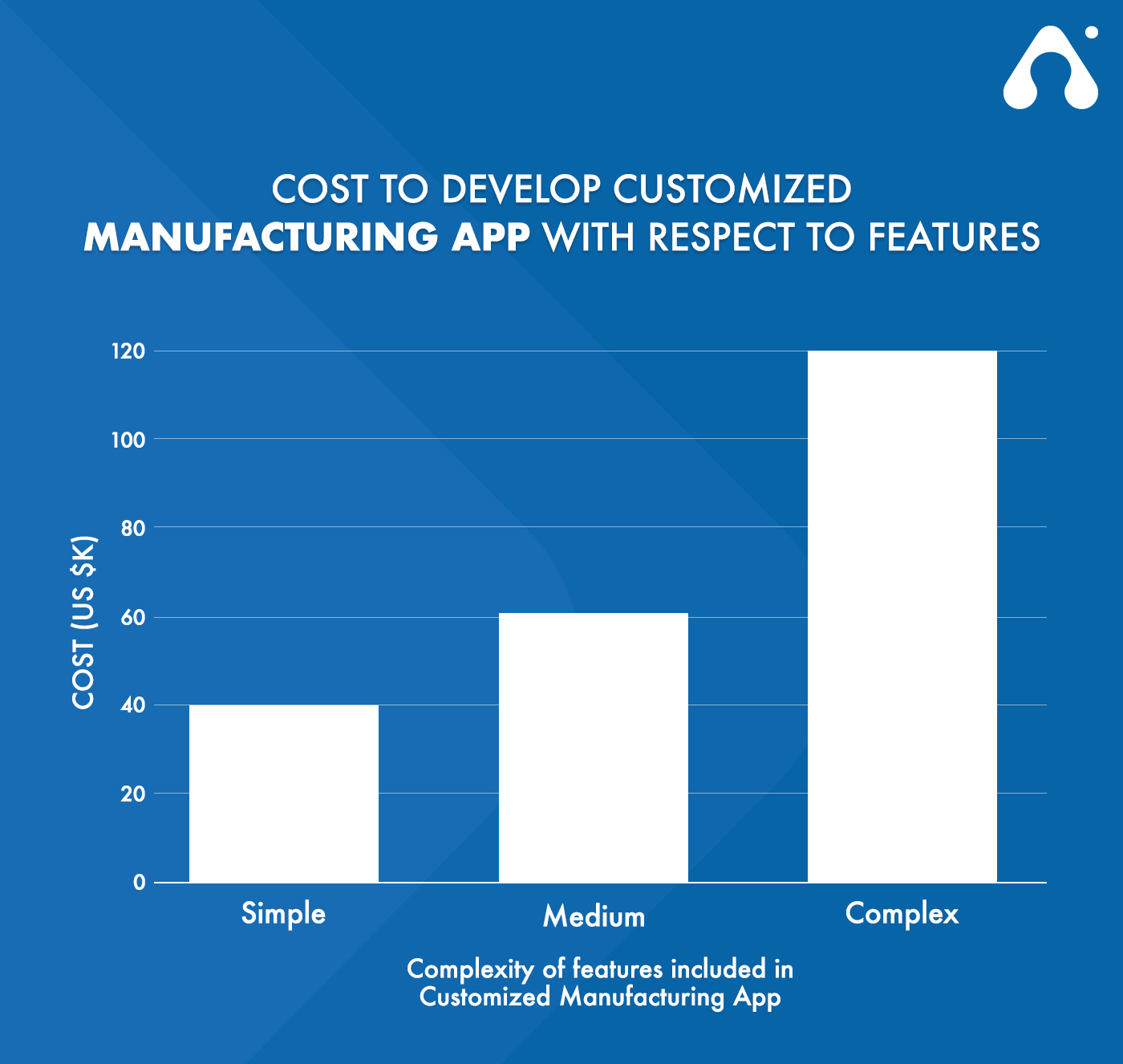 #1- Developing Simple Functionality App – $40,000 – $60,000
It identifies with the application having essential highlights and functionalities. The UI and UX are not unreasonably incredible. Implied for customers that have a low financial plan and need an advanced presence as applications. Thusly, for them, it's the best reasonable choice. 
#2- Developing Medium Complexity App – $61,000 – $120,000
In a scenario where a customer needs to make a decent business application, at that point he can pick this alternative. It'll have okayish features to keep the client engaged while shopping. The testing and support will be of fair quality.
#3- Developing a Complex App – $120,000+
To make an elite application, that gives clients as publicized, at that point, it'll cost you the previously mentioned cost. It'll incorporate careful execution of the Software advancement Life Cycle(SDLC). The highlights and UI/UX will be first class. 
#4- Cost of Recruiting a US Application Designer ~$90,000/Year
To make a first-rate application that proceeds as publicized, you'll need to dish out the previously mentioned cost. The U.S. application engineer will take care of business at the cited cost.
The above are some points that you need to bear in mind before investing in custom mobile apps for business.
Top Mobile Technology Trends 2021 for the Manufacturing Industry!
Queries like what is mobile technology and what will be the future of mobile technology are important! This is exactly why we'll be discussing it. We'll take a look at how future tech will be used in the manufacturing industry. Therefore, let's discuss the following points.
#1- Automated Picking
A very essential tech that can revolutionalize the manufacturing industry is automated picking. With fast, precise and never tiring systems, a monotonous job can become efficient. This is the reason why warehouses of big tech firms have automated picking as it saves them time. 
AI is the tech that is proving to be quite useful in every industry. Be it tech or manufacturing, the tech has shown immense scope. AI is used in mobile apps used in manufacturing as well as some machinery as well. It is able to distinguish the products and then perform operations accordingly. 
#3- Industry 4.0
Industry 4.0 is a revolution that'll incorporate computers, sensors, and tech like machine learning. The first and second revolutions had water and electricity respectively as driving factors. Therefore, with the increase in the sophistication of tech, it'll be interesting to see how the industry uses it.
#4- IoT
IoT app development is one such tech wherein you'll find the use of sensors and the internet. The sensors and internet are used to collect data and then present it to the person monitoring. The person can monitor the data at the palm of the hand remotely. All he needs to access the data is a smartphone with access to the internet.
#5- Mobile Robotics
The best example of mobile robotics would be Unmanned Ground Vehicles which have primarily been developed for militaries. However, the tech isn't limited to defence forces. Such tech can also be implemented in manufacturing plants.
Parting Thoughts
The bog above gives a complete description of mobile technology's role in the manufacturing industry. A clear analysis, describing factors to keep in mind while using mobile technology, is done. This will eliminate all the doubts that people have in mind regarding the role of mobile tech in manufacturing.
Due to the ever-changing dynamics, we've also given details about mobile app trends in manufacturing to keep you updated. This will help you with your awareness and you can use the upcoming trends to benefit your business.
In a nutshell, we've clearly described the role of mobile technology in manufacturing in the coming years. Not only this, but we have also done a cost estimation for the development of a customized app. We've even answered basic queries like, what is meant by mobile technology?
So if there's any doubt left or you want to join our hands for customized apps, then contact us! We'll be happy to partner with you.
---
---