There are high chances that you might be using iOS applications and then there are 99% chances that you might be using Android application. 
The reason?
Well, there are around 2.8 million Android apps available in the Google Play Store built to be downloaded by us. The reason for such a number of apps reflects the number of users demanding the same. 
Seeing how profitable it is to invest in Android app development, many businesses, startups are getting started with Android applications. 
So, when it comes to developing an application, starting the project until completion and post-launch is a daily task for Android app developers. The real struggle comes in for those who are venturing into the world of app development. 
Developing an app is a rigorous process, what's more challenging is uploading the app in Google Play Store keeping guidelines and other measures in mind. 
Here in this blog, we will be offering you step-by-step guidelines for how to upload an app to google play store. 
Let's get started- 
But before that, keep a few things handy-
Google Play Store Requirements
Needless to say, have a well-built, robust application!
You will be required to have the app's unique Bundle ID (App ID) for representing it.
Next in need is a signed security APK certificate. 
Also, if your app is big in size, required APK file extensions are mandatory to break the app into parts for easy uploading. 
Getting your app licensed will serve your long-term benefits when it comes to gaining full control over it.
Don't forget about app testing, even a minimalistic bug or error can be a huge turn off for users and a chance for competitors to gain control in the market.
Most importantly, you should be a Play publisher by signing up to Google Play Console.
Mug up all the Google Play Store submission requirements guidelines.
Once you are prepared with all these things, it's time to get started with the real work.
How to Upload an App to Google Play Store
1 – Get all your app information Handy
The very step to submit an app to the Google Play Store is to log into Google Play Console by using the Play Publisher account.
Next, select the option- All Applications in the menu placed on the left side and then click on Create Application to get started. 
Once done with the very basic information, choose a preferred language along with entering the title of the app and click on Create. 
Also, there is a one-time chargeable fee of $25, after that, you can submit an app to the Google Play Store.
The image shown below can help you to understand what to do.
Attending it, here are things you should be paying attention to.
Short description- This is the crux of your app's summary. Here, you need to fill the information about the app in a precise way that can convince people to download the app. 
Detailed description- here, you get the liberty to write the detailed version of your application, just ensure that it is written 4000 characters. Highlight the best of your app's features to hook a maximum number of users. 
Screenshots– being descriptive about your app is not enough, you need to show users its insights too. Add the best of your app's screenshots starting from 2 to more than 6. For best results and higher download count, we the topmost Mobile app development company often recommend at least 7-8 app screenshots. 
Icon- this is how users will recognize your app from the sea full of applications. Make sure you are updating the high-resolution icon and the catchy one.
Graphics- though, not so important, but including it will do a better edge to your application. Aim for a simple yet bold image with less writing and more graphical representation. 
Link- here you can add a YouTube link for promoting your app.
Type of application- you need to mention whether you are offering an app or a game.
Category– here, you need to define whether your app is travel, business, education-based. 
Ensure, you are missing nothing and each and every piece of information is correct. Once done, click on Save Draft for saving the application.
2 – Upload app APK or app bundle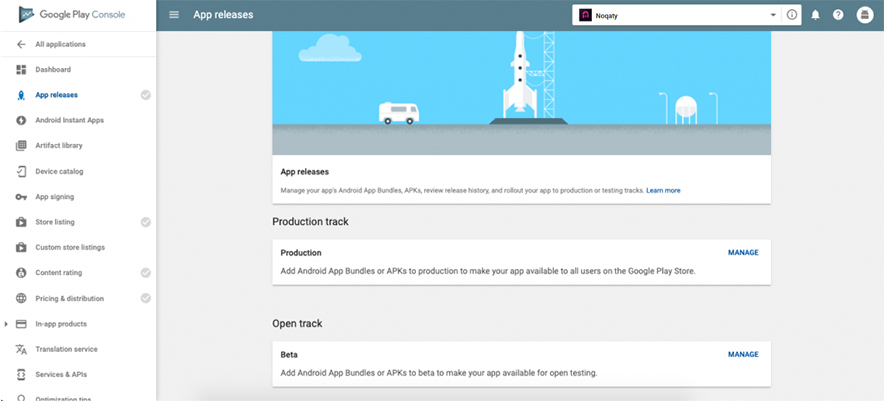 After keeping the prerequisites ready, you are good to submit an app to Google Play Store before the actual release. For that, go to the left menu section of App releases.
There, you will be given the option as per the type of release, meanwhile, production is the final stage for the live version to submit an app to google play.
Furthermore, the Alpha and Beta releases of the app provide the additional advantage of testing the app all the while getting feedback for further refinements and improvements in the app. Once you are done with the procedure of submission, you will next be directed to the next page.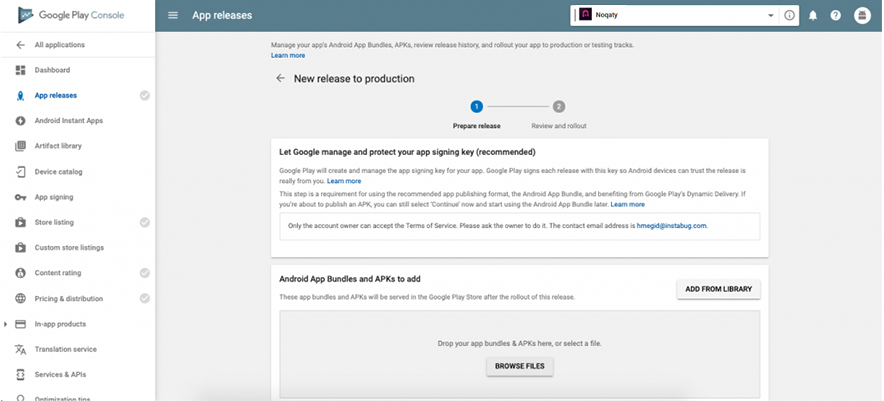 Reach there and click on Create Release to go to New Release to the production page.  For precisely doing that, follow the step given below- 
See whether you want to opt for Google PLay app signing on the app or simply move to OPT-OUT and sign locally. 
Next, click on browse files.
Once done, select the app's APK or App Bundle files for uploading
Now, click on Review.  
After attending to how to make an APK for Google Console, remember that your app will require a content rating, distribution along with a pricing plan.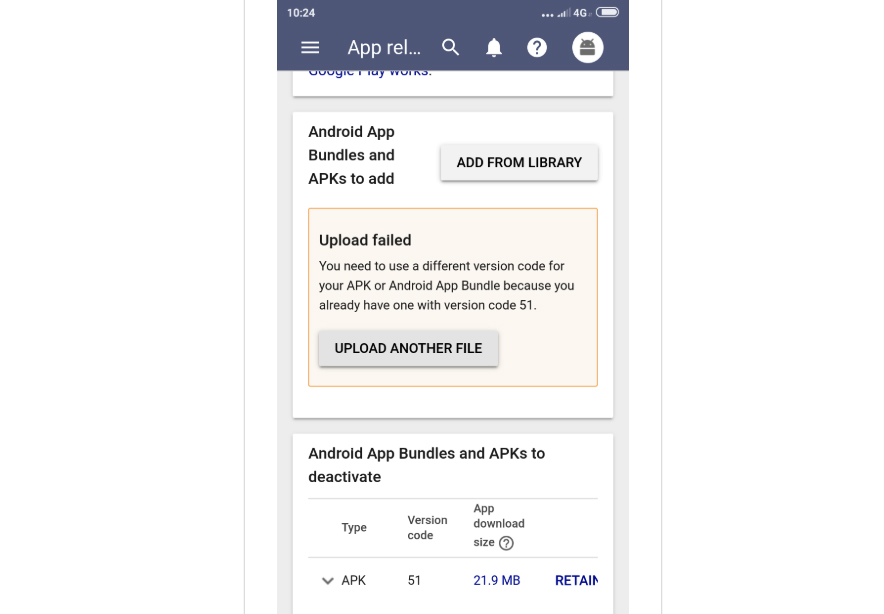 Meanwhile, if there is an issue like this occurring – Our experts can help you figure out the issue precisely.
3 – App's content Rating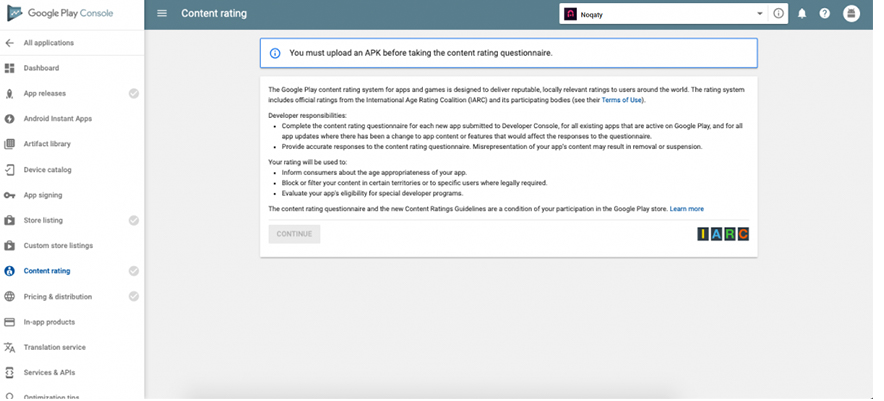 The next step in the process to submit an app to the Google Play Store is setting the app's content rating. For that, see the content rating page on the left menu.
Here are the steps, you should be following next-
Click on the continue button
Now, fill your email address and confirm it
Then you will be provided the option for different app categories. Select yours.
Here, the process will be demanding and a lot of attention. Fill in the app rating survey properly. The step is meant for making Google identify to figure out explicit content in the app. Make sure you are filling the survey attentively. 
Now, click on Save Questionnaire.
Click on calculate Rating.
Click on Apply Rating for confirming the app's content rating. 
Here the ratings are used as- 
Inform users, parents of objectionable content in the application.
It filters or blocks the content in certain territories or to the users where it is legally required.
Figure out the app's eligibility for developer programs.
4 – Pricing and Distribution Model on The Go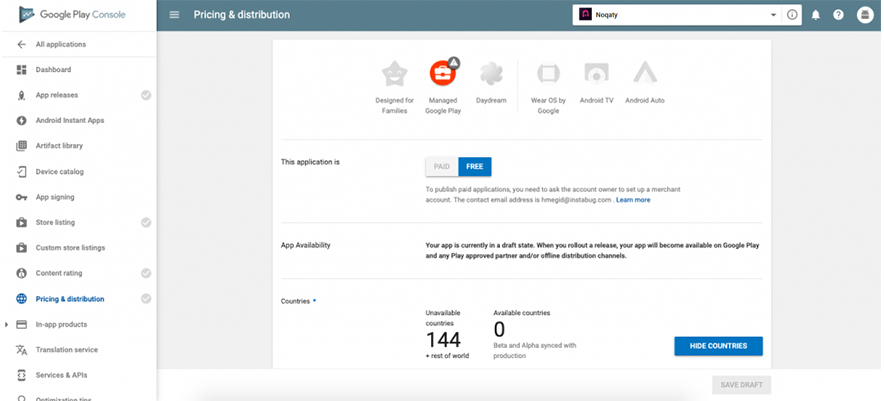 When it comes to how to earn money by developing a mobile app, the question of whether to make the app paid or free becomes a challenge. 
Here in this step, it is essential to clarify how to earn money through an app before going any further. Meanwhile, if you are making the app payable, it is essential to set the pricing of it too. Apart from that, instead of the worldwide release of the app, your app will be distributed to selected counties.
Acknowledging the case, you are good to go to the Pricing & Distribution page on the left menu. The steps to follow are-
Select if you want the app to be PAID or FREE. 
Now, check Available for the countries you want your app to release, otherwise click on unavailable.
Attending it, if your app is okay for children under the age bar of 13 then click on YES for primary Child-Detected. 
Furthermore, if your app contains an advertisement, click on YES.
5 – Time for Publishing the app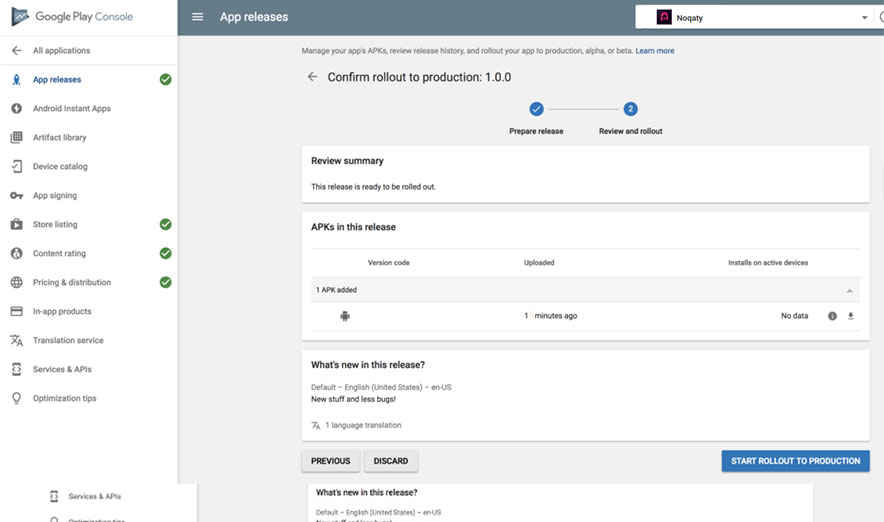 This is the most awaited moment – submit an app to the Google Play Store.
All the hard work from the very beginning till now will be proven fruitful here. Now, that you are all prepared for releasing the app, go back to App releases from the left menu bar. 
Follow the given below steps-
Click on Manage Production
Click on Edit Release.
Once done with it, click on Review
Select Start Rollout to production for finalizing
Completing all, click on Confirm.
Woosh…!
You have accomplished what you were working from the very beginning- how to submit your Android app to the Google Play store.
Are you wondering the question of how much time does it take to Google to approve the after upload an app to play store?
The answer is right below.
How Long Does it Take by Google Play Store to Approve an App?
It takes a maximum of 7 days to get app approval from Google Play Store which was 3 days earlier. 
For your app approval, your apps need to fulfill and match Google's protocol, and norms. In case, if your app does not match even a minimalistic of criteria, it will automatically get rejected.
For instance- if you haven't bought an OTP based protocol from Google Play Store, the app will be rejected in no time. 
Hence, ensure every inch of your app should follow Google's Play Store criteria to get smoother approval. 
Wait for some time and your app is good to go to rock the counties you have selected. 
Is this the end?
Well, if you think this is the end of all your hard work, it's not actually. 
There are app post-launch practices that you need to follow now. Let's figure them out-
What to do after app post-Release?
You have figured out how to upload an app on Google Play Store now you are on the way to know what to do after it.
So, here we go- 
Don't let your app promotion juggled between social media only. Go for more limelight, opt for press-release, it is one of the best ways to get more hype about your application. 
 By going for Press-Release, different publications will cover head-to-toe information of your app resulting in wider reach. 
App promotion on Social Media
Facebook, Instagram, Twitter, Pinterest, and others are the top social media sites that help in gathering and spreading information. This surely spreads across millions of users accurately.
There is no better trick than sticking to such social media sites for promoting your application. Promoting your app on such a platform will definitely hype your app publicity along with app download counts. 
Your app can bloom all the more once it gets the touch of ASO(App Store Optimization). It is a practice that can bring desired results to the app whether it is about app attention or visibility by increasing conversion rate. 
Regular app updates and maintenance
Nothing works wonders than regular app updates and maintenance. 
To let your app stay on the top and in the series, you need to fetch regular updates into it all the while looking for fixing bugs and issues. 
Do not neglect users' feedback, reviews, and ratings to bring more refinement and changes as per the market demand. 
This is how you will submit an app to the Google Play Store. If you still have a doubt, we are just a click away. Connect with us today.