Anyone who has ever created a mobile app or wants to create it knows that design is essential to the process. But how much does mobile app design cost? This is a question that many businesses struggle with, and unfortunately, there is no definitive answer.
"Design is not just what it looks like and feels like. Design is how it works."
— Steve Jobs
Design is more than just a company's aesthetic identity. Today, we cordially welcome you to learn more about this topic and discover the elements that affect the mobile app design price of a mobile app design.
Here you can find a detailed overview of the cost with examples.
If you prefer visual to text, then go straight to the bonus Infographic "How much does it cost to design an app?"
Table Of Contents
Why App Designing is Important?
Any app that is created as a result of consumer demand for similar apps. The app's goal is to help users find solutions to their difficulties. Also, whether you are building a brand-new app design or remaking an older one, app design should fulfill its ultimate goal of fixing problems.
Remember, a well-built app with great UI delivers-
Detailed design with no cluttering eases interaction with the interface.
Helps in converting mere users to customers
Making users reach their ultimate objective, thus increases their rate of involvement.
When designed strategically, the best app design is a cover of what the app is all about.
This is what a good mobile app design process does. In the midst of all these, keep in mind that there are around 5 million apps in the app store including Google Play Store and Apple App Store.
To give a good fight to these apps, your app should be the right blend of skills, ideas, presentation, and UI to enhance the User Experience.
How Much Does It Cost to Design a Mobile App?
The cost of creating an app ranges from $3,000 to $30,000. The intricacy of an app idea, the type of team, and the team app design costs geographically all play a role in this vast range.
Let's examine the breakdown of costs for app creation based on these variables.
1. Cost Depending on the Complexity
The number of roles, the number of screens, the number of distinctive features, their usability, and their aesthetic design all contribute to the app's complexity, which is fundamentally the same as the complexity of the product idea. These factors that affect the cost of app design in turn determine whether the business concept is viable.
Simply said, your ability to create an app at a lower cost depends on how straightforward your business strategy and challenges are. Additionally, the cost of developing a mobile app is typically less expensive the simpler the design.
Let's examine a couple of conditional complexity examples.
| | |
| --- | --- |
| Complexity | Average cost $ |
| Simple app design | 3000 |
| Average app design | 12000 |
| Complex app design | 30,000 |
Keep in mind that this is a conditional value at the same time. Because design can be inexpensive while app development might be pricey if the backend has complex functionality, like AI/ML development.
We have already shown how much does app development cost along with how long does it take to develop an app. Now, it is time to figure out the cost of designing an app- an integral part of all.
2. Cost Depending on the Type of Team
The second important aspect that determines the necessary budget for a design phase and software development, after the complexity of the product concept, is the development team.
We'll use the typical size app, which requires 300 design hours, as a starting point for our estimates.
| | |
| --- | --- |
| Type of Team | Average cost $ |
| In-house team | 36,000 |
| Local design agency | 48,000 |
| Outsourcing agency | 12.000 |
| Freelancers | 6,000 |
In this part, we'll discuss each form of team. Let's now discuss how the location of a development business may impact pricing.
3. Cost Depending on the Location of a Team
Please take note that the degree of knowledge needed to design an application depends on how sophisticated the idea is.
However, a skilled team from an outsourcing nation may be less expensive than one from the United States, Great Britain, or Western Europe.
We'll use the same example—a typical-sized app that takes 300 design hours—again.
| | |
| --- | --- |
| Location | Average cost $ |
| Australia | 36,000 |
| US | 48,000 |
| UK | 40,000 |
| Western Europe | 28,000 |
| Eastern Europe | 12,000 |
| South Asia | 6000 |
The selection of a design partner is influenced by a variety of criteria, including the project budget, the required level of quality, and the availability of specialized knowledge. Later, we'll talk about the checklist you can use to pick the best spouse.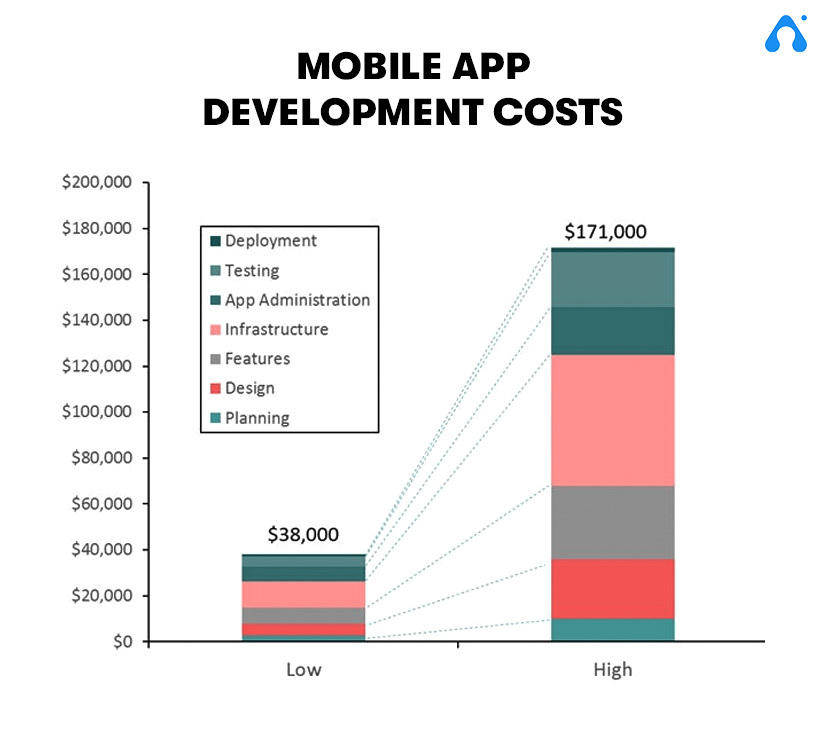 Factors Affecting the Mobile App Design Cost
1. UI and UX
UI is denoted by User Interface. It reflects how a user sees the mobile/web application along with screen elements. Thus, the design should be precisely created leaving no stone unturned.
UX stands for User Experience. It is the ongoing process of how a user is experiencing the app/web or a product. The more positive the experience, the more will become the chances of making the app successful by the UI UX design company.

2. iOS vs Android
Twin app design for two different platforms will cut the essence of the app. Hence, if you are stepping towards cross-platform app development, ensure you are opting for two different designs.
Also, both Android app development and iOS app development carries different app design process principles, taking us to what is fussy about them.
iOS App Design
Due to fewer iOS devices, designing an app for the iPhone is still a simple task.
The UI/UX app experts need to go through App Store instructions. Here at Appventurez, our experts ensure not to come up with monotonous best app designs.
Android App Design
There are 10x more Android devices than the iPhone. Thus, it is important to design the app by analyzing what's trending!
This way, you will be saving effort, resources, and time by hitting the right spot. This implies, by designing for the newest device can help your app perform greatly in the market. Along with this, it will help in determining the Mobile App Design Cost.
3. Laconic Style
We follow the "three clicks ' strategy here at Appventurez.
The strategy in short states- the user should be served the solution in a minimum number of clicks. Thus, the app interface should be simple, clear, and clutter-free while offering what is asked.
Reaching this stage is a calculative task that affects the cost of app design.
4. Eye On The Latest Trend
The only constant thing in this world is "change".
No matter how amazing your app design is, it will lose its essence after a period of time. To always stay on the top list of successful apps, it is important to follow the latest trends. Integrating the latest trends in the apps can benefit the app in the long run!
Tips for Reducing App Design Cost
You can save money on the design of your mobile app by focusing on a few important areas.
1. Plan carefully
Careful planning is crucial when it comes to the design and development of bespoke mobile apps. It will take some time to map out all the features and functionality of your program. This will make it easier to decide which details are essential and which may be skipped. You can save money later on by avoiding expensive adjustments and revisions if you have a clear plan from the beginning.
2. Focus on basic functionality
It's crucial to concentrate on the fundamental functionality when building your app. Making a prototype first can be beneficial. Keep your features simple and avoid the desire to add too many functions, and you'll be able to reduce your expenditures.
3. Employ a mobile app development company
Engaging the services of an on-demand app development firm is one of the finest strategies to lower the app cost range of design. These businesses specialize in creating affordable solutions that address your unique demands.
4. Design for multiple devices
Remember that your app needs to function on a variety of devices when creating it. This applies to desktops, tablets, and even mobile devices. You can avoid the need for later, expensive redesigns by designing for a variety of devices right once.
5. Build for the future
Considering the long term is crucial when creating your app. This includes creating software for newly released hardware and operating systems. Future-proofing your construction will help you avoid the need for exorbitant upgrades.
After reviewing the fundamentals of design, let's examine how to select an app design partner for your company.
How to Pick the Right Design Partner?
The following advice will assist you in selecting the ideal design partner for your company.
1. Check the portfolio
Any business you consider working with to build apps should have a strong portfolio of previous work. You may get a sense of a company's design aesthetic and the kinds of apps they have previously produced by looking through their portfolio. Reading their case studies also enables you to discover how they have addressed particular design difficulties.
For instance, you should look into businesses with prior expertise in creating attractive and user-friendly apps if you're seeking an app design partner who can produce a visually outstanding user interface. It's crucial to look over a company's portfolio while selecting the best app design partner for your project.
2. Check Testimonials and Social Media Pages
You may get a decent picture of the company's design process and client interaction by reading customer reviews. Additionally, you can discover more about the company's culture and beliefs by looking through its social media channels. You can be certain that you are selecting the ideal partner for your company by taking the time to thoroughly investigate possible candidates.
Hire an Expert Team of Designers/Developers for a Scalable & Eye-Catching Mobile App
So, now that you are aware of the must-follow considerations to make when designing a mobile app, it's time to hire an expert mobile app development company that can deliver you the desired result. Designing an effective wireframe simplifies your project design and development process and reduces the likelihood of amendments.
Appventurez mobile app design company is an expert CMMI level 3 web and mobile app development company comprising a team of UX/UX designers, graphic artists, and web/mobile developers that can deliver productive services for the development of your innovative web or mobile apps. Hire our mobile app designers at a cost as low as $15 per hour.

FAQs
1. What is the cost of designing an app logo and icon?
In terms of overall mobile app UI design cost expenses, the cost of creating app icons and logos is rather modest. In reality, the majority of bespoke mobile app design and development firms don't even charge for the creation of the app's logo.
2. How much do UI designers charge?
UI/UX designers' rates vary depending on where they are located. While designers in the US or Australia would bill between $120 and $150 per hour for their work, designers in Eastern countries would bill between $50 and $80 per hour.
3. What does the cost of making an app depend upon?
The cost of app design depends upon-
Wireframing/Prototyping
Features and functionalities of the app
Choice of app platform- iOS or Android or both
App's complexity
Designer's expertise
Geographical cost etc.