Gone are the days when people used traditional methods such as cash or cards for payments. In this era, when shopping patterns are changing continuously, payment modes have also witnessed a significant revolution. People are no longer limited to cash or cards; they have numerous payment platforms that provide faster and easier shopping experiences than ever before. Yes, you are thinking right! Here we are talking about E-wallet!

Read this post: how technology has transformed the payment industry. 
Probably, you hear the "E-wallet" term in your daily routine, especially when you make transactions online. These apps have seen substantial growth in the past few years, dominating the online payment market and becoming a popular transaction platform. It has high speed and security features that allow you to pay bills or transfer money without waiting in long queues.

Undoubtedly, mobile payment has existed for a long time in the market. But, these e-wallet applications recently witnessed a significant surge in their popularity and usage. With people shifting towards the digital world, they are now more turned towards online payment methods. It won't be wrong to say that e-wallet apps are preferred more than credit and debit card usages and will soon replace traditional payment modes.
But, what exactly is an E-Wallet App?
E-wallet – also known as a digital wallet or virtual mobile-based wallet – stores several payment methods such as credit/debit cards, virtual currencies, along with online cash options such as coupons, offers, and reward points. It helps users to make payments online and offline instantly whenever they want. Different types of mobile E-wallets apps based on usage and payments, including semi-open, open, closed or semi-closed. This digital wallet is trendy in the market due to its mobility and flexibility. E-wallets are not only convenient but also safer than traditional payment modes.

If you want to keep your business ahead of your competition with full-functional eWallet app development, it is essential to incorporate some features in your apps. eWallet features are divided into three parts:
User-Side Features:
User Registration
Bank Account Set Up
Add Balance
Money Transfer
Bill Payments
Offers & Discounts User Side Features
Merchant Side Features:
Intuitive Dashboard
Edit Profile
Add Products
Create QR Code
Customer Management
Withdraw Money to Bank
Admin Side Features:
Intuitive Dashboard
User Management
Merchant Management
Revenue Management
Real-time Analytics
Offers Management
eWallet apps are successful only if they are user-friendly and highly secured. So, it would help if you used some technology stack when developing digital wallet apps for your business. The technology stacks for backend development, front end development and database are shown below figure: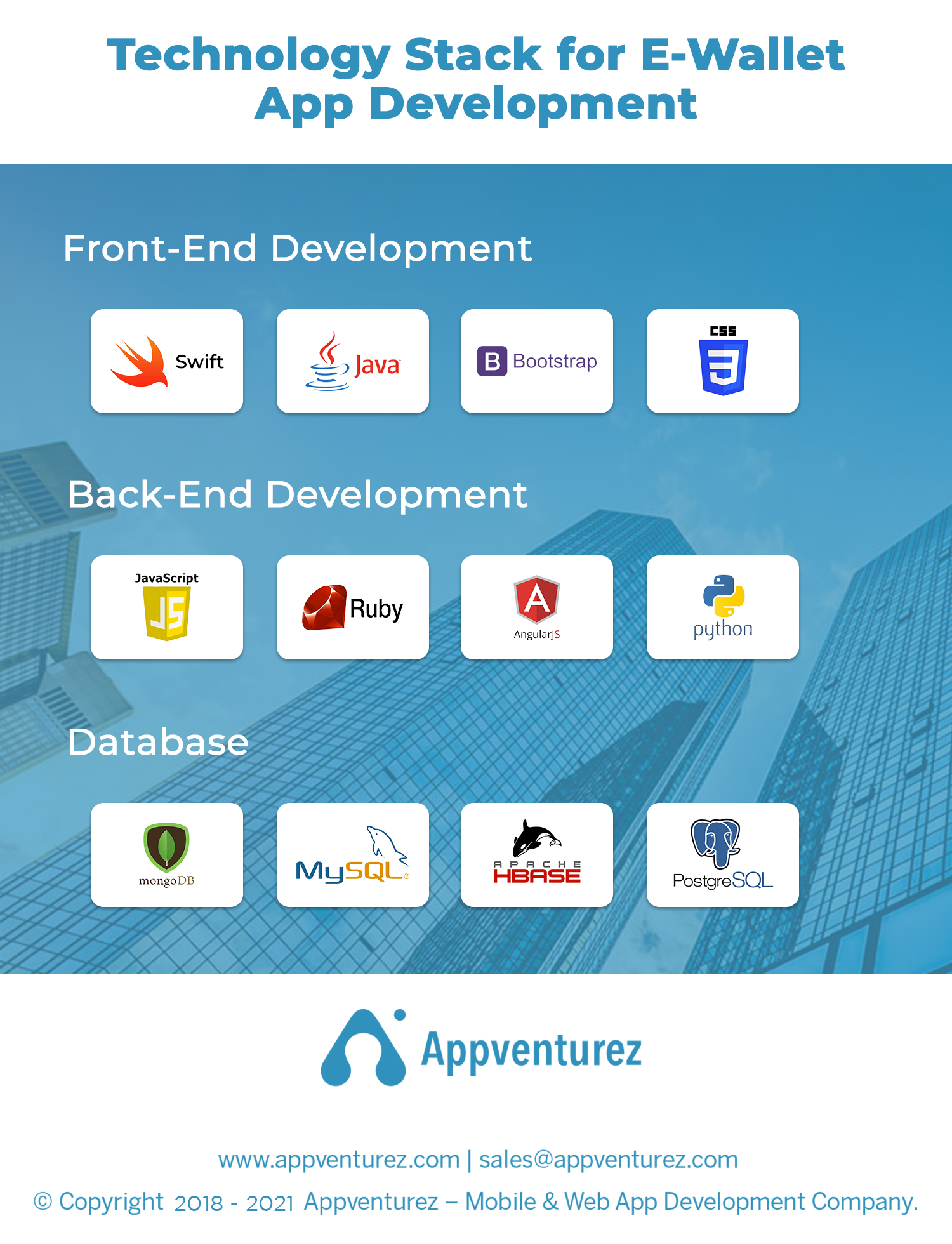 How do E-Wallet Apps Work?
An eWallet is a secure money management app that lets you transfer or send money and track rewards programs. You can link the digital wallet to your bank account or pay with a prepay option. All your cards such as credit or debit cards can be stored in your digital wallet so that you can use them and pay bill anytime or anywhere. Mobile payments work like regular transactions. The process how to do eWallet apps work is shown in the figure:
Why E-Wallet App – Market Size & Statistics
Technology has shaped away for a bright future of eWallet and helping startups make a good deal with their apps. The market has seen a massive rise in the users' behavior towards adopting this new change. Take a look at some stats of the market and eWallet growth in this industry.

A study shows that the market for mobile wallets will reach 7580.1 billion in 2027.
The global eWallet market will see a rise at a CAGR of 15%, to $2.1 trillion by the end of 2023.
These statistics are shown in the figure below: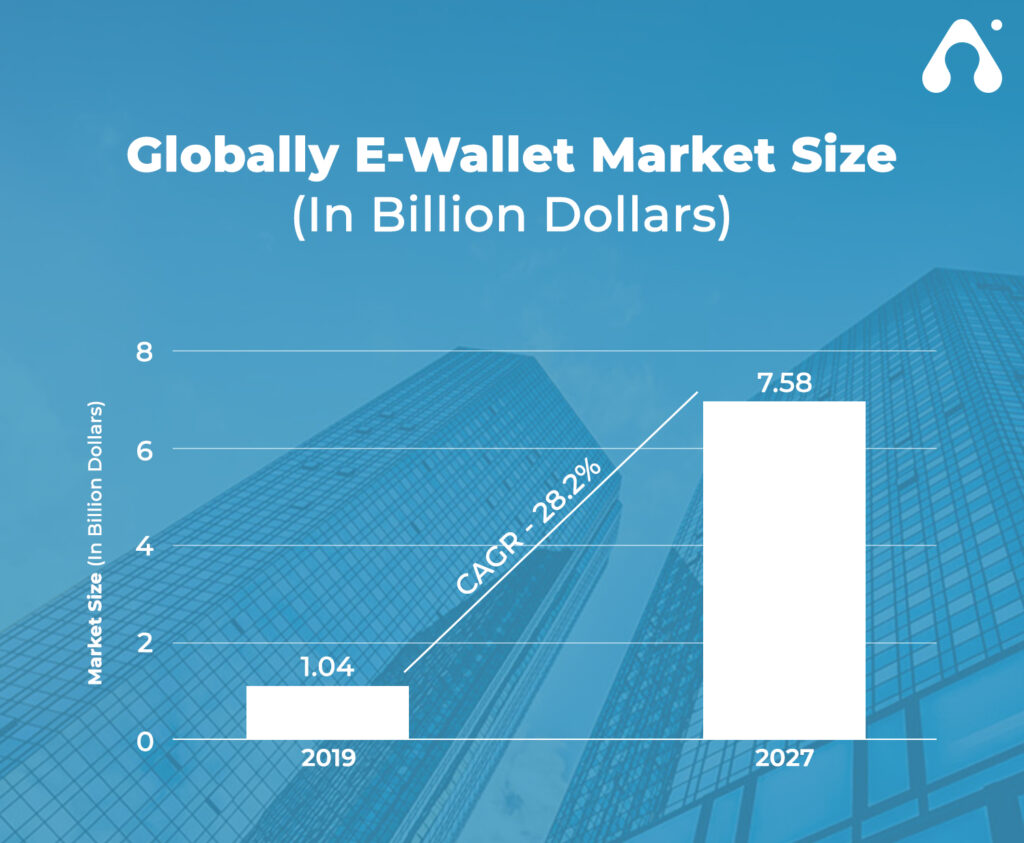 Top 5 Popular E-Wallet Apps
There are different types of popular apps available for online transactions in the market. In below figure, the top five global eWallet apps with several users are shown: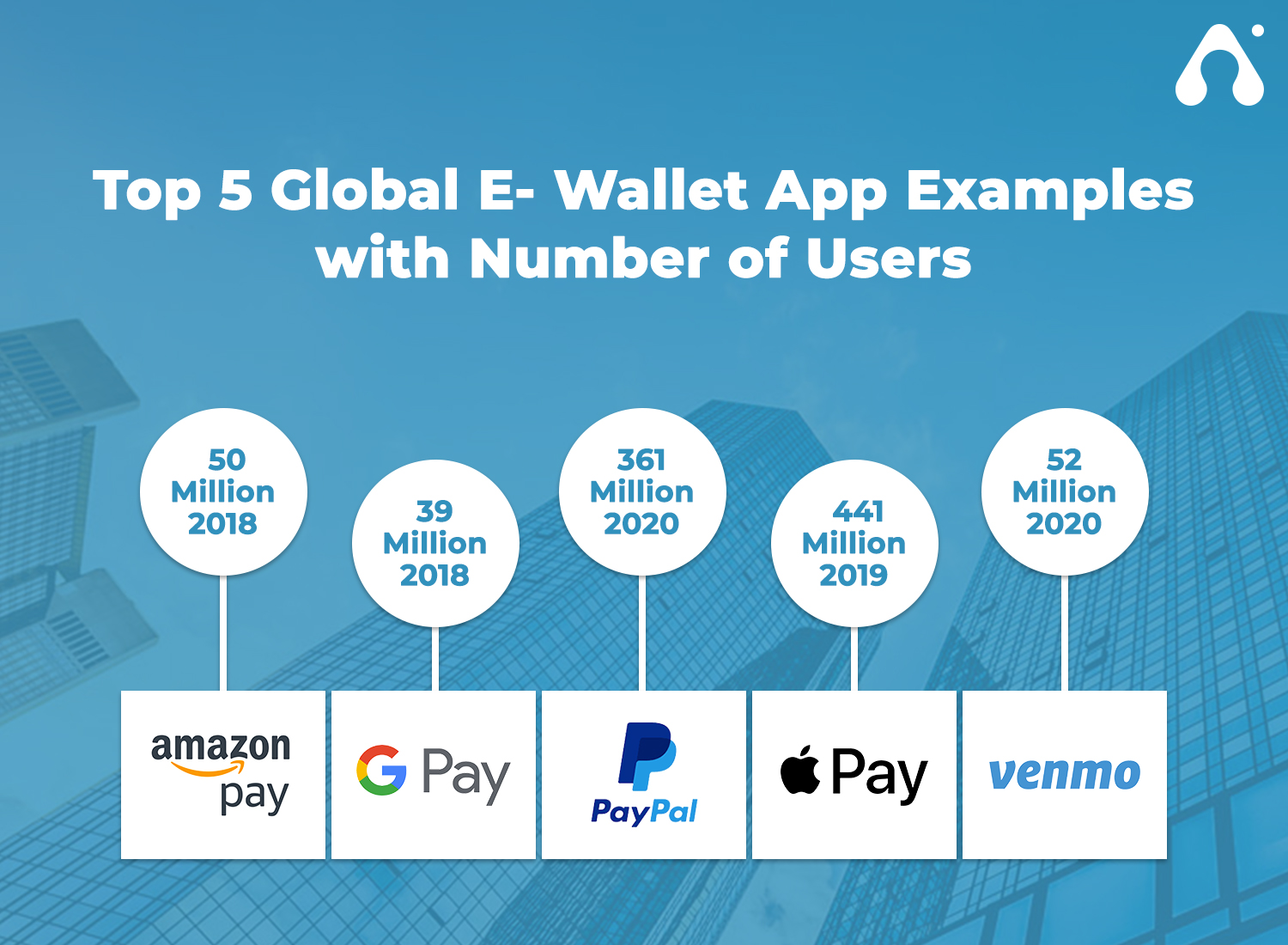 Let's talk about these digital apps in detail:

#1 – Google Pay: Best for Secure Transactions

With Google Pay, you can send money to your friends or anyone by email. You can connect this payment app to American Express, Visa Card, Master Card, and bank accounts to make it safer. Over 100 million users are using this app for secure transactions. If your Google Pay account is linked with a debit card, your transaction will be completed within minutes, but it may take up to 24 hours for certain banks. Bank account transfer can be completed within four business days.

Why you will love Google Pay

Pay in-stores with your Android device
Pay in-apps and on the web
Multiple-layered advanced security
Request and send money
Split the bill
Loyalty programs and rewards
Major banks support
Accepted in over a million stores
#2 – Apple Pay: Best for Apple Enthusiasts

Apple Pay is a payment app for iPhone users who can use it to make secure purchases in stores. You can also send and receive money from friends, relatives, and family members. You can connect the app to your debit or credit card for making transactions. You can also get cash then add it to your Apple Pay cash card, which sits in the wallet app. You can use the cash immediately to make any purchases in stores, or you can transfer the cash balance to your bank account.

Why you will love Apple Pay?

Send & Receive Money
Siri Send & Receive Assist
Bank Account Transfer
Face ID Authentication
Touch ID Authentication
Passcode Authentication
Web Store Transactions
In-App Transactions
In-Store Payments
Returns Processing
Rewards Program Integration
#3 – Amazon Pay: Best for Secure Transactions

If you want to pay bills for ordering food, booking flights, and shopping, Amazon is the best way. This company has communicated with FinTech companies, including ZestMoney, to allow no-cost EMI payments on the portal. Now, consumers can purchase products on Amazon by choosing affordable and economical monthly installments.

Why you will love Amazon Pay?

Identity
Automatic Payments
Inline Checkout
Merchant Website Integration
Fraud Protection
#4 – PayPal: Best for International Transfers

The PayPal app quickly transfers your money from your PayPal account to your bank. With this app, you can send or request money from your friends and family using your bank account, card, or PayPal balance. This app keeps your financial information secure with encryption technology to protect your account from any malicious threats.

Why you will love PayPal?

Pay for goods or services
Send money to PayPal accounts
Easy way to transfer funds
Secure encryption technology
24/7 transaction monitoring
Buy and sell cryptocurrency
#5 – Venmo: Best for Purchase

If you want an eWallet app with fun, Venmo is the right choice! This app is perfect for changing your money transactions in a fun way. This app is an excellent way to transfer money to your roommates if you're paying the monthly rent. You can also use this application for many things, such as paying for a concert ticket or settling up your account.

Why you will love Venmo?

Split bill with your friends
Transfer money to friends
Get paid fast
Shop with Venmo card
Use Instant Transfer
E-Wallets in the Real Estate Sector
E-wallet applications are ideal for different industries such as finance, healthcare, retail, and information technology. Today, various sectors, including the thriving real estate industry, have started offering digital wallet facilities. Although the pace of using the digital payment solution is slow in the real estate sector, it can significantly impact its growth in the future. As per the report, digital payments create an efficient transaction between buyers and realtors and offer higher security than offline transaction methods. eWallets provide more transparency in transactions to reduce the fraud money that causes inflation in the property prices. Hence, buyers can purchase the property at non-inflated rates. Let's go through the other importance of digital payment in the real estate sector.

Also, you can read the article: how to develop a Bitcoin wallet app? 
Nine E-Wallet Benefits that Impact the Real Estate Sector
#1 – Reduced Property's Costs

An increasing number of black money transactions is the main reason for inflated property prices. If such transactions are stopped, the higher prices will be automatically reduced. eWallets help users and realtors track all online transactions to prevent fraud, resulting in reduced property prices.

In addition, it doesn't require any middleman such as brokers, clerks, or tellers, so buyers don't have to pay the extra cost when purchasing a property. A big save on administrative charges through a swift and secure transaction is possible with advanced technology. Even no third-party interference makes the process of purchasing or renting the property seamless.

#2 – Enhanced Transparency

Real estate app with digital payment features helps bring transparency to the entire real estate industry. Online transactions have become a preferred choice for new-age customers. Digital transactions enhance transparency and bring new opportunities by offering easy access to different records and audits.

# 3- Minimum Risks of Frauds

Another issue is cybersecurity. Undoubtedly, credit card data is a massive target for hackers. An eWallet can reduce fraud transactions as it is different from credit card and debit card. Digital wallets have user's encrypted data to protect the credit and debit card numbers and bank account details. Digital wallets use tokenization technology for complete-time transactions. Unique, random code replaces the credit card numbers for every purchase. After completing the transaction, the number is useless. So, it is the most secure online transaction and payment process.

In this way, users can easily save confidential financial information from prying eyes and prevent threatening activities. The real estate app development company uses biometrics features and blockchain solutions to authorize online payment. Digital wallet apps can save a lot of time and effort for both buyers and sellers. They allow users to avoid long bank queues and tedious paperwork while tracking all transactions. 

# 4 – Higher Market Reach

Nowadays, everyone, especially the younger generation, spends a lot of time on their smartphone. So, they prefer to use an app instead of using a desktop to go through the website. It has been reported that youngsters use smartphones to buy or rent their houses. So, having a mobile app for the real estate business is vital to cater to the growing number of mobile users, maximizing their market reach. The mobile apps must have a great way of establishing a direct connection between buyers and sellers. This direct connection plays a vital role in making the deal successful and improving ROIs. To get the real estate industry app, you need both android and iOS app development services. 

#5 – Enhanced Potential Buyers Engagement

Digital apps help buyers gather complete information regarding trend properties in the market and complete details, including price and sensitive information. eWallet apps detect the customer's location along with their preferences. If you know the customers' preferences, you can easily understand your customers' needs. It means you can easily show the best property for your customers' families depending on their location, preferences and interests. It often prompts buyers to purchase the property to need their interests and budget. The integration features include push notifications and a mortgage calculator that help make instant decisions to purchase the property. This feature also helps in targeting the customers at the proper time.

#6 – Excellent Communication between Buyers & Realtor

Customer satisfaction is vital for any business's success and excellent communication is the best way to satisfy the customers. Proper interaction among buyers and realtors produces a good relationship between them so that businesses can also get benefits from eWallets or digital wallets. This app helps real estate businesses interact with your customers so that you can show your beautiful properties and make them understand why they will select you to purchase their future homes. Excellent communication increases your brand awareness with popularity. If customers love your property, they will surely recommend you to their friends and relatives. And this way your business will increase.

# 7 – Retained Leads & Increased Sales of Property

The customer base can be expanded with the help of calls, texts, emails and queries that a real estate app can produce. This app will help you send messages and notifications to users to help you stay in touch with your customers. Any person who wants new property can reach out directly without facing any difficulty. The selling and purchasing of property are becoming convenient and straightforward by using app technology. To develop successful digital payment apps and increase the real estate business, you can hire experienced iOS or Android developers. 

# 8 – Brand Promotion

Every business owner loves to promote their brand. There are competitors in every field, so so in the real estate business. Make sure your eWallet app is unique and reliable compared to other real estate applications, resulting in attracting more customers. Many application developers use their skills to develop a reliable real estate app that will simplify the search, purchase property and consult. A customized real estate app is the best tool for brand promotion.

# 9 – More Opportunities for Real Estate Business

For over a decade, the internet has become a platform for all transactions. Realtors can quickly secure new business opportunities and finalize deals online. Furthermore, many potential buyers search for properties online with custom real estate apps that can help real estate agents to reach a vast audience effectively. The mobile app development company can develop a real estate app with built-in digital payment features to offer all relevant information to potential buyers anytime and anywhere. From online transaction receipts to digital audit trails, you can manage processes seamlessly while ensuring compliance with property laws and regulations. 

Real estate app development with eWallet or digital wallet enables realtors to benefit from digital payment solutions. Realtors – know the potential of digital wallets – can keep hackers and cybercriminals at bay while strengthening the trust in the system. Getting in touch with eWallet app development helps realtors and buyers alike. If you need a user-friendly eWallet app for your real estate business, get in touch with a dedicated company like Appventurez!
How can Appventurez Help in E-Wallet App Development?
Appventurez is a renowned app development company that has many years of experience in on-demand app development services. We build successful and robust applications with required features for our clients across various industry sectors. If you get in touch with us, you will get:

The agile development process consistently delivers a secure app
Experience in building an appealing interface with high functionality
A dedicated team of experienced professionals for cross-platform solutions
Extensive integration experience in NFC, QR codes and OTP digital wallet trends in 2021
Accurate business care & real-time reporting with great 24×7 customer support
Appventurez is at the forefront of transforming your digital payment solution into a money-making business to win the competition. Whether you want to give your established business an eWallet app benefit or a startup based on a digital payment solution in the real estate sector, Appventurez is the right place! Contact us today and our expert consultants will get back to you soon. 

---
---