When you think about Artificial Intelligence, what is the first thing that springs to mind? Isn't it true that robots or robotics engineering may assist you in your daily activities? Artificial intelligence (AI) is a machine's mimicry of human intellect processes, particularly computer systems. Machine intelligence is another name for artificial intelligence (AI).
As the business holds the world's wealth in databases and transactions that merely transmit information across networks, the banking sector is quickly transitioning towards technology. New-age technology, notably AI, may help the sector in a variety of ways, from accountancy and sales to contracts and cybersecurity. 
Artificial intelligence in banking is increasingly collaborating with financial technology (FinTech) firms to deliver improved banking products to their consumers as part of their digitization efforts. According to studies, AI is expected to save banks an estimated $447 billion by 2023.
Table Of Contents
Why Use Artificial Intelligence in Banking?
This generation's face is technology. There is a growing desire for solutions to all of the difficulties that this generation is facing. And they're looking for answers at the tip of their fingertips. On the opposite side of the screen, there may be a machine answering questions or a human relations manager.
Today, big data is the industry norm, and every company is attempting to extract as much information as possible from unstructured data banks. Artificial intelligence in the fintech domain is already being transformed by big data applications. Artificial intelligence has arrived. The finance and banking industries are stepping in to leverage this data to improve client interactions, not just by harnessing the benefits of AI in extracting and organizing the data at hand.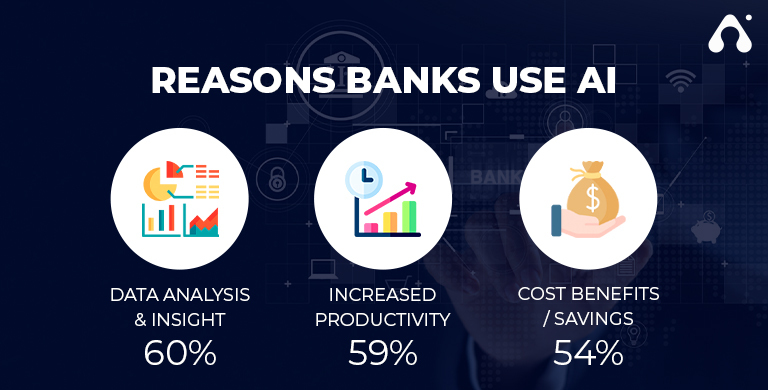 Stats Related to AI in Business
Let's start with some business statistics concerning Artificial Intelligence. The following are some of the most recent statistics on the subject:
Approximately 23% of firms have already integrated artificial intelligence into their company operations and products/services.
47% of digitally mature organizations responded that they had a specific AI strategy in place to help their business.
AI, according to 63% of firms, assists them in reducing the burden of company expenditures.
According to 54% of business executives, incorporating AI into corporate operations increases productivity.
Stats Related to the Future of AI
Approximately 83% of enterprises feel that AI will become a strategic priority for their company.
In the next few months, 31% of marketing and IT organizations want to invest in AI.
According to estimates, the AI market will reach $190 billion by 2025.
According to IDC, by the end of 2021, 75% of commercial applications will be leveraging AI.
What Is Artificial Intelligence in Banking sector?
In recent years, the banking industry has seen ground-breaking developments as a result of the use of cutting-edge technologies. They, too, are broadening their industrial landscape to include retail, IT, and telecommunications in order to offer mobile banking, e-banking, and real-time money transfer services. 
Using cognitive technology with AI, on the other hand, gives banks the benefit of digitalization and helps them compete with agile fintech companies. According to a collaborative study by the National Business Research Institute and Narrative Science, approximately 32% of financial service providers are already using AI services like Voice Recognition and Predictive Analytics.
Furthermore, the role of artificial intelligence in banking is increasingly adopting trending applications for banking apps for a variety of reasons, including increased competition in the banking sector, a push for process-driven services, customer demand for more customized solutions, increased employee productivity, a vision to expand huv man work through the use of software robotics, creating operational efficiencies, making effective decisions and actions, and much more.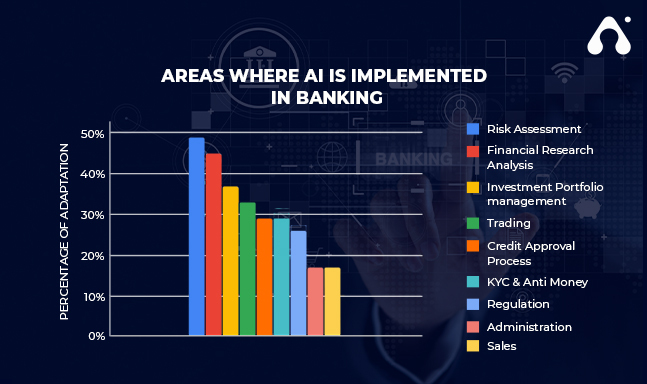 How does Artificial Intelligence (AI) work?
To replicate human intellect, Artificial Intelligence employs machine learning. Machines using Artificial Intelligence can do activities that need human intelligence. To construct a propensity model, AI trends like robots employ algorithms and historical data. Furthermore, the impact of ai in banking use cases has a set of ideas, methodologies, and technologies that include:
1. Machine Learning
It automates the creation of analytical models. Furthermore, it employs neural networks, physics, statistics, and operations research to uncover deep data insights without relying on pre-programmed starting and ending points.
2. Neural Network
A neural network is a sort of machine learning in development that is made up of linked units that process data by responding to external inputs and sending data between them. This approach necessitates repeated runs over the data in order to find relationships and draw meaning from ambiguous facts.
3. Deep Learning
To discover detailed patterns in vast data volumes, deep learning employs massive neural networks, processing units, advances in computer power, and established training methodologies.
4. Cognitive Computing
This branch of AI seeks to communicate with robots in a natural, human-like manner. The basic objective of AI and cognitive computing is for machines to replicate human intelligence by interpreting visuals, recognizing the voice, and responding by speaking in human-like ways.
5. Natural language processing (NLP)
Natural language processing (NLP) refers to a computer's capacity to read, interpret, and generate human language, including speech. Natural language interaction, on the other hand, enables humans to communicate with robots.
Benefits of AI in the Banking Sector
1. Customer Satisfaction
Customer satisfaction is an important criterion not only in the banking industry but in all businesses. Every business needs a consumer that experiences the bank to offer them tailored and timely services, but how can this be accomplished? Artificial Intelligence not only helps the bank increase money but also speeds up decision-making and maintains good client connections.
2. Chatbots
Have you ever had a conversation with a bank using chatbots? Natural Language Processing is used by this AI to provide appropriate solutions to various consumer inquiries. Chatbots development are essentially automated chat software that runs on its own or follows a predetermined course. Chatbots are now being used in the banking industry to provide consumers with a 24/7 service experience.
3. Fraud Detection
Banking fraud detection with AI & ML is one of the most feared topics among the public since it is extremely difficult for victims to recoup from financial losses. The financial industry, on the other hand, can lessen the likelihood of such acts by heavily utilizing Artificial Intelligence.
Future of Artificial Intelligence in the Banking Industry
Digital technology is having an influence on practically every industry, and it is not just redefining sectors but also transforming how organizations function. Every industry is currently reviewing choices and implementing strategies to succeed in this tech-driven society.
It is challenging for payment industries to transform with technology to meet the requirements of individual clients. Customers' expectations are quite high these days. Customers nowadays are digitally sophisticated and expect sectors to give a nice and easy customer experience – something that customers also demand from the banking sector.
To satisfy client expectations, the banking industry has expanded its reach into retail, IT, and telecommunications to provide services such as mobile banking, e-banking, and real-time money transactions. These new features undoubtedly help clients to have banking at their fingertips, but they come at a cost to the banking sector.
Artificial Intelligence's key goal in the banking business is to assist consumers by prioritizing their choices. Furthermore, Artificial Intelligence plays a critical part in ensuring that consumers are satisfied with the bank's services. Furthermore, AI or machine intelligence aids the bank in comprehending the demands of its consumers.
Challenges of Artificial Intelligence in Banking Sector
1. Many banks are faced with the problem of a reluctance to upgrade or adapt to new ways. Some sites in tier two and three cities around the country encounter this difficulty since they are standardized with fixed processes in traditional methods. These organizations also lack the dedication necessary to upskill their workforce and human resources.
2. The banking industry is experiencing a disparity between consumer demand and reaction due to a lack of supporting data to execute operational adjustments. The banks have adapted to a switch that does not meet the genuine needs of the people.
3. Banks that utilize artificial intelligence on a larger scale must adhere to government regulatory criteria. Increased services such as net banking and online transactions are under the purview of privacy regulations, necessitating compliance on the part of the bank.
4. There is also a clear dearth of training among the present workforce in relation to the sophisticated tools and use of artificial intelligence in banking. There is a clear requirement for a competent workforce as artificial intelligence becomes more prevalent. To provide legitimacy to the data at hand, skilled and experienced engineers in fields such as data science and machine learning are required.
Scope of Artificial Intelligence in the Banking Industry
The following is a list of applications of artificial intelligence in banking sector, as well as areas where AI might reign supreme in the next years:
1. Personalized Finance Guidance
Artificial intelligence in finance assists clients in making quick and accurate financial decisions by providing them with the most up-to-date information about the market's current state. As a result, we may conclude that Artificial Intelligence can assist clients with individualized financial counseling.
2. Digital Wallets
Without a question, the development of digital wallets has elevated the digital money movement to new heights. Customers may buy any item online by merely inputting their cellphone number or OTP, which is a unique feature of digital wallets.
3. Interactive Voice Response System (IVRS)
The bank uses an interactive voice response system (IVRS) to connect with its customers. The major goal of this application is to provide clients with a positive banking experience by delivering appropriate responses to their questions.
How Does a Tech Partner like Appventurez Help to Deploy AI Better?
Artificial intelligence in banking is a major undertaking. It takes extensive knowledge, a significant amount of effort, and a commitment to precision. Fingent possesses this. We don't just go with the flow. Instead, we'll look at how AI can help you with your specific banking requirements.
In case you are also looking for AI development services, talk to our experts. We can help you create and implement a long-term AI in banking strategy and cater to your needs in the most tech-friendly and cost-effective manner. 
At Appventurez an ai development company, we work with banks and financial institutions on different custom AI and ML-based models that help in improving revenue, reducing costs, and mitigating risks in different departments.
FAQs
1. How artificial intelligence will change the future of banking?
The AI-driven financial institution of the future will be able to enhance back-office operations, decision-making, and the innovation process, all while harnessing data to generate intelligent, customized, and multichannel experiences.
2. How artificial intelligence is transforming the banking industry?
Digital-only banks are becoming more popular among customers. Traditional banks have begun to provide more online services as well. Artificial intelligence helps them automate procedures, make better judgments, and handle customer support demands with fewer resources.
3. How is AI used in financial services?
Artificial intelligence (AI) is very useful in corporate finance since it can better forecast and analyze loan risks. AI technology like machine learning may help organizations raise their value by improving loan underwriting and lowering financial risk.
---
---