Sundar Pichai leaves no stone to unturn in terms of development. Whether it was in terms of Google Duplex or Meena, the latest Google AI Chatbot.

As per the description of Meena, it is a multi-turn open-domain chatbot that can filter and mine the data easily as per the social media conversations or other public domain.

If we talk about its description in detail then:

Multi-turn – It is a term used to describe the back and forth conversation of the chatbot with participants. The best part about such scope is that conversation is always as per the context accomplishing tasks.
Open-domain – The best thing about Chatbot like Meena is that there is no limitation to the topic. The motive is to ensure that the human-like talking pattern can be adopted by the chatbot. The conversation and branch must be connected even with no context similar to humans.
Filtered & Mined – The data processing must be done accordingly to extract meaningful information. The noise is filtered out and the right meaning behind the words is extracted. It is a broad area including formal grammars, linguistics, and many more that falls under data mining.
However, there were no conversational AI assistants to date including Google, Siri, Alexa, etc. This makes Menna a plus point to chit-chat or have a conversation with human endeavor feel. 

What Makes Meena Special?

Google launched Meena to carry a conversation while keeping the design of deep learning in mind. It uses approximately 2.6 billion parameters in neural networks. The chatbot can also handle major things such as multiturn dialogue and conversation built AI agents.

Not only this, but Google also introduced SSA – Sensibleness and Specificity Average that helps in checking the ability of conversational agents. The motive is to track responses as well to ensure that they are specific and make sense.

The score in SSA's initial test was 79% for Meena and 86% for humans. Whereas Pandora Bots – Mitsuku that won the Loebner Prize was able to reach 56% only. On the other hand, Mandarin Chinese speaking bot Microsoft's Xiaoice only gets 31%.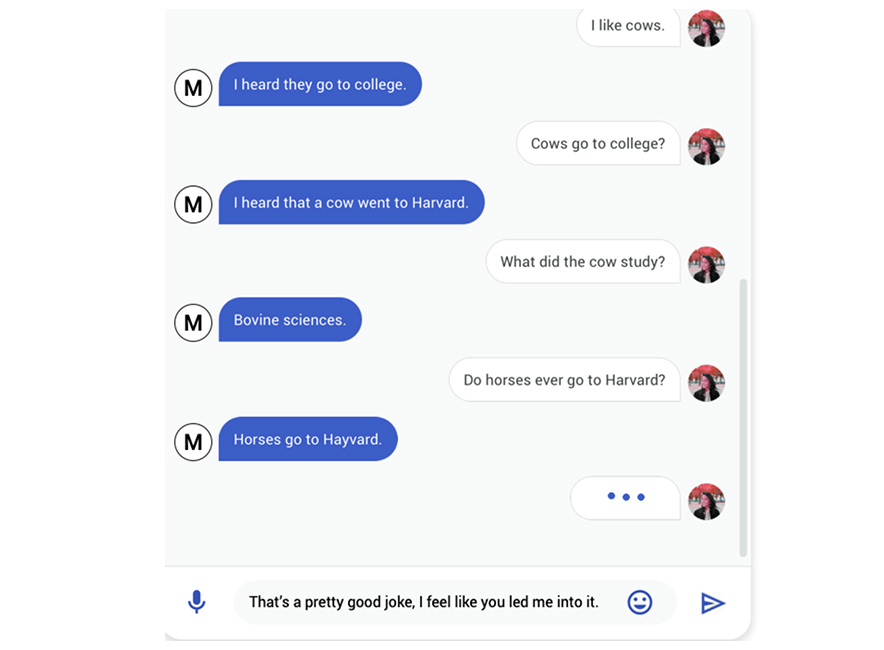 Approximately 40 billion words are included in the Meena dictionary while keeping the Transformer architecture and seq2seq model in mind. In 2017, the first Transformer was released by Google and now it is one of the highest performing models.

The static performance is checked off with evaluation dialogue to freely communicate with the audience. This helps in summing up with a maximum of 28 turns and a minimum of 14 turns while evaluating a conversation.

Results then depends on the percentage of turns to check the sensibility and specification of the conversation. The penalization of responses is done in SSA with the generic responses.

It is predicted that the next three years will be a revolution for conversational AI. Amazon is working on the multiturn dialogue that will be launched in the coming years. However, the full package of conversational AI has already started.

---
---